Some day they'll go down together
And they'll bury them side by side
To few it'll be grief, to the law a relief
But it's death for Bonnie and Clyde.

–Bonnie Parker, from her poem "The Ballad of Bonnie and Clyde" (1)
Introduction: In this article – to mark the 85th anniversary of the death of notorious lovers and outlaws Bonnie & Clyde on 23 May 1934 – Gena Philibert-Ortega searches old newspapers to learn more about that fateful day. Gena is a genealogist and author of the book "From the Family Kitchen."
Recently I watched The Highwaymen with Kevin Costner and Woody Harrelson, a new re-telling of the Bonnie and Clyde story. Unlike previous movies that romanticized the pair, this movie tells the famous crime couple's story from the viewpoint of the two retired Texas Rangers, Frank Hamer and Maney Gault, who were tasked with apprehending the duo.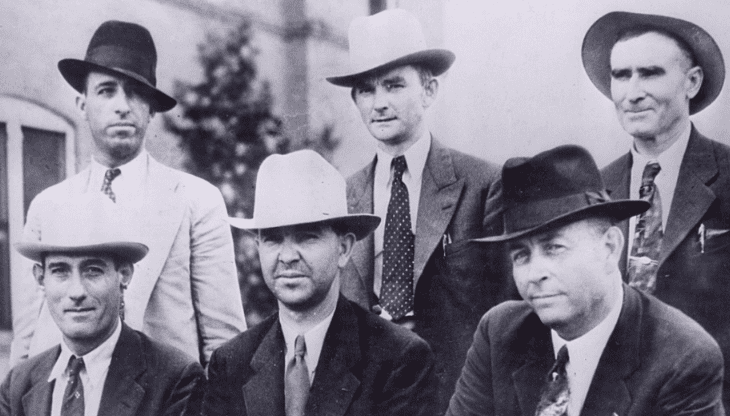 The story was interesting and entertaining, but there was a part at the end that was hard to believe. Of course, whenever I watch a "true story" I start asking myself what is historically accurate and what is made up for entertainment value. This is exactly what I started wondering as I watched the ending of The Highwaymen, when a crowd went crazy over the two outlaws' bodies. What I found is a good example of how historical newspapers can help answer that question.
The End of Bonnie & Clyde
Everyone is somewhat familiar with at least the premise of the story of Bonnie and Clyde. In the movie, the young couple and their gang go on a crime spree robbing banks and stores, as well as killing. Law enforcement can't get a break in apprehending them. As the killing continues, something must be done to stop them. A retired law enforcement officer (Frank Hamer) is asked to help; he and his old partner (Maney Gault) start tracking the pair. They finally decide to act on a "truth" they know, that "criminals always go home."
In this case, it hasn't worked to go to the home of Bonnie or Clyde – but they take a chance on the home of gang member Henry Methvin. After speaking to Henry's father and learning there is only one road to his home, Hamer and Gault decide to act on their instinct. An ambush is set up in Gibsland, Louisiana, and Bonnie Parker and Clyde Barrow are killed in a hail of gunfire on 23 May 1934 after they stop to ask Henry's father – who was placed there as a decoy – if he needs help with his flat tire. Frank Hamer, the retired Texas Ranger, yells "stick them up" which is ignored by the duo and results in their demise. (2)
After Bonnie and Clyde's deaths, the lawmen hook up their car (with their bullet-riddled bodies still in it) to a tow truck and have it taken to Arcadia, Louisiana, about 14 miles away. No effort is made to cover the bodies.
The Highwaymen movie depicts the moment that the car with the bodies arrives in Arcadia. People swarm the car and start grabbing the hair, clothes, and bodies of the dead couple. They are trying to take something as a souvenir. They are pulling out Bonnie's hair and someone tried to cut off Clyde's left ear. Could this scene be for entertainment and shock value or was it true? GenealogyBank's Historical Newspaper Archives provide the answer.
Celebrity
Bonnie and Clyde were seen as celebrities by some. To better understand this, it's important to put the pair in the context of their time. Their 1931-1934 crime spree was during the Great Depression. They were robbing banks and, in some cases, killing law enforcement officers. This was a time when people's homes were being foreclosed on and sold. People were angry, and so the pair most likely started looking like a modern-day Robin Hood to them. This poor Texas couple and their gang became larger than life through the myths created about them, fueled by the discovery of photos of the pair depicting Bonnie as a cigar-smoking, gun-toting girl gangster.
While Frank Hamer's lawmen undoubtedly knew the popularity of the couple, they may not have anticipated the crowd the bodies of Bonnie and Clyde would draw – and how they would react. It seems the ending of The Highwaymen was historically accurate after all.
This archived newspaper account gives us a glimpse of that day:
"The bodies of the murderous pair were taken in their automobile to this town, where they were laid out in an undertaking establishment and a curious public allowed to parade by to view their riddled corpses.

"The town and countryside teemed with excitement and curiosity. The parade of the public was not ended until Barrow's father and brother arrived from Dallas in two ambulances to claim the bodies. Officers heeded the plea of the father to stop the line of the curious.

"Even after the bodies had been removed, crowds stood about discussing the killings."
The next day saw a wrecked morgue and property damage in the little town of Arcadia, Louisiana, where "thousands who pushed and shoved through the streets for a view of the bandit pair as their bodies were towed in their car." The newspaper reported that there was an estimated $1000 in damage done to the morgue where "Doors were torn from their hinges, windows shattered and furniture wrecked by the throng of men, women, and children who fought for a view of the bandit pair in death." Of course, not everything reported in newspapers is fact and could have been embellished. A document written by a morgue employee denied that much damage was done but did estimate that 40,000 people came to view Bonnie Parker's body. (3)
The interest in Bonnie and Clyde didn't stop there. Their "death car" was displayed after their "capture" and continues to draw interest today at a casino in Primm, Nevada. Days after their death a film made the rounds in movie houses depicting their last moments.
It's Death for Bonnie & Clyde
It would seem that Bonnie got her final wish to die with Clyde. According to the man who would oversee her death, Texas Ranger Frank Hamer, "Bonnie once made a statement… that she wanted to die with Clyde and that she'd always save a bullet in her gun for herself. Clyde always said that when the showdown came, he'd shoot Bonnie and then himself."
The posse that tracked the duo didn't give Clyde that opportunity. While movies do take liberties with a story, in this case the crowd response to the dead bodies of Bonnie and Clyde in The Highwaymen is accurate.
________________
(1) "The Ballad of Bonnie and Clyde by Bonnie Parker," History Matters (http://historymatters.gmu.edu/d/5061/: accessed 9 April 2019).
(2) "The Highwaymen," Wikipedia (https://en.wikipedia.org/wiki/The_Highwaymen_(film): accessed 12 April 2019).
(3) "Bonnie Parker: Buried in an Ice Blue Negligee–1934," Flashback: Dallas (https://flashbackdallas.com/2016/04/15/bonnie-parker-buried-in-an-ice-blue-negligee-1934/: accessed 9 April 2019).
Related Article: