Online genealogy research is endlessly fascinating—you never know what you will find. I was doing some family history research in GenealogyBank's newspaper archive when this double obituary caught my eye.

Baltimore Patriot (Baltimore, Maryland), 25 July 1834, page 3.
Just a short, simple notice, 4½ lines long—and yet what a sad story it tells.
Sally Swain, 27-year-old wife of Perkins Swain, died on 17 June 1834 in Gilmanton, New Hampshire. Her husband, Perkins Swain, age 37, "was in [his] usual health at the funeral of his deceased wife"—but abruptly died seven days later. No doubt, of a broken heart.
Can you imagine the grief of the pallbearers? They were probably family members, or at least friends and neighbors, who sadly carried the body of young Sally Swain to her grave on June 17th while her grieving yet healthy husband, Perkins, stood nearby. And then suddenly, just seven days later, those same pallbearers were carrying the body of her husband to join Sally's gravesite.
Who were this couple struck down by tragedy? This story of a perfectly-healthy husband dying seven days after his young wife's funeral made me want to research more about them and learn about their lives.
Digging deeper into my genealogy research online, I found a marriage announcement that Perkins Swain married Sally Weymouth in Gilmanton, New Hampshire, in a November 1823 newspaper.
Portsmouth Journal of Literature and Politics (Portsmouth, New Hampshire), 15 November 1823, page 3.
Looking at the free collection of New Hampshire marriage certificates online at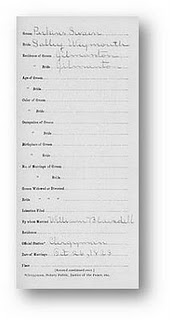 FamilySearch, I quickly found their marriage certificate. They were married on 23 October 1823 by the Rev. William Blaisdell. FamilySearch.org is a handy genealogy site. It has put up the entire U.S. Census, as well as birth and marriage certificates from all 50 states and many foreign countries. This free website by the Family History Library is well worth a visit to find great genealogical information that can aid in your research. Checking further in GenealogyBank, I found a newspaper probate article showing that Perkins Swain had known tragedy earlier in his life, when he and his brother Gorham were orphaned at age 5 and 4 respectively.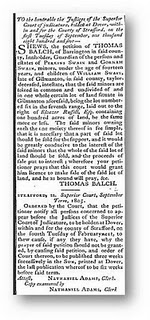 The Sun (Dover Gazette & County Advertiser) (Dover, New Hampshire), 21 December 1805, page 4.
Enlarging the first paragraph, we find some interesting details about Perkins Swain's life. In this probate notice, Thomas Balch is acting as guardian for the young orphans.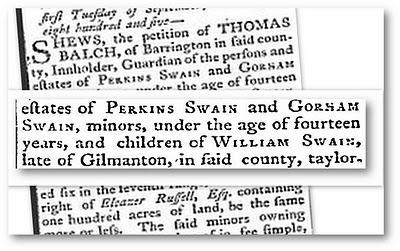 We discover that their father was William Swain, "late of Gilmanton," a tailor who died without leaving a will. Did he die unexpectedly? And why is there no mention of the mother? These are tantalizing questions that require further family history research.
This probate notice also tells us that the two young boys have inherited an estate of 100 acres in Gilmanton.
Continuing to look further in GenealogyBank's newspaper archive for details about Perkins Swain, I found this public auction notice that perhaps completes the story of his life.
New Hampshire Patriot (Concord, New Hampshire), 19 October 1835, page 3.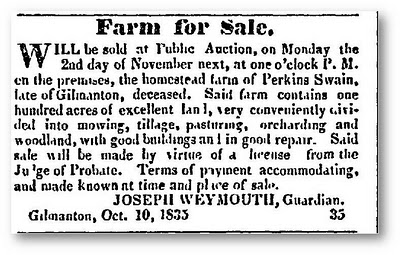 A year after his death, the homestead farm of Perkins Swain is being publicly auctioned on Nov. 2, 1835. This farm is a 100-acre parcel in Gilmanton, New Hampshire—the same piece of land we learned about in the probate notice of 1805.
Isn't it amazing how many details we've found out about Perkins Swain, who died in 1834? We have found his marriage and death notices, his marriage certificate, the probate notice when he was orphaned at age 5, and the public auction notice of his farm after his death. With more online genealogy research, we could no doubt uncover even more details about Perkins Swain and his family.

There are so many digitized
newspaper articles
,
historical documents
and
government records
available online today—terrific research resources for genealogists.

This is a great day for genealogy.
(Visited 25 times, 1 visits today)