Introduction: In this article – to help celebrate St. Patrick's Day – Gena Philibert-Ortega searches old newspapers to find Irish recipes, discovering much more than the traditional corned beef and cabbage. Gena is a genealogist and author of the book "From the Family Kitchen."
How are you celebrating St. Patrick's Day today? Are you tired of serving Corned Beef year after year? Maybe you have it throughout the year so it doesn't seem like a "special" holiday dish. Want to try a different Irish recipe but not sure what? One place to find those recipes (authentic or not) is in GenealogyBank's Historical Newspaper Archives.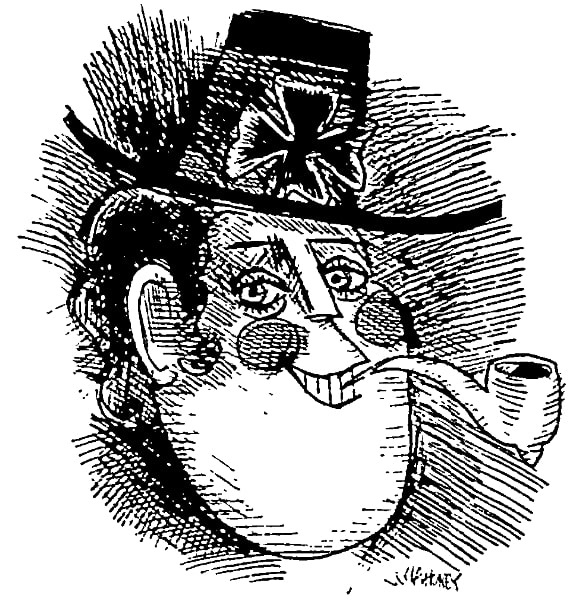 A Few Ideas
I'm a big fan of Corned Beef and Cabbage, but I agree with this article from the Patriot Ledger. Irish cuisine is far more than just Soda Bread and Corned Beef. This particular newspaper article suggests making Irish Stew with Lamb (not beef), Soused Shrimp, and an Irish Whiskey Cream Pie.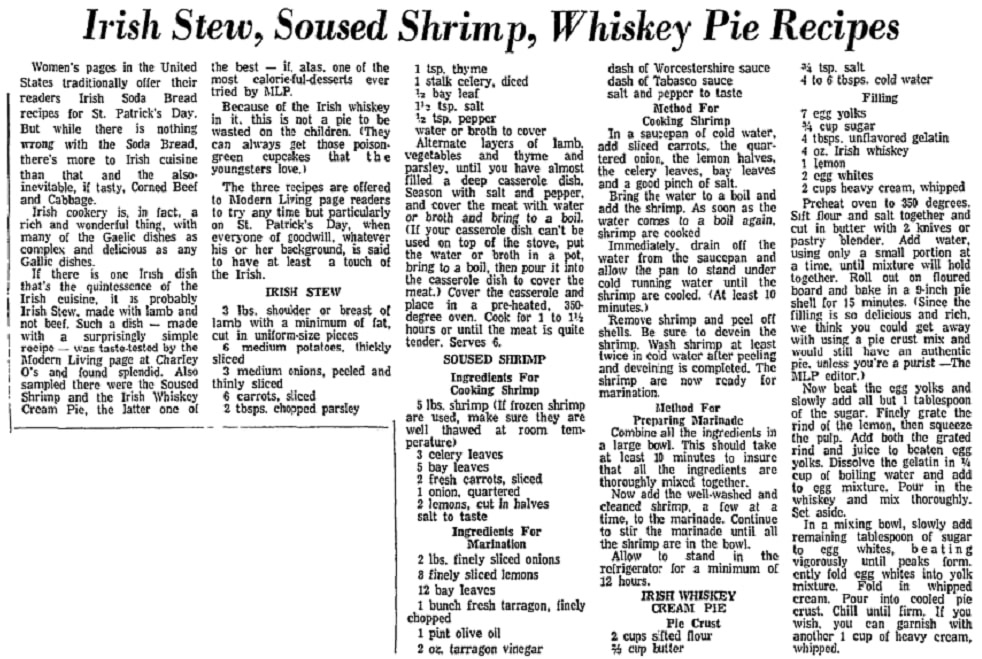 In this Staten Island newspaper, an article devoted to the Irish recipes of local resident Mrs. Patrick McCarthy, formerly of County Sligo, Ireland, are shared. Potato Soup, Guinness Braised Beef, and Colcannon are all recipes that could make for a wonderful St. Patrick's Day. Colcannon is mashed potatoes with kale or cabbage.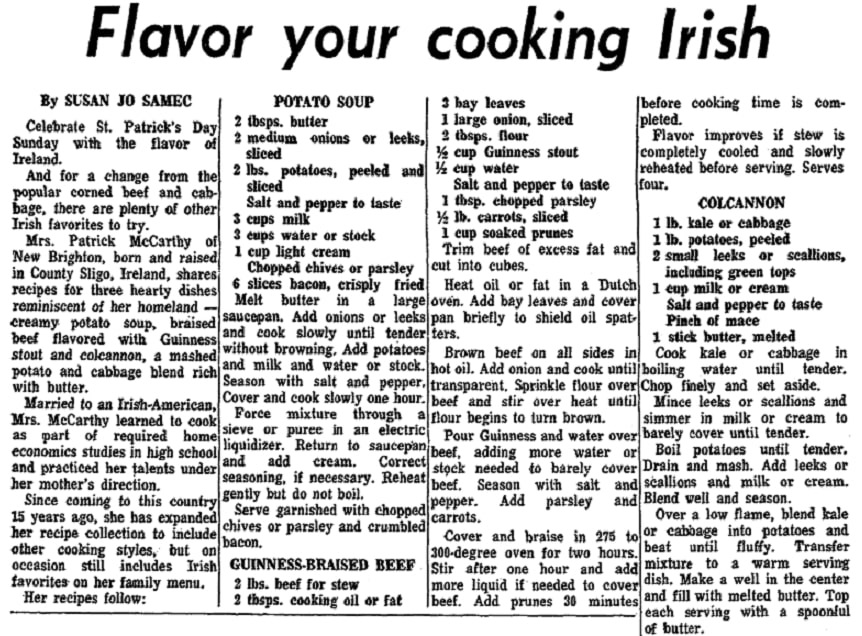 This San Antonio Evening News cooking column featuring "real Irish recipes" provides some familiar and not-so-familiar recipes, including Potato Pudding – which might go well with the Roast Goose.
Soup
Thought about serving soup for St. Patrick's Day? The holiday is an excuse for newspapers to print pages of Irish recipes. This page from the Trenton Evening Times is one such example. It focuses on soups, stews, and soda bread, but what I like is that it reprints a Soyer's Soup recipe from a book titled, Cheap Receipts and Hints on Cookery Collected for Distribution amongst the Irish Peasantry in 1847, by J. McWater. Soyer's Soup includes the tops of celery and leeks, turnip peelings, onions and beef. The book states that it was "tasted by numerous noblemen, members of parliament and several ladies who suffered no ill effects and who considered it good and nourishing."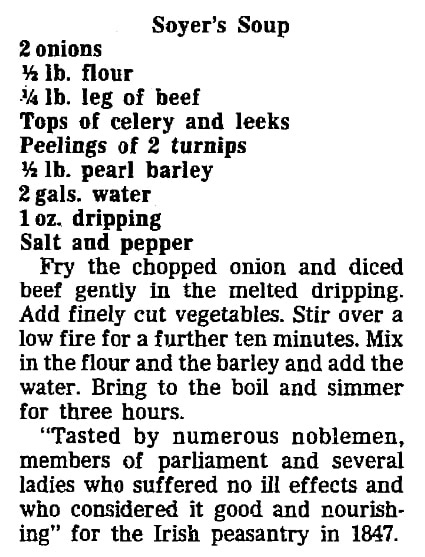 If you want to read the original cookbook, it's digitized on the Library of Congress website.
My favorite Irish pub food is Bangers and Mash. Basically, this is sausages and a side of mashed potatoes. You can put your own spin on this classic by getting creative with the type of sausage you serve with it (you can even make a vegetarian version). This newspaper recipe attempts a healthier version by using turkey sausage. Bangers and Mash can be quick and easy to make if you have plans for St Patrick's Day.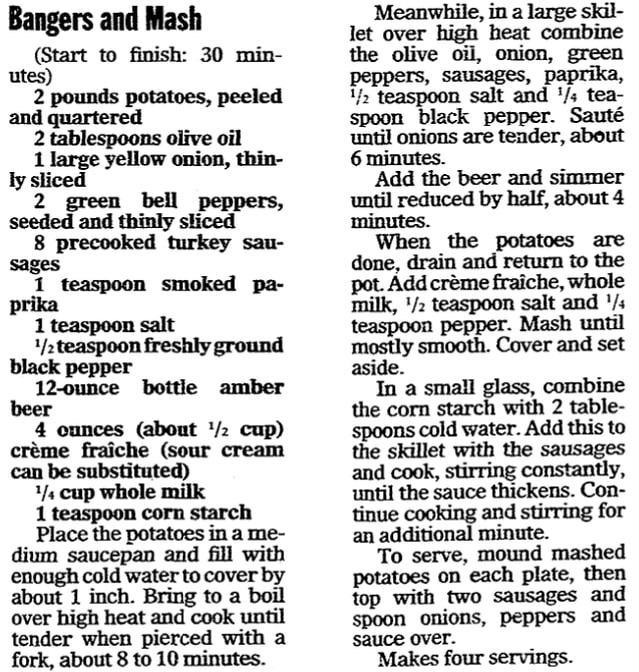 Dessert?
Ok, I realize that fruit cake reminds you of Christmas. And I also realize you may not like it, but this Irish Wexford Fruitcake might be of interest. The fruits included are raisons, pineapple, and cherries. One cup of whiskey (half in the batter and the other half brushed on the cake) makes this cake something you might want to keep away from the kids.
What Will You Be Eating?
Search Tip: To find other recipes for St. Patty's Day, use the Keywords box in the GenealogyBank search engine and type Irish Recipes. You can also type a specific type of recipe to find all instances of that recipe (and its variations) published in historical newspapers.
I don't think my family would be too happy if I skipped the Corned Beef this year, but I'm definitely going to try a side of Colcannon. What are you eating for your St. Patrick's Day festivities? Tell us in the comments below.
Happy St. Patrick's Day!