Introduction: In this blog article, Gena Philibert-Ortega shows how newspaper articles about various aspects of college life can help fill in the details of your ancestor's life. Gena is a genealogist and author of the book "From the Family Kitchen."
Which generation of your family was the first to go to college? Is college attendance a more recent event in your family, or can your family's college history be traced back to your 2nd great-grandmother?
College attendance can result in various newspaper mentions, and searching for these newspaper articles about your ancestor's college life is a great addition to your family history research. When I was earning my BA I was awarded a grant to create a program to teach kids about the environment. That honor and the subsequent award ceremony found its way into the newspaper for my school and the local area.
But your collegian ancestor didn't have to win an award to be featured in a newspaper article. Participation in college activities like sports or even a fraternity might have generated a mention.
Have you researched your ancestor's college life in old newspapers? Here are some examples of newspaper articles you may find.
College Sports
For many people college is associated with sports. One of the most popular college sports is football. The following 1911 Oklahoma newspaper article lists all the college football captains along with their school and position. Although this is found in an Oklahoma newspaper, notice that the colleges mentioned span the nation.
Typically, when we approach research we search using a name, place, and date. But some newspaper articles that pertain to our ancestors' lives do not list his/her name. Case in point: some articles about sporting events. It's important, if you know the name of the school or the team your ancestor was a member of, that you conduct some searches using the school or team name and not just the personal name of your ancestor. In this 1921 mention in a Utah newspaper, we learn that the University of Nevada's girls' basketball team will play the Oregon Agricultural College women's basketball team in Corvallis, Oregon. If your ancestor played on either team you may want to "follow" her sports career in the newspaper.

Genealogy Tip: Don't narrow all of your searches by place. In this case, two out-of-state basketball teams (from Nevada and Oregon) were mentioned in a newspaper from a third state (Utah). Narrowing searches by a particular newspaper title or even a place may have missed this mention.
Fraternity and Sorority Life
Was your ancestor in a fraternity or sorority? Greek life can be fodder for all kinds of newspaper articles. And while you may think I'm referring to negative articles, there are also more informational articles to be found that include the names of new members, recently elected officers, or even events. Other types of articles can exist like this one from a 1906 Ohio newspaper that announces "Seven To Be Wives. Members of Wooster University Fraternity Announce Their Engagement at Same Time." According to the article, "seven prominent young women… members of the Kappa Alpha Theta fraternity" were engaged to be married.
This 1930 Chicago Fraternity Review of Delta Upsilon includes a little information about the international fraternity, as well as a list of members at the conclusion of the newspaper article. There are also a few sentences that provide some information on the talents of specific members:
…Summers is active in football and swimming, Harrison dives around with the tank squad, and Taylor is one of those active graceful men in gymnastics. They're a brainy gang too, with James, McKinlay, and Heywood, members of that honorary society, Phi Beta Kappa.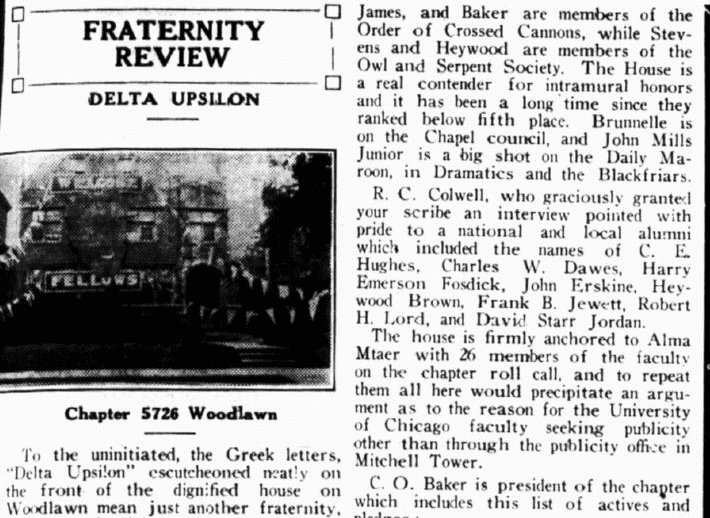 Society Pages
I have to admit that one of my favorite parts of the newspaper is the society pages. In these pages you really get a sense of the everyday life of a community – and that includes academic life. Consider this 1936 example from a Texas newspaper. Center stage on this page are the photographs of four young women, three of which mention their college attendance. The description for Jeanne Stuart at the top right reads:
Miss Jeanne Stuart, charming daughter of Mr. and Mrs. O. E. Stuart, of Stuart Place, Harlingen, who left recently for New Orleans, Louisiana, where she will enter Sophie Newcomb College. Miss Stuart is a former student of the Brownsville junior college, and the Incarnate Word, San Antonio.
Next to these photos is a column about the student activities at the University of Texas, complete with party announcements and events happening at the sororities.
Research Your Family's Academic Career
Have you thought about your ancestors' college life? Researching their school days can involve yearbooks and school records, but it should also include the local newspaper. Take some time today to look up their college career in GenealogyBank's Historical Newspaper Archives.