During this October week in American history three giants—one quite literally—died who had a big impact on America:
Robert E. Lee, American soldier and Confederate general, died at 63 on 12 October 1870
John Denver (Henry John Deutschendorf, Jr.), American singer-songwriter, died at 53 on 12 October 1997
Wilt Chamberlain, American basketball player, died at 63 on 12 October 1999
Newspapers are filled with obituaries and profiles that help us better understand the lives of our ancestors—and the famous people who lived during their times. The following newspaper articles about these three famous Americans are good examples.
Robert E. Lee (1807-1870)
Around 9:30 a.m. on Oct. 12, 1870, Robert E. Lee, the beloved Confederate general who had spent his years after the Civil War serving as the much-respected president of Washington College, died. He was 63. Lee had suffered a stroke on September 28, and in his debilitated state contracted pneumonia, which did him in. He died in Lexington, Virginia, the home state he loved so well.
Robert E. Lee is one of the giants in American history. He had a remarkable 36-year military career, mostly with the U.S. Army (fighting in the Mexican-American War and reaching the rank of colonel) while the last 4 years were spent in the Confederate Army (fighting for the South in the Civil War, the general who led the famous Army of Northern Virginia).
As shown in Lee's obituary below, it is easy to see why U.S. President Abraham Lincoln offered Lee command of the Union Army on April 18, 1861, the day after Virginia voted to secede. Lee was torn between his oath to serve the U.S. and its army, and his deep love for Virginia—but Virginia won out, and on April 20, 1861, Robert E. Lee resigned from the U.S. Army and headed home to become commander of the Virginia military forces.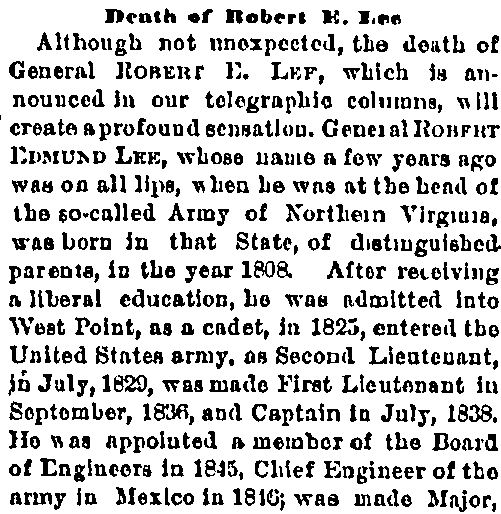 This obituary provides a good review of Lee's military career:
"Although not unexpected, the death of General Robert E. Lee, which is announced in our telegraphic columns, will create a profound sensation. General Robert Edmund [Edward] Lee, whose name a few years ago was on all lips, when he was at the head of the so-called Army of Northern Virginia, was born in that State, of distinguished parents, in the year 1808 [1807]. After receiving a liberal education, he was admitted into West Point, as a cadet, in 1825; entered the United States Army, as Second Lieutenant, in July 1829; was made First Lieutenant in September 1836; and Captain in July 1838. He was appointed a member of the Board of Engineers in 1845; Chief Engineer of the Army in Mexico in 1846; was made Major, April 18, 1846, for gallant conduct at Cerro Gordo; Lieutenant Colonel, August 20, 1847, for bravery at Contreras and Churubusco; and Colonel, September 13, 1847, for gallant conduct at Chapultepec. At the end of the Mexican War he was reappointed a member of the Board of Engineers, and in1852 was raised to the post of Superintendent of the Military Academy at West Point, which he held till March 1855, when he was appointed Lieutenant Colonel of Cavalry. He was appointed Colonel of Cavalry on the 16th of March, 1861, but resigned his commission in the United States Army a few days afterward under circumstance with which most of our readers are familiar. What General Lee did for the cause of the Rebellion during those eventful four years which will never be effaced from the memory of Americans, will be judged by history; and history, furthermore, will pass at a future day upon his military talents that opinion which his contemporaries will hardly be able to give.
"Soon after the close of the war he accepted the Presidency of Washington College, Virginia, and sustained a position of becoming dignity in regard to the past. Southerners almost universally entertained for him an affection that perhaps was not equaled in its intensity excepting by that in which General Thomas was held by the people of the North."
To mark the occasion of the 100th anniversary of Robert E. Lee's birth, this Texas newspaper published a series of poems celebrating his life and commemorating his death.
One of the poems about the famous Confederate general presented, "The Death of Lee," begins this way:
The drapery of heaven hung low

In dark and gloomy shrouds,

And angels used the weeping stars

In pinning back the clouds.

The shades of gloom and woe prevail

O'er all the land and sea,

And eyes so long unused to tears

Now wept for Robert Lee.

A Christian soldier, true and brave,

Beloved near and far,

He was first in time of peace

And first in time of war.

Virginia never reared a son

As good and brave as he,

Save one, and that was Washington,

Who lived and died like Lee.

His peaceful sword is laid away,

His work on earth is done,

He loved the people of the South,

They idolized their son.

There's not a woman, man nor child,

I care not where they be,

Throughout this still sweet, sunny South

But loves the name of Lee.
John Denver (1943-1997)
John Denver was a giant in the American music industry in the 1970s and 1980s, one of the leading stars of the acoustic singer-songwriter genre. He recorded more than 300 songs in his long, successful career, writing about 200 of them, including "Take Me Home, Country Roads," "Rocky Mountain High" and "Sunshine on My Shoulders."
Denver also appeared in movies and numerous television shows, and was a humanitarian, advocate for space exploration, and a crusading voice for environmental protection. He was as passionate about flight as he was about music—sadly, his life was cut short at the age of 53 in a fatal accident while flying his personal aircraft solo off the California coast near Pacific Grove.
The below profile and obituary from the Register Star said of Denver: "His trademark wire-rimmed glasses and handsome smile—sort of a clean-cut hippie who could appeal to all generations—made him a winner on countless TV specials."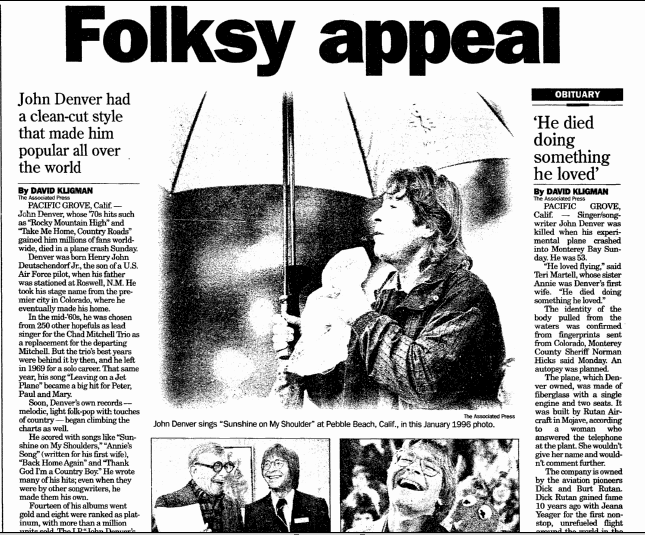 As reported in the news article below, more than 2,000 people attended Denver's funeral in Aurora, Colorado: "It was the kind of day he loved to sing about: plenty of sunshine, the peaks of the Rockies in sight, and lots of family and friends around."
His ashes were scattered in the Rocky Mountains he loved so much.
Wilt Chamberlain (1936-1999)
It is no exaggeration to say Wilton Norman "Wilt" Chamberlain was a giant of a man. During his years playing center for the NBA's Los Angeles Lakers, Chamberlain stood 7 feet 1 inch and weighed 300 pounds. In his long professional basketball-playing career, which began with the Harlem Globetrotters in 1958 and ended with the Lakers in 1973, Chamberlain set numerous scoring and rebounding sports records. He performed feats on the basketball court that still astonish us today—he once scored 100 points in a single NBA game, the only player ever to do that. Chamberlain is the only player in the history of the NBA to average at least 30 points and 20 rebounds per game in a single season. No one else has ever done it—Chamberlain did it nine times, and in fact averaged 30.1 points and 22.9 rebounds per game for his 14-year NBA career!
The below obituary recounts a funny story from New York Knicks center Darrall Imhoff, who had the unfortunate task of guarding Chamberlain the game he scored an amazing 100 points:
"I spent 12 years in his armpits, and I always carried that 100-point game on my shoulders…After I got my third foul, I said to one of the officials, Willy Smith, 'Why don't you just give him 100 points and we'll all go home?' Well, we did."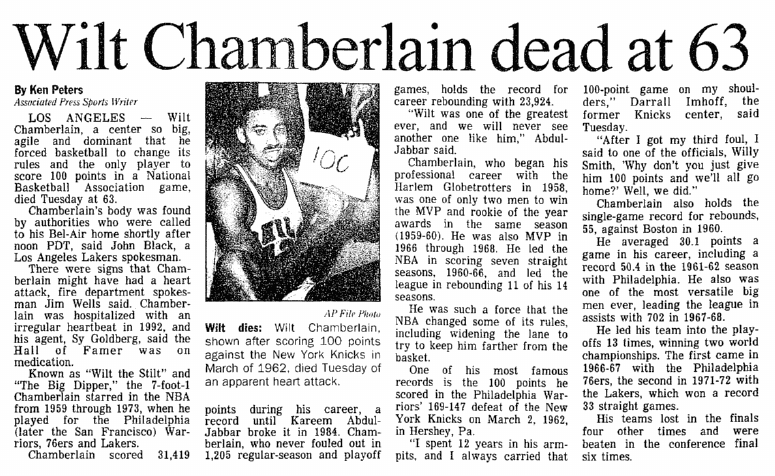 Chamberlain was known for more than his prowess on the basketball court. As reported in the below news article, about 800 people attended Chamberlain's memorial service in Los Angeles: "Wilt Chamberlain was remembered Saturday more for his curiosity, intellect and quiet generosity than his unparalleled abilities on the basketball court."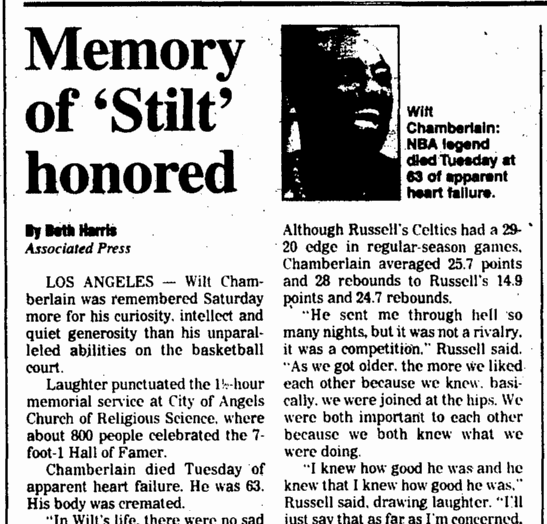 Chamberlain's fierce rivalry with Boston Celtics center Bill Russell was legendary. At the memorial service, Russell told the crowd:
"'I knew how good he was and he knew that I knew how good he was,' Russell said, drawing laughter. 'I'll just say that as far as I'm concerned, he and I will be friends through eternity.'"
Newspaper Obituaries provide personal details about someone's life that we can't find elsewhere—whether they are our ancestors or famous people we're interested in. GenealogyBank features two collections of obituaries:
Dig into these obituary archives today and see what you can discover about your family tree and the famous people you admire most!