Introduction: In this article, Gena Philibert-Ortega – whose interest in food, cooking and family history is well known to readers of this blog – searches old newspapers to learn more about eating contests, or "competitive eating," something even our ancestors did. Gena is a genealogist and author of the book "From the Family Kitchen."
Summer reminds me of all kinds of activities: going on vacation, visiting the beach, attending outdoor events, participating in eating contests.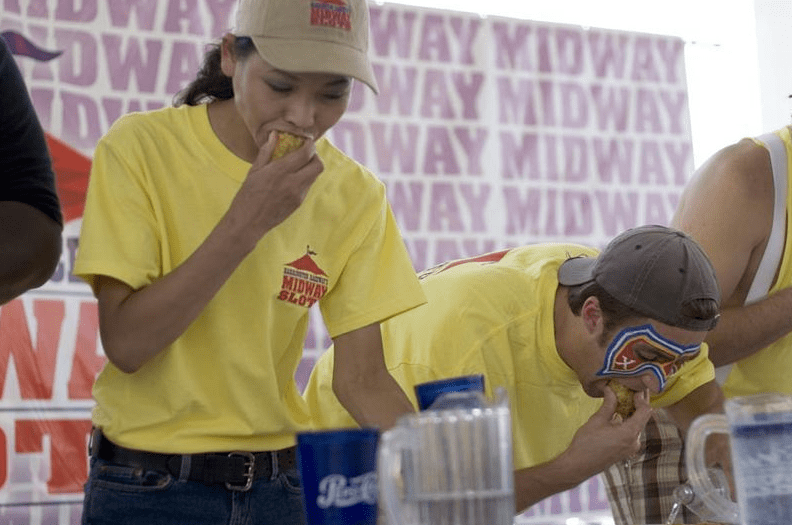 You might be scratching your head about that last activity. But summer does remind me of eating contests, or "competitive eating," like the infamous Nathan's Hot Dog Eating Contest that occurs on the 4th of July each year. Their website proclaims that the first informal contest occurred between four immigrants in 1916, with the first recorded contest in 1976.* This year's hot dog-eating champion ate 74 hot dogs in 10 minutes!
You may be surprised to learn that our ancestors engaged in eating contests, too.
A Historical Look at Eating Contests
As you probably know, eating contests can be held as part of a big public event like the Nathan's contest, or at a community gathering like a county fair. They can also be small, solitary pursuits like finishing a huge meal at a local restaurant and the bragging rights that come with that achievement.
Just as eating contests and their rules differ, there is also a variety of foods that can be consumed as part of the contest. I typically think of pie in relation to eating contests – but a search through historical newspapers proves that almost any kind of food can be the fodder for these contests.
This newspaper article from 1876 reports on a dumpling-eating contest and an upcoming sauerkraut-eating contest, with the prize of a straw hat to be given to the winner.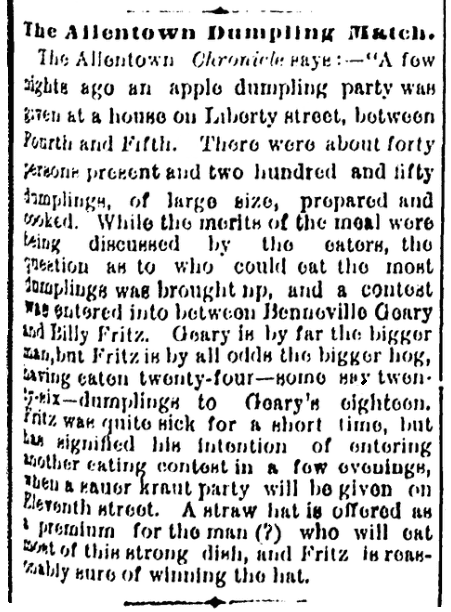 Ok, you might be thinking that sauerkraut seems like a weird choice for a food contest – so what about a 19th century lobster-eating contest? This 1878 newspaper article reports: "The great event was the lobster-eating match between Postmaster Tunison and Sergeant Pickett."
This contest was moving along well but then the unthinkable happened. Tunison had consumed 22 lobsters when he burst his waistband button and then, after asking for a glass of water, he "keeled over." The winner, Sergeant Pickett, ate 31 lobsters in 1 hour and 20 minutes! Postmaster Tunison used the excuse that he used too much pepper sauce.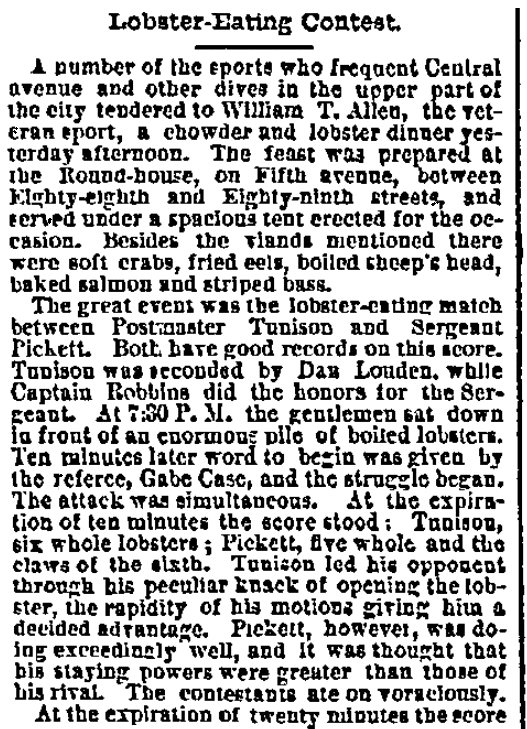 Nathan's Hot Dog Eating Contests
So, how many hot dogs can you eat in 10 minutes? My guess is that your total number comes nowhere close to the number of hot dogs and buns consumed by even the last-place contestant in this year's Nathan's contest at Coney Island.
However, you may have been able to beat the winners in the first decades of this contest. Surprisingly, past contest winners didn't eat all that many hot dogs, as evidenced in this newspaper report about the 1986 contest won by a visiting Japanese student who simply put away 10½ hot dogs in 10 minutes. The record at that point had been 13½ hot dogs. The winner of the 1986 contest, Hiroaki Tominga, claimed to be still hungry after his triumph and remarked that he was planning on going out for sushi later.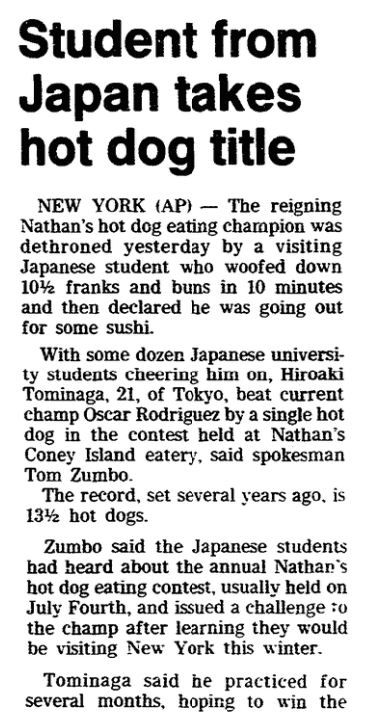 Today, competitive eaters at the Nathan's contest put away over 70 hot dogs in 10 minutes, making those earlier contests look like child's play. How can a person eat that much, and that quickly? Competitive eaters have their tricks, including dunking the hot dog buns in water to make them easier to eat, as well as breaking the hot dog in two so that they can fit an entire hot dog in their mouth (side-by-side). Others prepare for the contest by fasting or changing their diet prior to the event.
If you want to try your hand (or rather, your stomach) at a competitive eating contest, you can learn more about competitions near you from the website for the International Federation of Competitive Eating.
Any Competitive Eaters in Your Family Tree?
No one in my family that I know of has given their all to win a food-eating contest. We've had a few instances when a local restaurant's food dare was something that tempted the teenagers in our family, but no one has decided to actually consume those really large portions. However, five of us did celebrate one child's birthday with a sundae that fed 10 and included 63 scoops of ice cream! Based on our performance trying to eat that mega sundae, I don't think competitive eating is in our future.
Food-eating contests might be something your ancestor experienced, as a contest participant, observer, or even the person providing the food, and old newspapers such as GenealogyBank's Historical Newspaper Archives are a great way to learn more.
_________________
* "The Hot Dog Eating Contest: A Tale as Tall as 73 Hot Dogs," Nathahn's(https://nathansfamous.com/promos-and-fanfare/the-stand/hdec-fun-facts/: accessed 8 July 2018).