The nation achieved a historic first when the 99th Pursuit Squadron (the "Tuskegee Airmen") was activated on 19 March 1941, the first African American unit of the Army Air Corps. Over 250 men were trained at Chanute Field in Rantoul, Illinois. In June the base of operations was switched to the Tuskegee Institute in Alabama, giving the group its more famous name.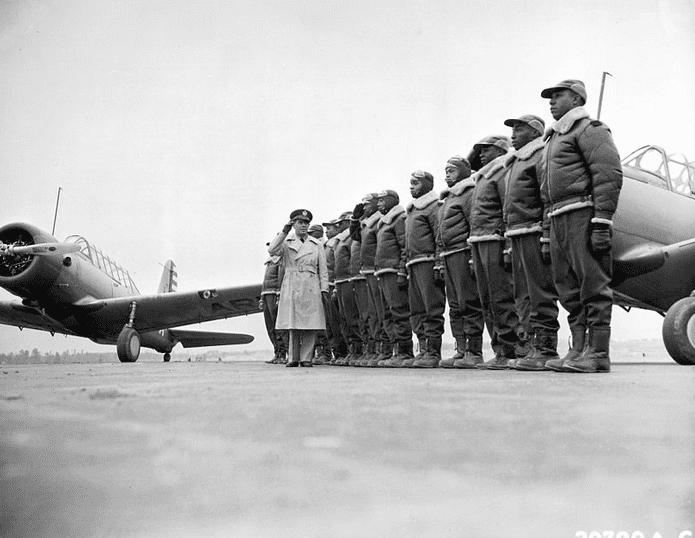 The formation of this unit was seen as an experiment; many whites were skeptical that blacks had the intelligence, and even the courage, to become skilled fighter pilots. Despite facing open hostility and discrimination – the entire U.S. military remained segregated until 1948 – the Tuskegee Airmen persevered and made a substantial contribution to Allied success in World War II. Their exemplary service helped persuade President Harry S. Truman to issue Executive Order 9981 on 26 July 1948 to desegregate the military.
By 1944 the success of the Tuskegee Airmen was firmly established. They received a prominent mention in this article published by the Plain Dealer, quoting Walter White, executive secretary of the N.A.A.C.P.
"The co-operation between members of the 99th Pursuit Squadron and white members of the other three squadrons in the 79th Pursuit Group he hailed as 'one of the finest examples of democracy I have ever witnessed.'"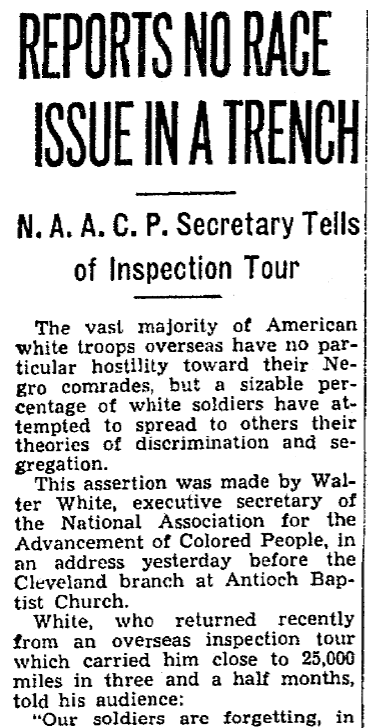 Here is a transcription of this article:
REPORTS NO RACE ISSUE IN A TRENCH
N.A.A.C.P. Secretary Tells of Inspection Tour
The vast majority of American white troops overseas have no particular hostility toward their Negro comrades, but a sizable percentage of white soldiers have attempted to spread to others their theories of discrimination and segregation.
This assertion was made by Walter White, executive secretary of the National Association for the Advancement of Colored People, in an address yesterday before the Cleveland branch at Antioch Baptist Church.
White, who returned recently from an overseas inspection tour which carried him close to 25,000 miles in three and a half months, told his audience:
"Our soldiers are forgetting, in the alchemy of war, the pigment of the skin. There is no race problem in a trench. These men of all races are sharing foxholes and standing together in line for 'chow.' There is no question of color or creed."
White paid particular tribute to Negro pilots and crew members of the 99th Pursuit Squadron in Italy and also to Negroes who are manning LST boats running supplies into the Anzio beachhead. He estimated 70 per cent of the men aboard the LSTs there were colored.
The cooperation between members of the 99th Pursuit Squadron and white members of the other three squadrons in the 79th Pursuit Group he hailed as "one of the finest examples of democracy I have ever witnessed."
"It is a tragedy, though, that such democracy had to be purchased at the price of such a terrible war," he said.
He termed as "crooked thinking" rumors that Negro troops were unfit for combat service. Such rumors had arisen from the fact that many Negroes were serving in supply units, he said, adding that the service forces in this war offered as much hazard to the personal safety of servicemen as other units.
Note: Despite the optimistic view presented in the previous article, discrimination was a harsh reality for many African Americans serving in the segregated military, as described by this article published by the Augusta Chronicle.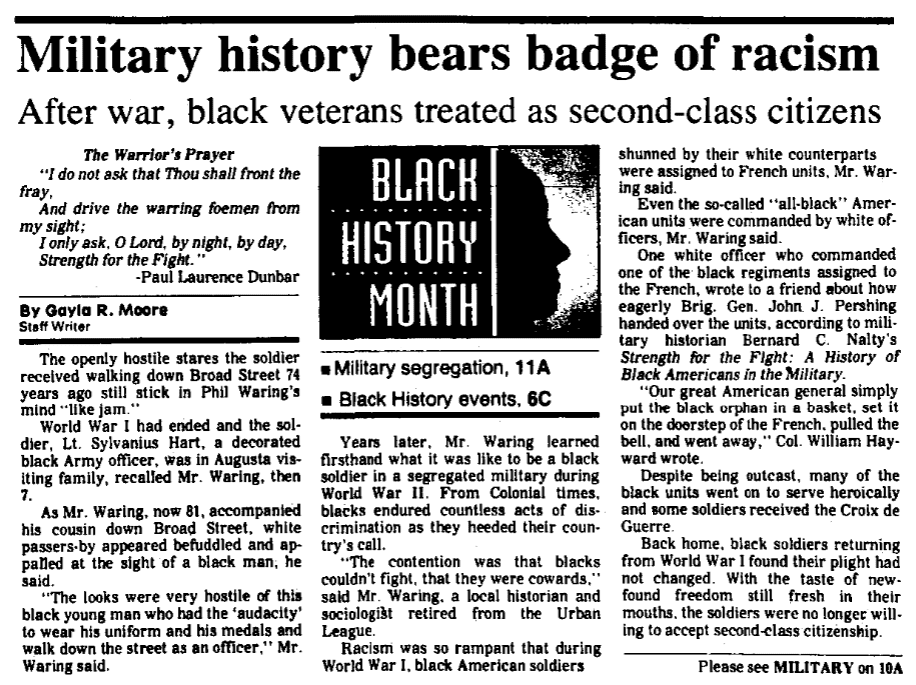 Here is a transcription of this article:
Military History Bears Badge of Racism
After War, Black Veterans Treated as Second-Class Citizens
The Warrior's Prayer
"I do not ask that Thou shall front the fray,
And drive the warring foemen from my sight;
I only ask, O Lord, by night, by day,
Strength for the Fight."
– Paul Laurence Dunbar
By Gayla R. Moore
Staff Writer
The openly hostile stares the soldier received walking down Broad Street 74 years ago still stick in Phil Waring's mind "like jam."
World War I had ended and the soldier, Lt. Sylvanius Hart, a decorated black Army officer, was in Augusta visiting family, recalled Mr. Waring, then 7.
As Mr. Waring, now 81, accompanied his cousin down Broad Street, white passersby appeared befuddled and appalled at the sight of a black man, he said.
"The looks were very hostile of this black young man who had the 'audacity' to wear his uniform and his medals and walk down the street as an officer," Mr. Waring said.
Years later, Mr. Waring learned firsthand what it was like to be a black soldier in a segregated military during World War II. From Colonial times, blacks endured countless acts of discrimination as they heeded their country's call.
"The contention was that blacks couldn't fight, that they were cowards," said Mr. Waring, a local historian and sociologist retired from the Urban League.
Racism was so rampant that during World War I, black American soldiers – shunned by their white counterparts – were assigned to French units, Mr. Waring said.
Even the so-called "all-black" American units were commanded by white officers, Mr. Waring said.
One white officer who commanded one of the black regiments assigned to the French, wrote to a friend about how eagerly Brig. Gen. John J. Pershing handed over the units, according to military historian Bernard C. Nalty's Strength for the Fight: A History of Black Americans in the Military.
"Our great American general simply put the black orphan in a basket, set it on the doorstep of the French, pulled the bell, and went away," Col. William Hayward wrote.
Despite being outcast, many of the black units went on to serve heroically and some soldiers received the Croix de Guerre.
Back home, black soldiers returning from World War I found their plight had not changed. With the taste of new-found freedom still fresh in their mouths, the soldiers were no longer willing to accept second-class citizenship.
Violence resulted in cities all across the country as blacks rebelled and whites sought to re-exert their dominance. Blood flowed so freely in the summer of 1919 that poet and novelist James Weldon Johnson referred to it as the "Red Summer."
Years later, as the United States teetered on the brink of World War II, civil rights activist A. Philip Randolph threatened to mount a march on Washington, D.C., to protest the "hypocrisy of a nation," Mr. Waring said.
Blacks poised to fight for democracy on foreign soil were themselves denied the very freedom for which they were battling.
To avert the march, President Franklin D. Roosevelt established the Fair Employment Practices Committee and opened some specialty branches of the military to blacks.
"The Navy for the very first time was going to have (blacks) in combat arms," Mr. Waring said. "Before that, they were just cooks and stewards."
James Starks benefited from the president's order while serving aboard the George F. Elliott in 1943.
"I went in the Navy as a steward's mate, which was the only thing they allowed blacks to do, but since I had some college they promoted me to store keeper," said Mr. Starks, 68. "I was the only black in that position, and we had about 35 blacks on the ship."
Another branch partly opened to blacks was the Signal Corps, said Allen Brown, 69, who served with the all-black 41st Signal Company from 1943-45. The unit, headquartered in Tennessee, was assigned throughout Europe and "was rated the second-best Signal unit in World War II," he said.
"We participated in six battles in Normandy, Northern France, the Battle of the Bulge," Mr. Brown said.
In the Army Air Corps, a few blacks were chosen to be pilots as "an experiment" at Tuskegee Institute. The success of the aviators in the 99th Pursuit Squadron, referred to as the Tuskegee Airmen or the Black Eagles, would later serve as an impetus for President Truman's executive order July 26, 1948, desegregating the military.
The Black Eagles were commanded by now-retired Lt. Gen. Benjamin O. Davis Jr., the first black to graduate from West Point in this century. At the time, Gen. Davis' father was the Army's only black general, according to Mr. Nalty's book.
In Lt. Gen. Davis' 1991 autobiography, he gives his own account of the outward discrimination he encountered in the military – including four years of being "silenced" by his peers at West Point, spoken to only in the line of duty.
Serving in a segregated military was humiliating and heartbreaking, Mr. Brown said.
There are some things he said he still doesn't "like to talk about." When his mother died in October 1944, for example, Mr. Brown wasn't told until two weeks later.
"My mother was dead and buried before I knew she was dead," Mr. Brown said.
He believes he was purposely not told about his mother's death so he could remain on the front line, he said.
"They didn't let any blacks come back from overseas at that time. They let the whites come, but I never heard of a black that did come home," Mr. Brown said.
When Mr. Brown finally returned to Augusta in 1945, he was further reminded that it didn't matter that he had just returned from a war.
"The Germans or the Japanese could have come here and been treated better. When I came home, they were still lynching (blacks)," Mr. Brown said.
Arthur Dudley, 71, served in the Army both before and after desegregation. He joined in 1942 and retired 23 years later as a sergeant first class.
Although the desegregation order was issued in 1948, it wasn't instituted until the Korean War, Mr. Dudley said.
"We (blacks) were called the guinea pigs. We had to prove we were as good as they (whites) were. In fact, we had to be twice as good," he said.
Mr. Dudley was sent to the 24th Infantry Division in Korea. Once there, it wasn't long before he encountered some resistance, he said.
"They sent me up to a machine gun platoon and the platoon leader told me to go assist a (white) corporal. Here I had five stripes, and he wanted me to assist a corporal.
"I said, 'Like hell I will. If anything, the corporal will assist me.'"
The commander told Mr. Dudley "he couldn't use him" and he was sent to another unit in the 24th, B Company, of the 19th Regiment.
In B Company, things went relatively smoothly for Mr. Dudley, except when a young white soldier from Georgia refused to follow his order, he said.
Seeing what had happened, another white soldier from Virginia stepped in and took the matter in hand, Mr. Dudley said.
"He (the Virginian) took him out behind a hill and kind of tightened him up. He beat the crap out of him," Mr. Dudley said. "When he (the Georgia soldier) came back he said 'Sergeant, I'm sorry. I didn't know. It was just the way I was raised.' And he turned out to be one of the best soldiers I had."
Mr. Dudley stayed with B Company until he was transferred back stateside in 1951. While with the unit, he was awarded the Distinguished Service Cross for having "52 kills of the enemy," Mr. Dudley said.
Mr. Dudley paused for a moment and a far-away look came across his well-worn face.
"I guess if I had been white I might have gotten the Congressional Medal of Honor," he said, his voice almost a whisper.
Note: An online collection of newspapers, such as GenealogyBank's Historical Newspaper Archives, is not only a great way to learn about the lives of your ancestors – the old newspaper articles also help you understand American history and the times your ancestors lived in, and the news they talked about and read in their local papers. Did any of your ancestors serve with the Tuskegee Airmen? Please share your stories with us in the comments section.
Related Article: