Introduction: Scott Phillips is a genealogical historian and owner of Onward To Our Past® genealogy services. In this guest blog post, Scott searches through old newspapers to find stories about five NFL families that have played professional football and made a big impact on the National Football League (NFL).
Here comes the Super Bowl and—love it or not—it is one of those "happenings" that are impossible to miss in our culture. I enjoy many aspects of the game of football, but one of the ones that has always intrigued me the most is the fact that "football" often seems to run in families. In my own case, my sister married a football coach, whose father was a football coach, and now her three sons are also football coaches! These football family trees are more common than you might think.
Star-Studded NFL Family Trees
Then I happened across an older article on the Internet that was titled "These players' family trees can beat up your family trees." While I laughed at the title it got me thinking about the subject—especially because one of the famous football Manning brothers (Peyton Manning) will be directing the Denver Broncos against the Seattle Seahawks in the Super Bowl on February 2.
The more I thought about the Manning family tree, the more I thought it would be great fun to take a look and see what I might find in the newspapers of GenealogyBank.com regarding famous football families during the run-up to Super Bowl XLVIII. I was astonished at what I found—there have been a number of father-son combinations that played professional football (although not at the same time, of course).
NFL Quarterback 3fer: Archie, Payton & Eli Manning
Almost immediately I found this 1985 article from a Louisiana newspaper. I realize that these days the Manning names that trip off most folks' tongues are Peyton and Eli (quarterback of the New York Giants), but did you know that their father, Archie, was a big-time NFL quarterback too? The Peyton Manning family tree goes beyond just the two brothers. Their father spent 14 years in the NFL, most with the New Orleans Saints, but also with the Houston Oilers and the Minnesota Vikings. Check out this newspaper article and you might get a chuckle out of the part that talks about Peyton being 9 and "4-year-old Eli" going off to nursery school! I wonder if Archie suspected then what we all know now?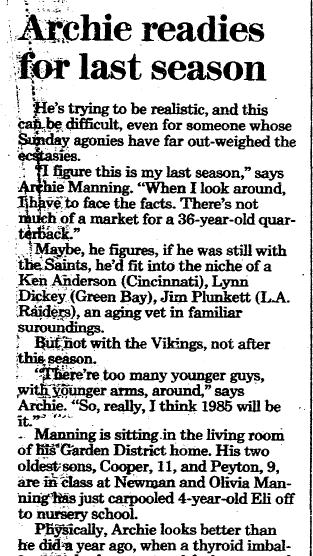 I bet Archie did, since only 13 years later this 1998 article from a Georgia newspaper called Eli Manning one of the top 10 prep quarterbacks in the country.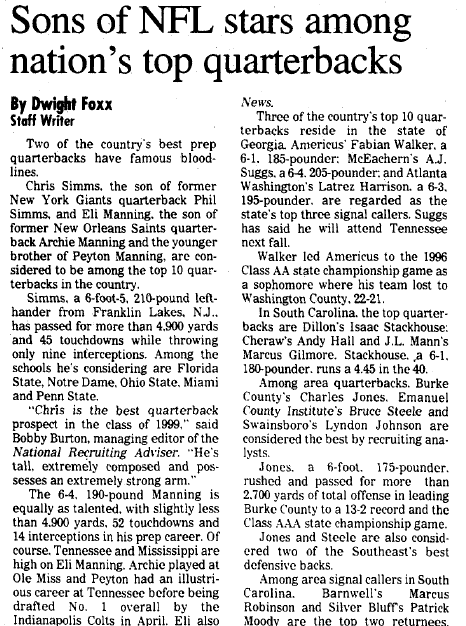 Phil, Chris & Matt Simms
You will notice this news article mentions another pro NFL football lineage, since Chris Simms is also named as one of the top prep QBs. It was in 1987's Super Bowl XXI that Chris's father, Phil Simms (quarterbacking the New York Giants), earned the coveted title of Super Bowl MVP, as you can see in this 1987 photo from a Massachusetts newspaper. Phil Simms's sons, Chris and Matt, both went on to play in the NFL. Chris was drafted by the Tampa Bay Buccaneers and played for not only the Buccaneers, but also for the Tennessee Titans and the Denver Broncos. His brother Matt played for the New York Jets.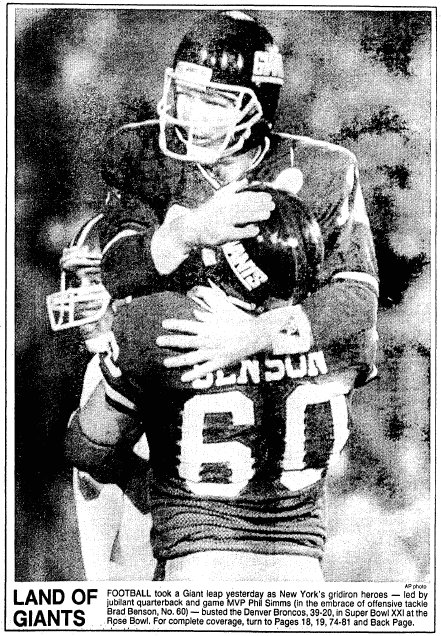 Howie & Chris Long
I followed up my research about the Simms by searching for a Football Hall of Fame member, Howie Long. Now if you watch football on television, you know that Howie Long is currently one of the top NFL commentators. His playing career was an excellent one and he, too, wears a Super Bowl championship ring thanks to the Oakland Raiders' win over the Washington Redskins, as you can read in this 1984 article from an Oregon newspaper.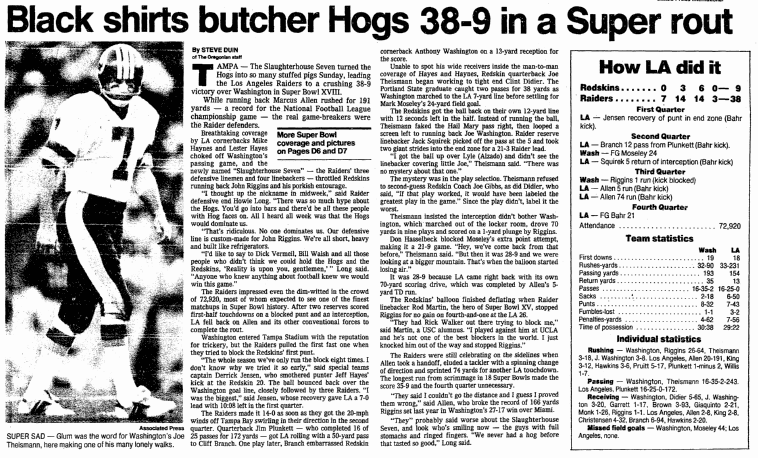 It was interesting to also read this 2008 article from an Illinois newspaper about the signing of Howie's son Chris Long to a long-term contract with the St. Louis Rams. The football genealogy "gene" must be really strong in the Long family too!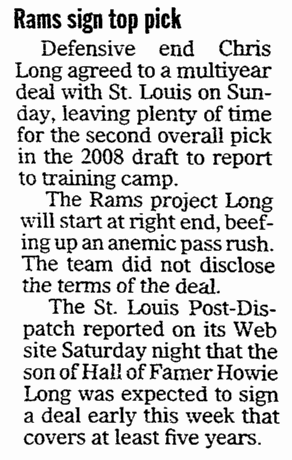 Kellen Winslow, Sr. & Kellen Winslow, Jr.
Then I came across the surname of Winslow in my research. No look at football genealogy would be complete without including Kellen Winslow, Sr. and Kellen Winslow, Jr. You can read about Kellen, Sr. being inducted into the NFL Pro Football Hall of Fame in this 1995 article from a South Dakota newspaper.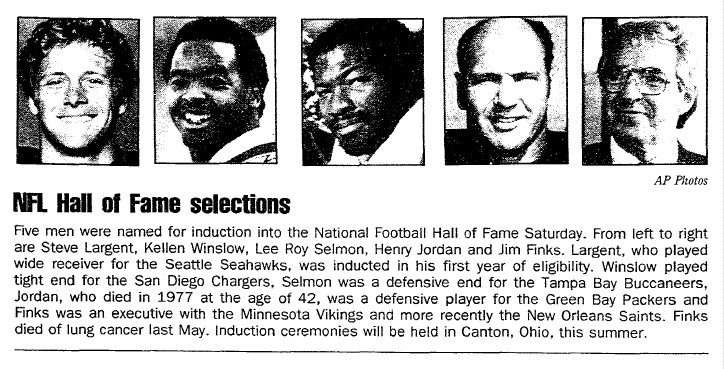 Then you can read about Kellen, Jr. winning the John Mackey Award for being the best college tight end in this 2003 article from an Illinois newspaper—and you can follow his continuing NFL career now.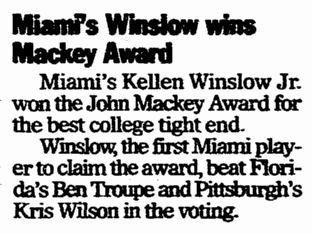 5-Pack of NFL Stars: The Matthews
Then I found another NFL surname with quite an amazing genealogy to follow, and that is Matthews football family. First there are the Matthews brothers as reported in this 1983 article from a Texas newspaper. This article talks about brothers Bruce Matthews, who played for the Houston Oilers, and Clay Matthews, Jr., who played for the Cleveland Browns, meeting and playing against one another during their careers.
The Matthews brothers are sons of Clay Matthews, Sr. who played for the San Francisco 49ers and was the son of Matty Mathews, who, while he didn't play football, coached boxing, baseball, and track at "The Citadel" in South Carolina. Clay, Sr.'s son, Clay, Jr., was a Pro-Bowl player. His other son, Bruce, is another familial NFL Pro Football Hall of Fame member, holds the record for Pro Bowl appearances at 14, and now coaches for the Tennessee Titans. Oh and if you take a look at this 1988 article from an Ohio newspaper, you might find it interesting to see a listing for Clay III, age 1 at the time.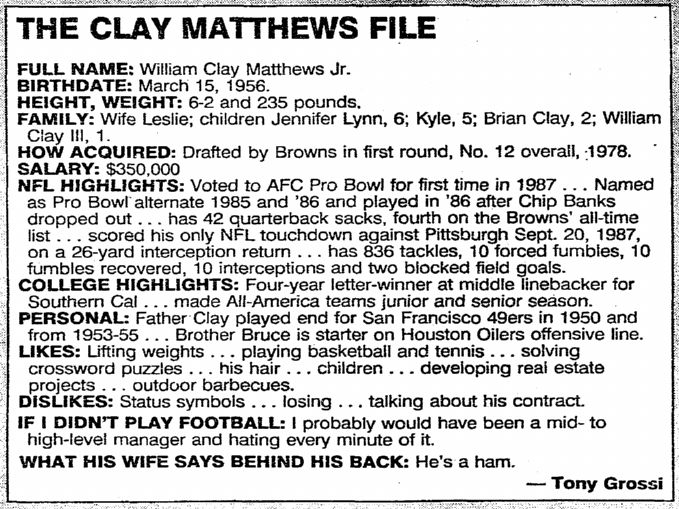 Then you can click and find the next generation's football success as Clay Matthews III pursues his outstanding career with the Green Bay Packers. And wait there is more! How about Casey Matthews who plays for the Philadelphia Eagles? Yes indeed! He is from the same lineage. Now this is some kind of football genealogy and football family!
Newspaper Search Tip:
Attention sports fans—did you know that you can search from GenealogyBank's Tables & Charts page to find old sports stats and charts for all popular American sports like football, baseball, basketball, golf and tennis? Also, make sure to follow the American Sports History Pinterest board to learn more interesting facts about famous names in sports.
Share Your Football Family Story
So tell me…who have I missed in this article and what is your favorite Super Football genealogy? Do you have some football superstars in your own family tree?
(Visited 1,029 times, 1 visits today)