Introduction: In this article, Scott Phillips explains why newspapers' use of the "5 Ws" is tremendously helpful to genealogists. Scott is a genealogical historian and owner of Onward To Our Past® genealogy services.

A Brief History of Newspapers
Thank goodness the world of news reporting switched from hand-written Avvisi—which were some of the first hand-written newsletters that appeared in Europe—to the first printed newspaper, or Bao zhi—which was printed in Beijing, China, in about 1582 during the late Ming Dynasty. Ever since their mass production began, newspapers have been a staple of our lives and they are certainly one of the most valuable resources we as genealogists can access, learn from, and utilize in our genealogy research.
The Five Ws of Newspaper Journalism
However, the real reason newspapers are such wonderful and useful resources in genealogy, I believe, goes all the way back to Hermagoras of Temnos, a 1st century BC Greek rhetorician. According to my limited research, this fellow is credited with being the first person to propose the importance of what has now become the mantra of good newspaper reporting: the "5 Ws." So let me here and now say: thank you, Hermagoras of Temnos, on a job well done!
Still taught today, the 5 Ws of "who, what, where, when and why" remain the gold standard of good journalism.
The more one thinks about it, the more obvious it may become that this mantra fits better than O. J.'s glove when it comes to our family history work. It is also why my family tree is chockablock with information and articles from GenalogyBank.com.
My Great Grandfather Was Robbed!
One particularly interesting example of the 5 Ws at work is the article I found on my great grandfather from an 1898 newspaper.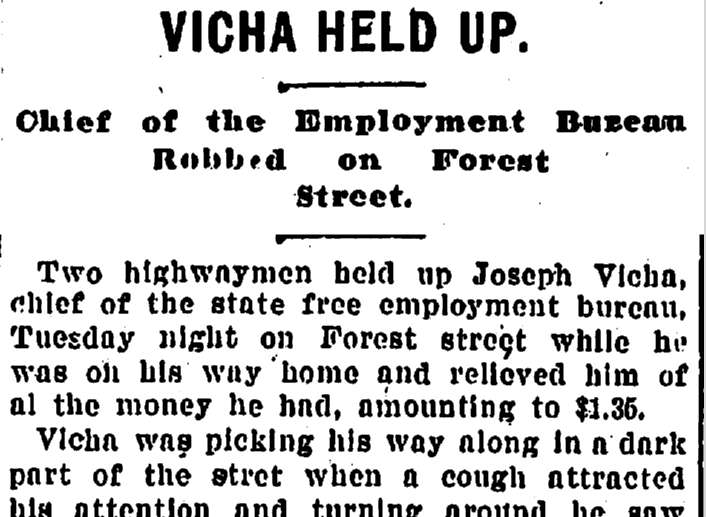 As you can see, the very first sentence offers me all 5 Ws by telling me my great grandfather (even giving me his employment for good measure) was robbed for a loss of $1.35 on Forest Street on Tuesday night. There you have all five: Who (Joseph Vicha), What (robbery), Where (on Forest Street), When (Tuesday night) and Why (for $1.35). I love that this old newspaper article has lots of great genealogical information and a nifty snapshot of a day in the life, albeit a bad one, of my great grandfather.
My Cousin's Home Was Attacked during a Strike
Another example of the 5 Ws being clearly presented, although not in the first sentence of the article, is one I discovered about my cousin in a 1911 newspaper.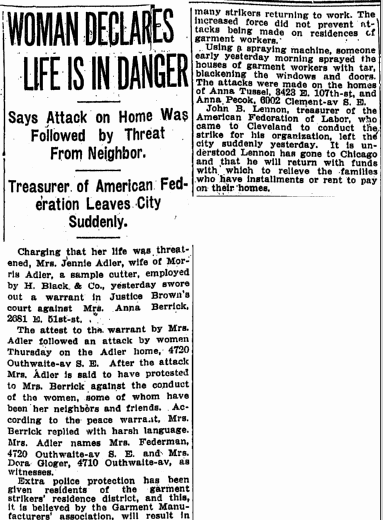 This historical newspaper article describes how my cousin Anna Tussel's home was attacked during the confrontations over a garment workers' strike (her house was sprayed with tar, "blackening the windows and doors"). This article provides another snapshot of an ancestor's life and gives information on her home address at the time, and more.
The use of the 5 Ws can also be a huge help in ruling out similarly-named folks, through the reporting of addresses, middle initials, employment, and more.
My Sister's Wedding
Plus every so often you can also get a little treat closer to home, as I did when I was working on a branch of my in-laws and a newer article caught my eye. This article from a 1967 newspaper treated me to a nice account of my own sister's wedding. Given that my brother-in-law and his parents have now all passed away, it was especially nice to get all the information contained in this old newspaper article.
So dig into those newspaper archives and when you find your next great article join me in thanking Hermagoras of Temnos!