Introduction: In this article, Mary Harrell-Sesniak provides another fun quiz to test your knowledge of nautical terms and phrases you may encounter in your family history research—and provides examples from historical newspapers. Mary is a genealogist, author and editor with a strong technology background.

Sailing ships, steamships, and sea travel were a big part of our ancestors' lives, something genealogists often encounter when searching their family history. This blog article provides a fun quiz to see how well you know old nautical terms and phrases, then defines the terminology using examples from historical newspapers.
When researching ancestral voyages in newspapers, you'll find that maritime language varies vastly from that on land.
That is, unless you reside in a nautical community such as Nantucket, Massachusetts.
A newspaper article from the Idaho Register in 1916 reported that "Nantucket speech is a museum of nautical expression." A departing guest might hear, "Well, a fair wind to you," and "women's work" was referred to as "tending the kettle halyards." Unless you know maritime terminology, you might not realize that a halyard is a rope (known on a boat as a line) used to hoist items, such as sails.
So what is a kettle halyard? That stumps me, but I suspect it was a kettle attached to a halyard, either for hoisting fish aloft for drying purposes, or to assist in bringing newly caught fish into the boat.
In 1841, a Nantucket mariner wrote his will strewn with nautical language. Obed Gardner wrote that he had "cruised with wife Huldy Jane since 1811," and he wanted her and son Jotham to be "captain and mate in bringin' to port" whatever he left. His story was told in that 1916 Idaho Register newspaper article.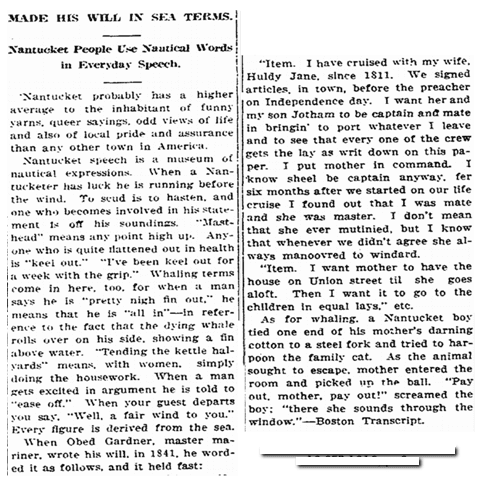 Perhaps you are an expert in the language of the sea? Test your nautical knowledge with this handy terminology quiz and review the definitions below. You are welcome to share the nautical terms quiz and this blog article, with proper credit to me and GenealogyBank.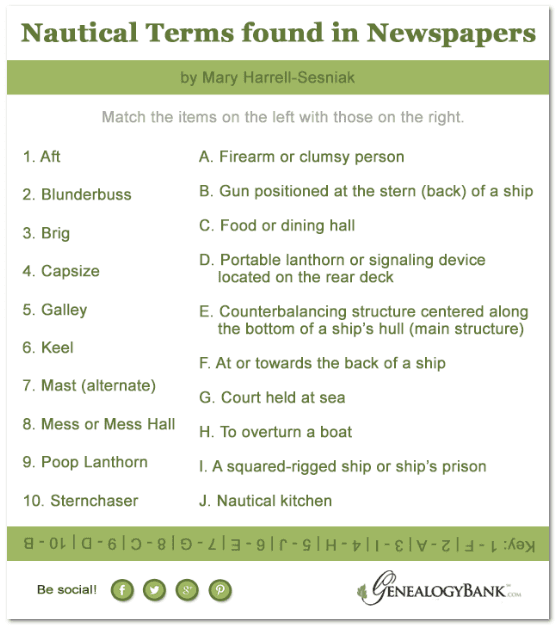 Nautical Locations and Directions: Sailors use different terms to refer to the front, middle or back of a boat or ship. Some common ship terms are:
Abeam: middle of the boat or ship
Aft, astern or stern: the back or toward the back
Bow or foreship: front or toward the front
Midship or amidship: middle or toward the middle (half way between the bow and the stern)
Port and starboard: the left & right sides, respectively, as you face forward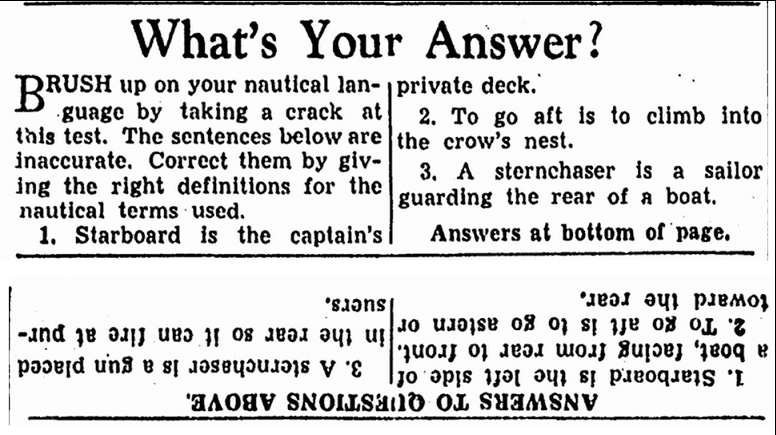 Blunderbuss: A blunderbuss is a type of flared firearm (weapon); the term later came to describe a clumsy person. In 1720, a "Sale by Publick Vendue" described various appurtenances "lately belonging to the Ship Thomas and Benjamin" that had been shipwrecked off the coast of South Carolina, including blunderbusses. There were also references to hooks, spears, horns, compasses and a poop lanthorn, which is explained below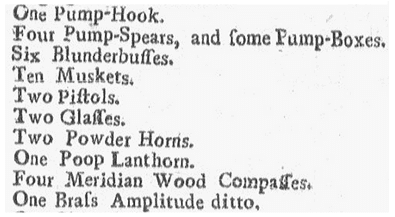 Brig or Brigantine: Brigs were an early and popular ship design. Most brigantines were square-rigged with two masts, as seen in this Library of Congress photograph of Oliver Perry's brig Niagara. An alternate term definition is a ship's prison.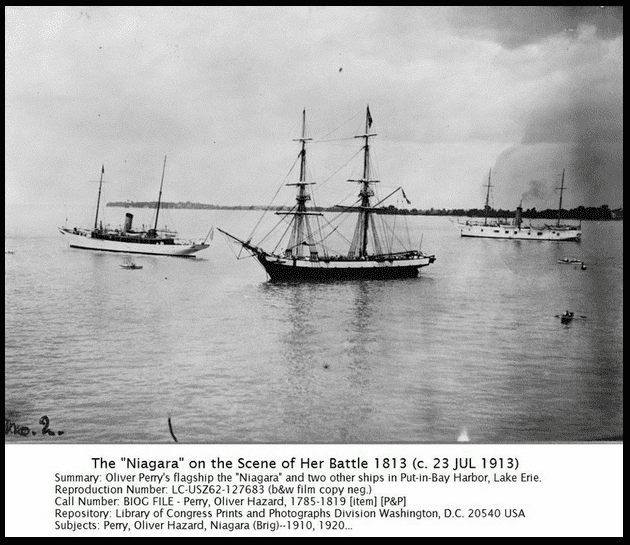 Old newspapers contain numerous references to sea voyages, including one from 1738 reporting that the brig Sally and the ship Constantine (a larger vessel) were bound for London.

This 1917 newspaper article described the process of discipline on a ship. Insubordinate sailors were tried before a court called a "mast" and the worst punishment was to be sent to "the brig."

Capsized or Capsizing: When a watercraft overturns, it is known as capsizing. In 1910, the sloop yacht Black Command, a type of one-masted sailboat, capsized off Solomon's Island, forcing passengers into Chesapeake Bay.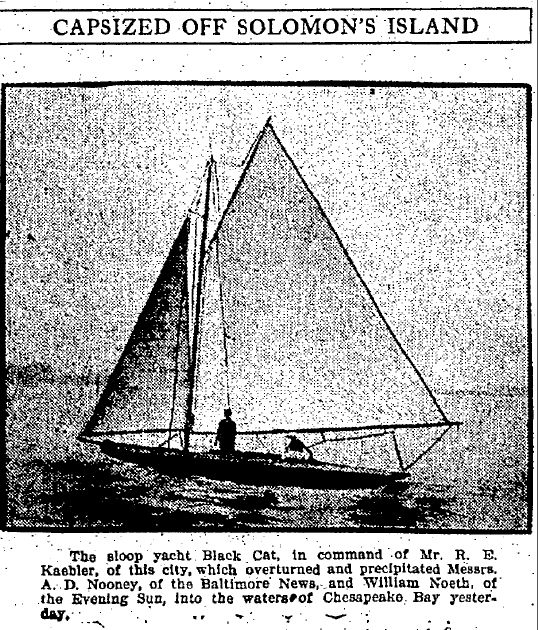 Deck and Poop Deck: A deck is a floor of a ship. Some of the more common decks are: the bridge (captain's or navigational equipment deck), main, upper, lower, promenade (walking area), tween or between (empty deck between two others), flush (an open unobstructed deck), quarter (near the main mast), weather (exposed to the weather), and the poop deck.
The poop deck is located at the aft or rear of a ship and its placement is typically elevated. The term poop is derived from the Latin term puppis, or stern portion of a ship.
Galley, Mess & Mess Hall: The galley or ship's kitchen is where food is prepared, and the mess is the food, as seen in the following description from a 1917 newspaper article. Dining halls for soldiers and sailors are often called mess halls. This old newspaper article mentions that an enlisted sailor might be called a "jackie" by his family, but was always referred to as a "bluejacket" on board the ship—a nautical term which comes from his blue jacket uniform.

Keel: The keel is the structure on the bottom of a vessel's hull (main body), which counterbalances the boat's weight should it lean (known as listing) too far to one side. Without a keel, ships often capsize. In 1901, Commodore Perry's brig Porcupine from the War of 1812 was located by Dr. Schuyler C. Graves. Not much was left, but he was able to secure the keel and put it on display.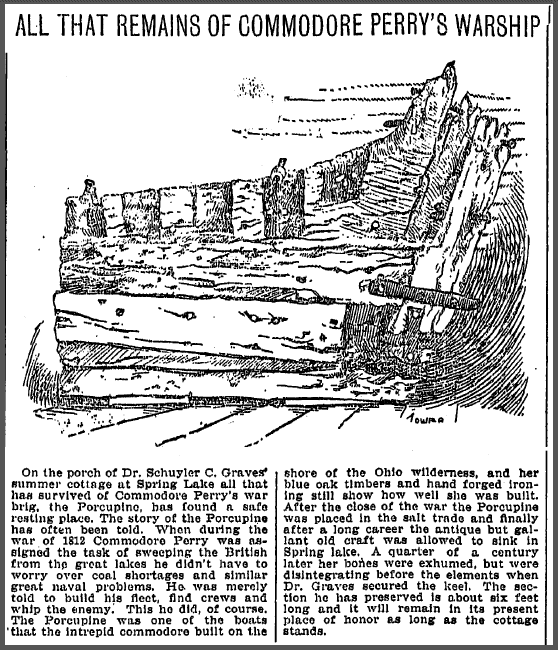 Lanthorn and Poop Lanthorn: This nautical term refers to a portable lantern (lamp) or signaling device. In the above example for blunderbuss, there is a reference to the poop lanthorn which indicates a lamp secured on the poop deck. The below photo depicts an early American lanthorn from my family. A recently discovered family note indicates provenance relating to the Miesse family of Berks County, Pennsylvania.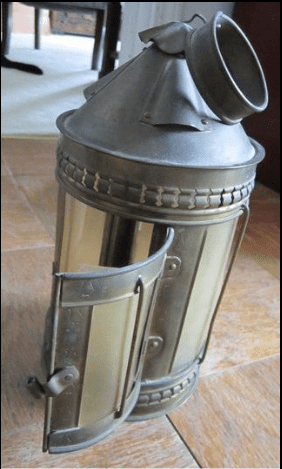 Mast: The mast is the pole that supports the sails on the ship, but it is also a term for the court that insubordinate sailors face while at sea. See the above example for brig.
Mizzen or Mizzenmast: The mizzen is a type of mast located behind or aft of the ship's mainmast. The term also refers to the lowest sail on the mizzenmast.
In 1898, Miss Cowan, described as a "Yankee girl," climbed the mizzen rigging (ropes and equipment supporting or attached to the mast). As she did not have her bicycle outfit with her, Captain Storer lent her one of his outfits.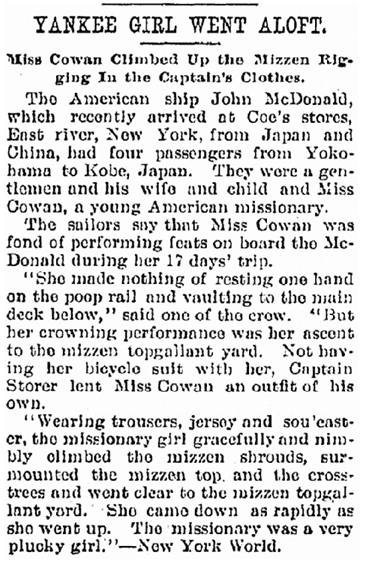 For more information on rigging and sails, see the Wikipedia articles at http://en.wikipedia.org/wiki/Rigging and http://en.wikipedia.org/wiki/Sail.
Sloop: A sloop is a type of sailboat with one mast and two sails (known as the mainsail and jib), although the term can also refer to a small square-rigged sailing warship with more masts. See the above illustration for capsizing.
Sternchaser or Stern-chaser: The following nautical term definition comes from a 1939 newspaper article.

There are many more nautical terms you'll find in newspapers. Let us know if you encounter one that you do not understand. Also, please share any nautical term definitions you have come across in your genealogy research with us in the comments.