I recently discovered that my ancestor Tristram C. Goodwin (1781-1813) died in the War of 1812.
I was searching the Internet for any mention of Tristram and found that my cousin Frederick Anson Estes, Tristram's great-grandson, had joined the "General Society of the War of 1812." I had heard of that group before, but hadn't focused on it much because I didn't think I had any family members who fought in that war.
I found this record using Google Books.
According to this source, Tristram "enlisted as Private March 1, 1813, in Captain Moses Hoit's Company, Ninth Regiment, United States Infantry" when he was 31 years old. He had a wife and four children at the time.
Tristram was enrolled in Lt. William L. Foster's Company on 30 November 1813 at French's Mills, New York. He also served in Lt. E. Child's Company at Grenadier Island, New York.
According to this record he died 27 December 1813 while serving under the command of Captain Chester Lyman.
Wait – that was during the war.
He died in the War of 1812.
Tristram was a member of the 9th Infantry Regiment. According to a Wikipedia article on the regiment, it is one of the most historic and decorated units in U.S. military history:
"The 9th Infantry Regiment is one of the first units authorized in the United States Army. It first appeared as a result of the Act of 16 July 1798, that authorized twelve additional regiments of infantry, in January 1799. Josiah Carville Hall, of Maryland, was its lieutenant colonel. However it was disbanded 15 June 1800. It appeared again serving in the War of 1812, it was again organized in March 1812, with Simon Learned, of Massachusetts, as colonel. The regiment was raised in Massachusetts, and took part in the war on the northern border."
Interested in learning more about Tristram's regiment, I searched for the keywords "War of 1812" and "9th Infantry Regiment" in GenealogyBank.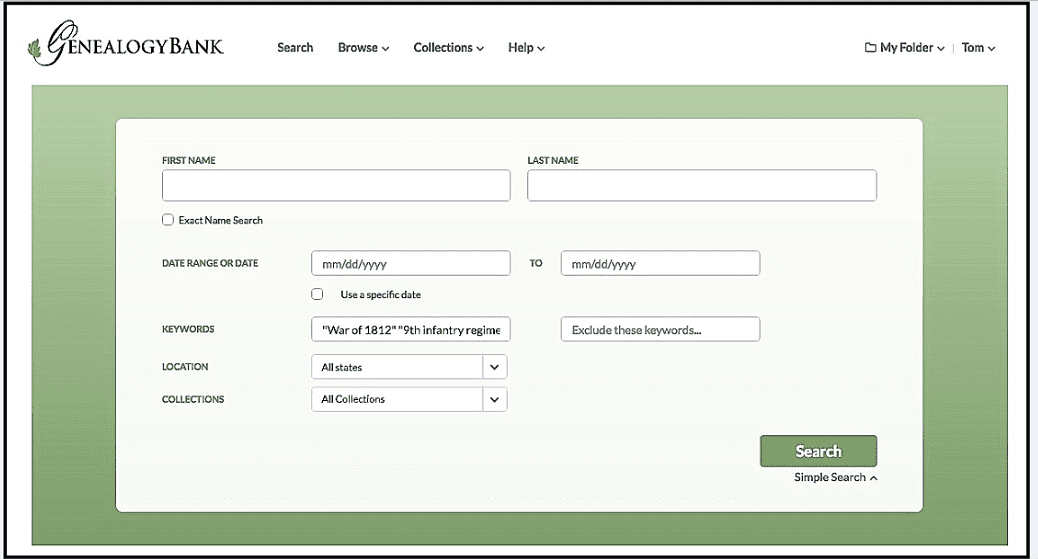 An article I found from the Tacoma Daily Ledger chronicled the 9th Regiment's 101st anniversary.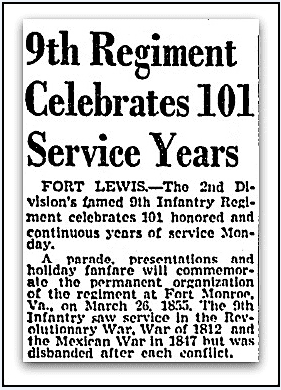 According to this article:
"The 9th Infantry saw service in the Revolutionary War, War of 1812 and the Mexican War in 1847 but was disbanded after each conflict."
I found another record in Google Books, from the Historical Dictionary of the War of 1812, which gives a brief history of the battles Tristram's regiment participated in.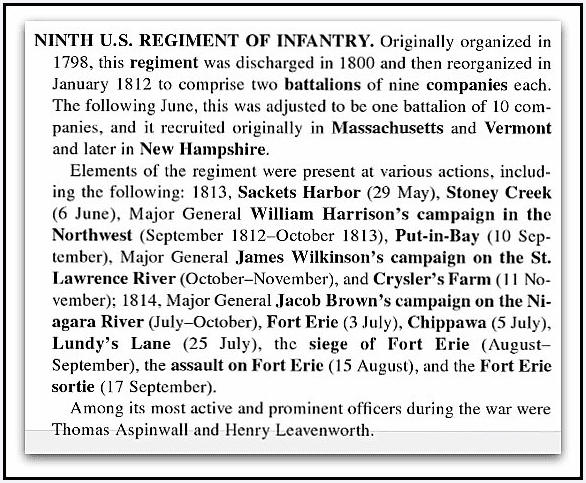 These articles lay out the battles that Private Tristram C. Goodwin served in. His last battle was under the command of General James Wilkinson.
I found another record about the 9th Regiment in Google Books.

According to this source:
"Wilkinson's first care, after arriving at Sackets Harbor, August 20, 1813, was to concentrate the forces of his command. He directed those at Nagara and Sackets Harbor to assemble on Grenadier Island."
On 16 October 1813 the fleet of boats took 7,000 troops, during a fierce storm that lasted for two days, to Grenadier Island, New York. Snow was over 10" deep.
General Wilkinson moved some of the troops, including Private Tristram Goodwin, to French Creek – positioning them to take Kingston, New York, then under British control.
Tristram participated in the Battle of French Creek. He then went with his regiment to Grenadier Island and died just a few weeks later, according to a report by Capt. Chester Lyman (1783-1873).
I found more information in an article from ThousandIslandsLife.com.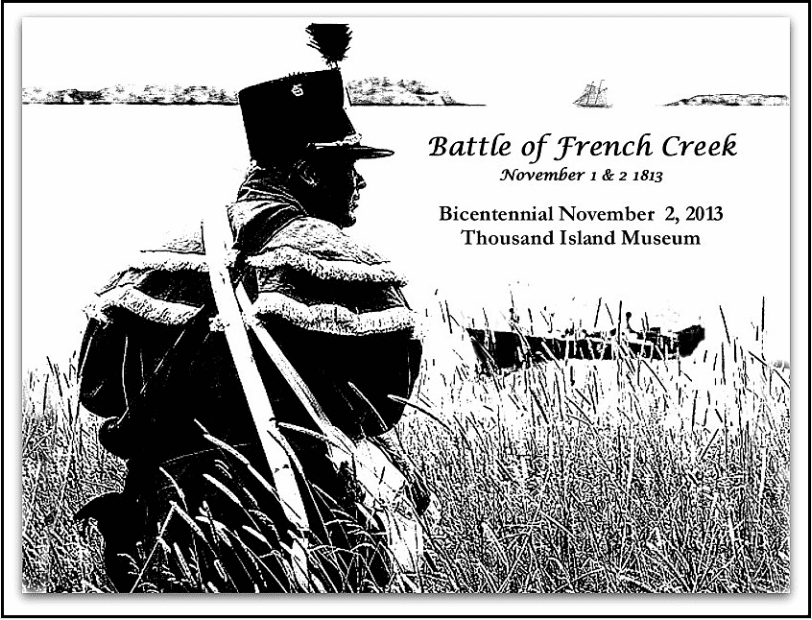 From this source, I learned that the War of 1812 reenactors – Forsythe Rifles from Ogdensburg, New York – still reenact the battle of French Creek:
"The Battle of French Creek was a small victory for the Americans that was part of a war that is now mostly forgotten. It played out in the Thousand Islands when French Creek was used as a staging area for the United States Army in its advance on Montreal, Canada, in late 1813. A United States Army in the order of 8,000 soldiers under the command of General James Wilkinson passed down the St. Lawrence River from Sackets Harbor. This was an ill fated mission in an attempt to achieve a decisive victory against the British and end the war in Upper Canada (Ontario)."

–"Reenactors return to French Creek," by Dennis McCarthy. 13 November 2013.
I had no idea that one of my ancestors fought and died in the War of 1812.
Genealogy Tip: Find out more about your veteran ancestors and the American conflicts they served in by searching for them in GenealogyBank.
Related Articles:
(Visited 2,607 times, 1 visits today)