Introduction: Scott Phillips is a genealogical historian and owner of Onward To Our Past® genealogy services. In this guest blog post—in honor of Martin Luther King, Jr. Day—Scott searches old newspapers to find out more about Dr. King's family history—and includes a free MLK family tree download.
The year was 1968. If you lived it, you know it was a year quite like no other in U.S. history. Certain words and images are indelibly seared into our memories from 1968: Vietnam, Tet Offensive, anti-war riots, Robert F. Kennedy, Apollo, Nixon, "Prague Spring," and Martin Luther King Jr. to name a few.
It was on 4 April 1968 that our world lost the legendary civil rights activist Dr. Martin Luther King Jr. to an assassin's bullet, as reported in this 1968 Louisiana newspaper.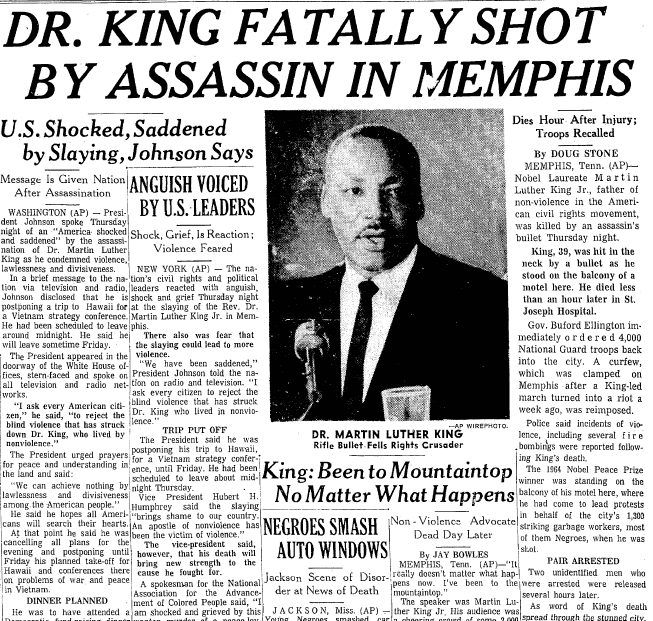 The world was in shock and sadness over the assassination of MLK, and our entire nation was on edge.  As a country, we tried to come to grips with the murder of one of our most stalwart proponents of peaceful humanitarian change.
Since today is the national celebration of Dr. King's life, as well as the 46th anniversary of his untimely death, I thought I would search GenealogyBank's Historical Newspaper Archives to see what I could learn about the genealogy and family history of this truly great American.
Martin Luther King Jr.'s Father, the Reverend King Sr.
The first thing we need to recall is that while newspapers often referred to him as Dr. King, his full name was Martin Luther King Jr. His father was Rev. Martin Luther King Sr.
Rev. King Sr. outlived his son, dying in Atlanta of heart disease in 1984, as reported in this Texas newspaper. This obituary gives us more information about the family of Rev. King Sr., commenting that "his life was stained by repeated tragedy." He not only lost his son, Dr. Martin Luther King Jr. in the 1968 assassination, but his only other son, Rev. A. D. King, accidentally drowned in 1969, and his wife, Alberta Williams King, was killed by gunfire while playing the organ during a church service in 1974.
Rev. King Sr.'s faith and commitment is shown in the last two paragraphs of this obituary:
"But in his last years, King refused to speak with bitterness about his family's losses. Nor did he swerve from his commitment to non-violence and his faith in the ultimate designs of a loving God.
"'I do not hate the man who took the life of my dead son,' he said at a bicentennial ceremony in Dallas in 1976. 'I am not going to hate the young man who came and killed my wife. I am every man's brother. I'm going on with my job.'"
The murder of Alberta King, wife of Rev. King Sr. and mother of Dr. Martin Luther King Jr., was reported in this 1974 Massachusetts newspaper.
MLK's Personal "Preacher's Kid" Story & Family Photo
Dr. Martin Luther King Jr. was part of a group called "preacher's kids," as shown in this 2006 Illinois newspaper article. This old newspaper article not only provides a view of what it is like to grow up as a "PK" or preacher's kid, but also provides us with a photo of the King family in 1963, as well as a very nice biography of Dr. King which lists his wife, Coretta Scott, and his four children, Yolanda, Martin Luther III, Dexter, and Bernice.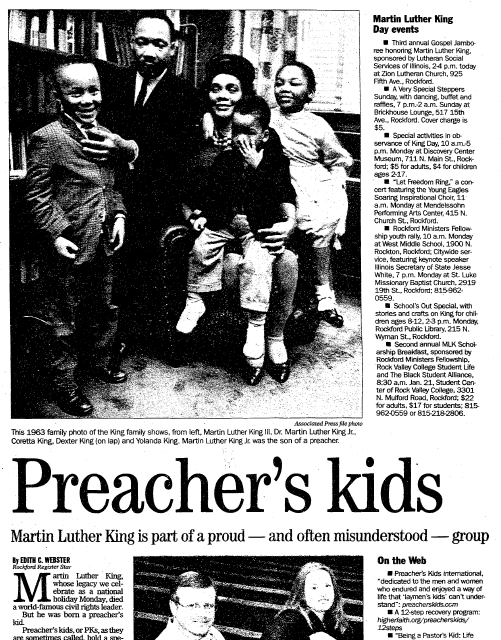 Martin Luther King Jr.'s Daughter, the Reverend Bernice King
I then discovered an intriguing article from a 1991 South Dakota newspaper about Dr. King's daughter Bernice. She is the only one of Martin Luther King Jr.'s four children to become a minister. The old newspaper article proclaims: "Bernice King is seeking her own mission and her own identity." As with so many of our own families, it seems the passion for a profession followed through the branches and roots of the King family with Rev. Bernice King, who is currently the chief executive officer of The King Center.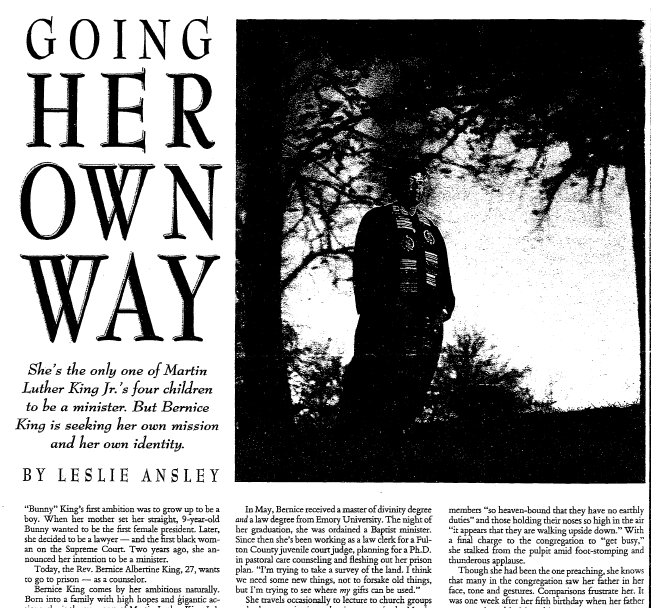 Martin Luther King Jr.'s Grandfather, the Reverend A. D. Williams
It was also interesting for me to note, when I looked up Dr. Martin Luther King Jr.'s grave on Findagrave.com, that his maternal grandfather, A. D. Williams, was also a Reverend.
Honoring the Memory of MLK
Dr. King's legacy was recognized and respected by the signing of the bill establishing a national holiday in his honor by then-President Ronald Reagan, as reported in this 1983 Washington newspaper article.

His legacy was further elevated by the establishment of the Martin Luther King, Jr. National Memorial in Washington, D.C., on 28 August 2011.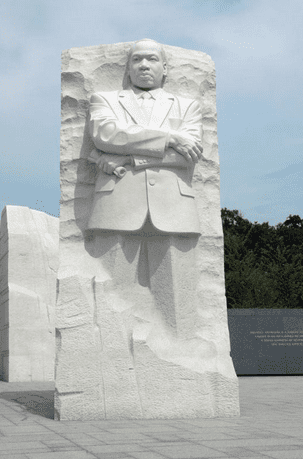 It was an article I found in a 1971 Alabama newspaper that really made me nostalgic. This article is all about songwriter Dick Holler and it reports: "Holler considers 'Abraham, Martin and John' his best song to date." It goes on to say: "He said it only took about 10 minutes to write the song and that he had no idea it would be such a tremendous success."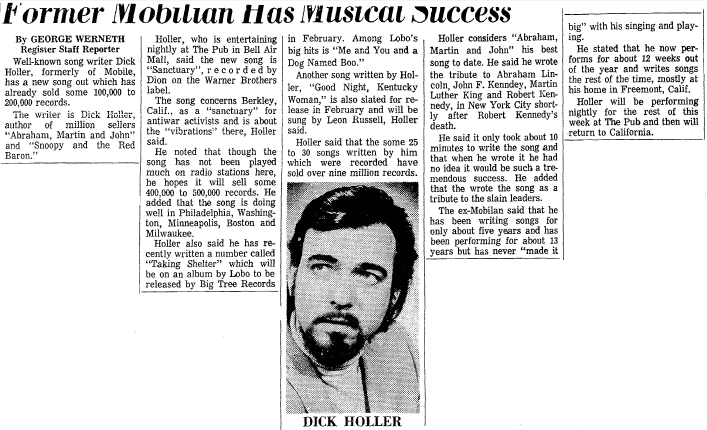 While all of the memorials and tributes to Dr. King are wonderful, it is Dick Holler's that I always carry close in my heart!
"Anybody here seen my old friend Martin?
Can you tell me where he's gone?
He freed a lot of people,
But it seems the good they die young.
I just looked around and he's gone."
—Dick Holler
Take some time during today's Martin Luther King, Jr. Day commemoration to reflect upon this great civil rights leader and his legacy of faith, love, hope, and non-violence.
A Free Martin Luther King Jr. Family Tree Download
Start your own genealogy investigation into his life with this free Martin Luther King Jr. family tree template download that contains the names, DOB, and DOD (if applicable) of his parents, grandparents and great grandparents.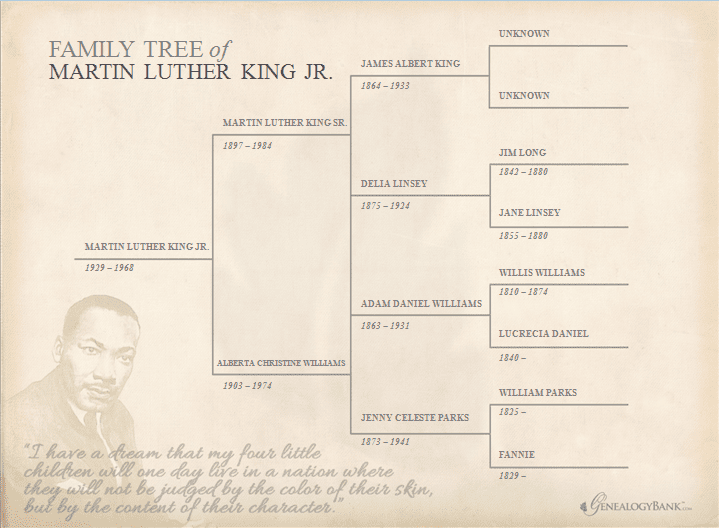 Feel free to share this family tree on your own website or blog using the embed code below.
MLK Genealogy Challenge
See if you can find out more about Martin Luther King Jr.'s ancestry dating back into the 1800s, and fill in some of the unknowns in his family tree. Our African American newspaper archives is a great place to start. Please be sure to share your MLK family history finds with us in the comments!
Related Posts: