Under the watchful eyes of a worldwide television audience, Billie Jean King struck a blow for women's equality when she clobbered hustler and male chauvinist Bobby Riggs in a tennis match on 20 September 1973, dubbed "The Battle of the Sexes."
The contest, played on a green synthetic court with bright yellow balls in Houston's Astrodome, was carried live by ABC-TV and broadcast to 40 countries. Betting was heavy on the match, with Las Vegas setting 5-2 odds that the 55-year-old Riggs would beat the 29-year-old King. The odds-makers were wrong: King ruled the court, winning the best-of-five match in three straight sets, 6-4, 6-3, and 6-3.
When King declined Riggs's initial challenge, then top-rated Margaret Court stepped in instead. In a Mother's Day match on 13 May 1973, Riggs humiliated Court with a clever game of lobs and beat her soundly, 6-2 and 6-1. Buoyed by this victory and sudden fame, Riggs used the attention to taunt King and a cause she passionately believed in, women's liberation, saying such things as women look prettiest when they're barefoot and pregnant.
The opportunity to shut Riggs up, combined with the strong inducement of a $100,000 winner-take-all challenge, convinced King to accept. The resulting match – and her victory – got the world's attention and was a milestone for women's sports.
These two newspaper articles give a good idea of the hype surrounding the tennis clash and what was at stake. They were published on the day of the match by the Augusta Chronicle; everyone had time to read them before the 8:00 p.m. contest began.
Here is a transcription of this article:
Riggs: Don't call me creep;
King: It's not such a bad word
HOUSTON (AP) – Bobby Riggs and Billie Jean King got into an eyeball-to-eyeball, name-calling joust Wednesday on the eve of their $100,000 winner-take-all tennis Battle of the Sexes, which broke into a squabble over whether Bobby "is a creep."
"I don't mind you calling me a hustler, chauvinist pig or egomaniac," the 55-year-old Riggs told his 29-year-old woman adversary. "But you shouldn't call me a creep. It is not a nice word."
Billie Jean didn't budge an inch.
"It is not such a bad word in Beverly Hills," she replied. That was as far as she would go.
"I think she should have apologized, but she didn't," Riggs said. He said that Billie Jean used the term in a national magazine article. Riggs, in a bright, yellow suit and Billie Jean, sweating under a sequined, white and yellow jacket, appeared for a 30-minute press conference in the bubble outside the Astrodome where their match will take place.
It was their first confrontation since reaching Houston.
Asked how she felt about Riggs, who triggered this highly publicized match with his derisive comments about women in general and women's tennis in particular, Billie Jean said: "I like him and I hate him. He is ridiculous. Sometimes I laugh, but mostly I get furious."
Making a prediction about the match, Billie Jean said she expected the best-of-five match to go only three sets. She left no doubt who she thought would win it.
Riggs said, "She expects to scrape me off the Astrodome floor. I will scrape her up. She is a woman and is subject to women's emotional frailties. She will crack up during the match."
The pill-gulping Riggs is a 5-2 favorite.
"King money is scarce. It's hard to find a bet on the girl," said Jimmy "The Greek" Snyder, the voice of Las Vegas, checking into the hotel headquarters in a familiar checkered coat and arm loaded with form charts.
Earlier, Billie Jean, the 29-year-old champion of women's lib, had been no worse than an 8-5 underdog against the 55-year-old chauvinist who shamed Margaret Court in their Mother's Day Battle of the Sexes in San Diego May 13.
The best-of-five set duel with optic yellow tennis balls, which has excited and divided a nation, is scheduled at 8 p.m. EDT over a synthetic green carpet.
The much-ballyhooed affair will be shown nationally by ABC-TV, which paid $750,000 for the rights, and to some 40 countries overseas via satellite. Europeans will have to stay up until after midnight to view it.
Television sponsors reportedly paid $90,000 a minute for commercial TV time.
The live gate picture is less rosy. Ticket sales fell off when Billie Jean became ill and defaulted in a third-round match in the recent U.S. Open at Forest Hills, but picked up markedly when the five-time Wimbledon women's champion showed up on the scene early this week and announced in a loud voice:
"I am fine, physically and mentally. I am ready. All I can say is Bobby had better be ready, too. He's going to have to play tennis."
Jerry Perenchio, the Los Angeles producer who put together the $20 million Muhammad Ali-Joe Frazier heavyweight title fight in 1971, emerged from his $2,500-a-night celestial suite and said he expected a crowd of at least 35,000.
The Astrodome seats 51,000 and Perenchio's original dream was that every seat would be occupied.
"A full house would mean a gross of $689,000," Perenchio said. "I am sure we will have a live gate of at least $500,000." The Astrodome has guaranteed Perenchio $300,000.
Ticket sales came to almost a dead standstill and five London theaters cancelled closed-circuit contracts when Billie Jean developed a virus and doctors examining her in Hilton Head, S.C., discovered that she had a low sugar count in her blood.
At first, it appeared the celebrated match might be in jeopardy but the alarm was unfounded. Billie Jean got healthy quite quickly on a diet of candy bars and vitamins and she has been more impressive than Bobby in pre-match workouts.
On Tuesday night, Billie Jean was particularly sharp. She was actually vicious as she moved over the court, slamming the ball down the throats of her two sparring mates – Pete Collins, resident pro at Hilton Head, and Betty Stove of the Netherlands.
While Mrs. King has remained in virtual seclusion, avoiding all the fanfare and gimmickry associated with the unique promotion, Bobby has been swinging wildly on a merry-go-round of parties, public appearances and late-night sessions, gabbing with the press in his seventh-floor suite.
"I'm afraid Bobby is wearing himself out before the match ever starts," one close associate of his said. "Frankly, I am worried. Bobby has given in to everything and everybody. He's never stopped."
"Don't worry," counseled another member of the huge Riggs entourage. "That's the way Bobby lives. He'll be okay."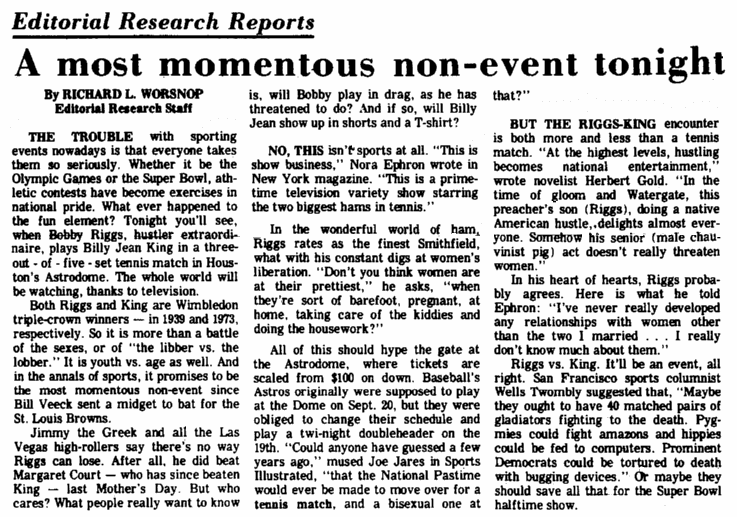 Here is a transcription of this article:
Editorial Research Reports
A most momentous non-event tonight
By Richard L. Worsnop
Editorial Research Staff
The trouble with sporting events nowadays is that everyone takes them so seriously. Whether it be the Olympic Games or the Super Bowl, athletic contests have become exercises in national pride. What ever happened to the fun element? Tonight you'll see, when Bobby Riggs, hustler extraordinaire, plays Billie Jean King in a three-out-of-five set tennis match in Houston's Astrodome. The whole world will be watching, thanks to television.
Both Riggs and King are Wimbledon triple-crown winners – in 1939 and 1973, respectively. So it is more than a battle of the sexes, or of "the libber vs. the lobber." It is youth vs. age as well. And in the annals of sports, it promises to be the most momentous non-event since Bill Veeck sent a midget to bat for the St. Louis Browns.
Jimmy the Greek and all the Las Vegas high-rollers say there's no way Riggs can lose. After all, he did beat Margaret Court – who has since beaten King – last Mother's Day. But who cares? What people really want to know is, will Bobby play in drag, as he has threatened to do? And if so, will Billie Jean show up in shorts and a T-shirt?
No, this isn't sports at all. "This is show business," Nora Ephron wrote in New York magazine. "This is a primetime television variety show starring the two biggest hams in tennis."
In the wonderful world of ham, Riggs rates as the finest Smithfield, what with his constant digs at women's liberation. "Don't you think women are at their prettiest," he asks, "when they're sort of barefoot, pregnant, at home, taking care of the kiddies and doing the housework?"
All of this should hype the gate at the Astrodome, where tickets are scaled from $100 on down. Baseball's Astros originally were supposed to play at the Dome on Sept. 20, but they were obliged to change their schedule and play a twi-night doubleheader on the 19th. "Could anyone have guessed a few years ago," mused Joe Jares in Sports Illustrated, "that the National Pastime would ever be made to move over for a tennis match, and a bisexual one at that?"
But the Riggs-King encounter is both more and less than a tennis match. "At the highest levels, hustling becomes national entertainment," wrote novelist Herbert Gold. "In the time of gloom and Watergate, this preacher's son (Riggs), doing a native American hustle, delights almost everyone. Somehow his senior (male chauvinist pig) act doesn't really threaten women."
In his heart of hearts, Riggs probably agrees. Here is what he told Ephron: "I've never really developed any relationships with women other than the two I married…I really don't know much about them."
Riggs vs. King. It'll be an event, all right. San Francisco sports columnist Wells Twombly suggested that, "Maybe they ought to have 40 matched pairs of gladiators fighting to the death. Pygmies could fight amazons and hippies could be fed to computers. Prominent Democrats could be tortured to death with bugging devices." Or maybe they should save all that for the Super Bowl halftime show.
Note: An online collection of newspapers, such as GenealogyBank's Historical Newspaper Archives, is not only a great way to learn about the lives of your ancestors – the old newspaper articles also help you understand American history and the times your ancestors lived in, and the news they talked about and read in their local papers. Do you have any memories of "The Battle of the Sexes" tennis match? Please share your stories with us in the comments section.