Introduction: Mary Harrell-Sesniak is a genealogist, author and editor with a strong technology background. In this blog article, Mary shows how graduation announcements in old newspapers are a good resource for your family history research.
It's that time of year, when graduation ceremonies abound – but I'd wager to say that few genealogists have thought to search old newspapers for their ancestors' graduation announcements.
But genealogists really should, because the graduation articles and photos found in historical newspapers are wonderful – and may tell you something about your ancestors you never knew.
Graduation Photographs & Illustrations
Many early graduation announcements include just a few details, but starting around 1899 coverage expanded with photographs, some depicting historical events.
For example, when President McKinley attended Smith College's Commencement Exercises in 1899, it was national news. This spread from a Massachusetts newspaper includes photos of the presidential party, female graduates in their finery, and a picture of two presidents: U.S. President William McKinley and Smith College President Laurenus Clark Seelye.
Many newspaper graduation articles include pictures of the individual graduates, like the following article from an Oregon newspaper. Although small (only three students!), the first graduating class of Goldendale Washington's Klickitat Academy had their pictures and class rankings published: Miss Mabel E. White, Salutatorian; Edgar Clarence Ward, Composition Graduate; and Miss Beulah B. Morris, Valedictorian.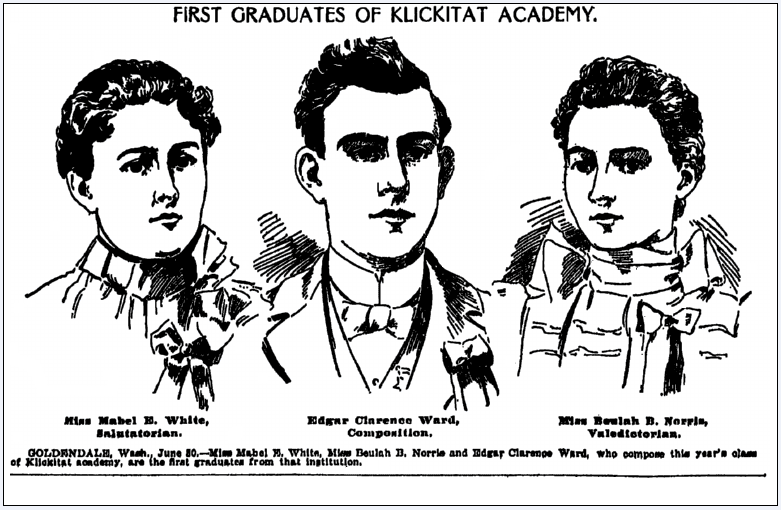 Today, medal and prize-winning graduates are honored in the newspaper – and it was no different over 100 years ago.
William Jennings Bryan, a well-known politician and candidate for U.S. president, was the benefactor of several colleges – who bestowed awards in his honor. Some of the William Jennings Bryan Medals were for political science or other subjects, such as this journalism medal established in 1898.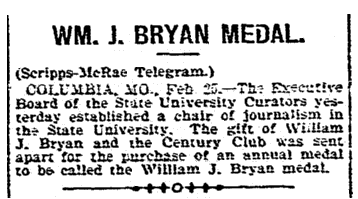 E. P. Camron, Jr., was the 1900 recipient of the William Jennings Bryan Medal at Missouri State University.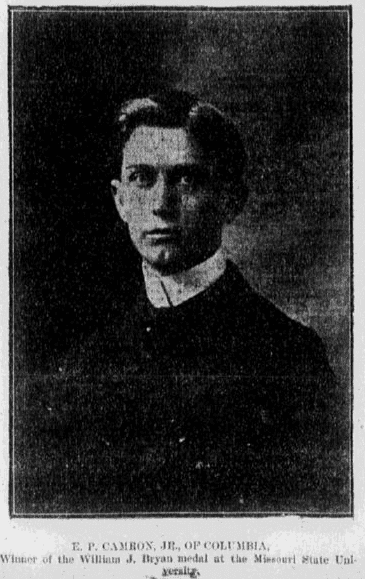 Lists of Graduates
Search old newspapers for lists of graduates – and not just for high schools and colleges. You might uncover elementary school commencements as well, such as this one from Grand Forks, North Dakota. In 1911, every eighth grade graduate in the city schools was listed in this North Dakota newspaper article – all 129 of them.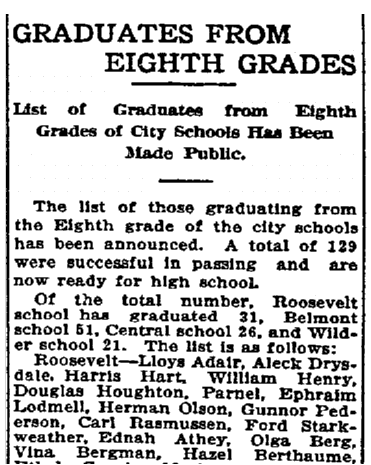 Honors Such as "Most Likely to Succeed"
You may be surprised to learn that those charming "Most likely to succeed" and other titles bestowed upon the senior class were invented long ago. For example, notice some of the honors bestowed on the Yale College Seniors in 1907:
Most likely to succeed in life: Edward H. Hart of Brooklyn
Greatest grind: Charles Pomeroy Otis of Andover, Massachusetts
Most popular member: Captain Samuel Morse of the football eleven
Nerviest and windiest: George Harold Wiess of Schuylkill Haven, Pennsylvania
Most scholarly: L. A. Doherty of Murray, Idaho
All around athlete & member who has done the most for Yale: William F. Knox
Best natured: Harold Sherman Wells of Scranton
Best dressed: Theodore Ives Driggs of Waterbury
Wittiest: Jeremiah H. Jones of Haverhill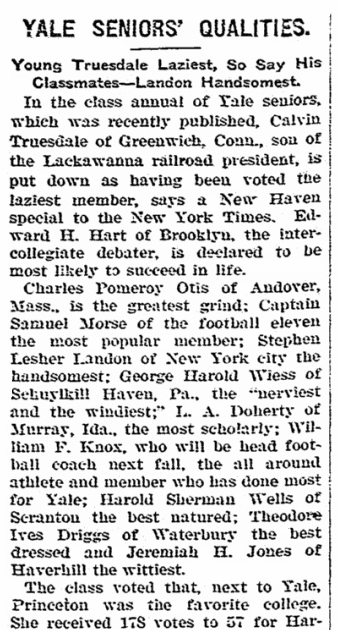 Searching for Graduation Announcements in Old Newspapers
Add graduation announcements to your search list of newspaper article types: perhaps you'll find an honor bestowed upon your ancestor.
[search_box]
However, as with any genealogical search, include appropriate keywords in graduation searches. Terms change over time. For instance, the "annual" is what we now think of as a yearbook, such as this annual published by the senior class that is described in this Indiana newspaper article.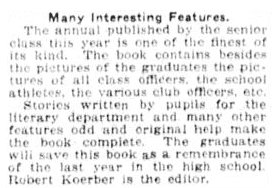 Suggested Graduation Search Keywords
Searching on these keywords may help you find graduation announcements about your ancestors:
alumna, alumnus, alumni
grad, graduate, graduand, graduation
commencement, exercise, ceremony
candidate, senior, students, pupils
certificate, diploma, degree, sheepskin, cap and gown
award, medal, honors, accolade, laurels
Baccalaureate, Valedictorian, Salutatorian, Cum Laude, Magna Cum Laude
annual, yearbook
"most likely to succeed"
Graduation Announcements in Other Collections
Have fun looking for graduation announcements and don't forget that they can be found in collections other than Historical Newspaper Archives. For example, be sure to look for graduation ephemera in GenealogyBank's Historical Books collection. There are a number of commencement programs, such as this 1874 one from Wesleyan Female College in Cincinnati, just waiting to be found.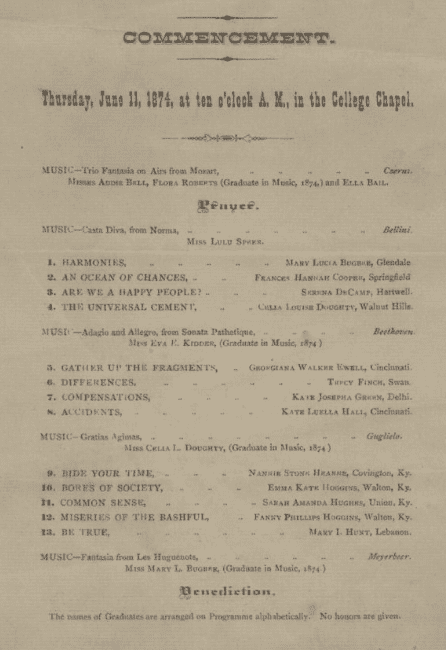 Good luck with your graduation article searches; perhaps you'll earn this honor: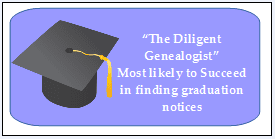 Related Articles:
[bottom_post_ad]