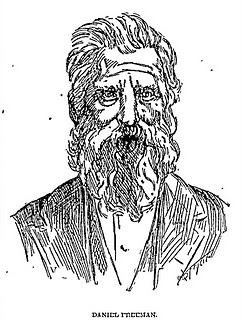 Abraham Lincoln signed the Homestead Act on May 20, 1862. It would take effect on January 1, 1863. The first homesteader to take "the required oath and [be] given the documents which made him possessor of 160 acres of land" was Daniel Freeman (1826-1908).

Daniel Freeman was born April 26, 1826 in Lewisburg, Preble County, Ohio. The son of Samuel and Phebe (Willis) Freeman.
This image of Daniel Freeman is from the Omaha (NE) Sunday World Herald 26 June 1899.

According to that newspaper he and his family moved from Ohio to Illinois when he was 9 years old. In time he enlisted in "Company H of the Seventeenth Illinois Volunteers" and was stationed in Nebraska.
Freeman "had been ordered to return to St. Louis" and would not be in town when the land record office would open on January 2nd but the Recorder of Deeds James Bedford agreed to accommodate Freeman's situation and made an exception and administered the oath at midnight the morning of January 1st so that he could leave to report in St. Louis.
Freeman wouldn't return to build on his land until 1865. He literally married the "girl next door" – Agnes Suiter (1843-1931) – and they built their lives together there in Brownsville, Nebraska.
The Kansas City (MO) Times 26 May 1920 carried an image of the old homestead.
What a great day for genealogists. GenealogyBank is packed with newspaper articles and historical documents – over 227 Million of them that document and give the details of our ancestor's lives.
It's great to have the details and the actual images of our ancestors and their homes. Who knew it would be this easy to find them after all these years.
Give it a try for 30 days for $9.95.
(Visited 152 times, 1 visits today)