Introduction: Scott Phillips is a genealogical historian and owner of Onward To Our Past® genealogy services. In this guest blog post, Scott asks our readers for help in deciphering the writing on the back of an old photo identifying his "Uncle L."
As I would imagine many of you do, I have some intriguing old photographs that unfortunately don't have any identification on them. However, the one I have in my family history stash that makes me the craziest actually does have writing on it. The old black and white picture has a wonderfully clear full sentence on the back, which identifies my father around the age of 2 or 3 and—here is the kicker—a second, older fellow identified as Uncle L. Uncle L?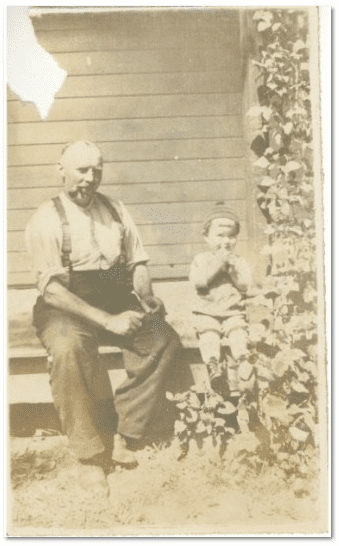 Yep! The old family photo is as clear as a bell (as you can see here), except for the name of this mysterious uncle!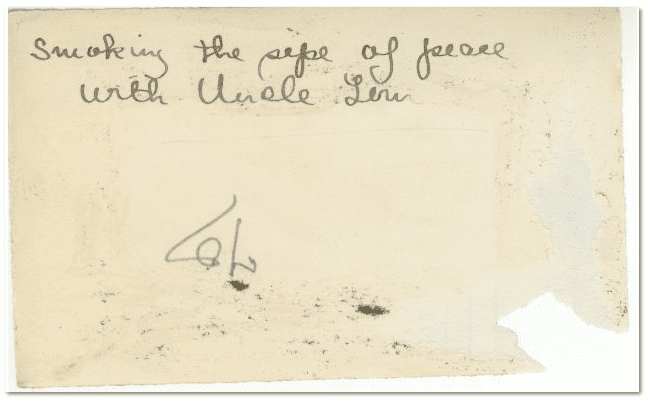 Every so often I pull that old photo out and try again to identify this mysterious member of my family that I know nothing about. As my family tree continues to grow, becoming more refined and better documented, I keep hoping for a breakthrough. So far though, I have had no luck in identifying this Uncle L. I brought that old family photo out the other day and decided to try some lateral thinking via GenealogyBank.com and its newspaper archives.
To me the handwriting on the back of the photo might be read as Uncle "Lew" or "Len." Unfortunately there is no Lew or Len in any of my Dad's immediate family, nor his father's family. So I branched out to look at some relations of my grandmother's who lived nearby.
I began my genealogy research with the knowledge that the passenger list from Ellis Island shows my grandmother coming to America to live with her brother-in-law Thomas Martin. He happened to be living on the same street as she and my grandfather would later live on for decades. I still have many warm and wonderful memories of that home from my youth.
My new search began with this brother-in-law and fellow traveler, Thomas Martin. I learned many interesting facts about him from GenealogyBank's newspapers, such as his job as a lamplighter—which conjured up many images of a great job, until I thought of winter and rainy evenings—and his later job as a street car motorman. However, nothing I found about Thomas helped me identify my mystery uncle.
So I broadened my search on the Martin surname and it wasn't long before I discovered that a descendant had married a Starr family member related to Floyd Starr, the founder of the amazing Starr Commonwealth for Boys in Albion, Michigan.
While I truly enjoyed reading this old news article, which provides a great history of the charitable youth program, it still offered me no one with a given name that comes close to my mystery uncle's name.
I branched my researching out some more and soon found another family member farther down the street, the Newell family. The Newell family matriarch, Marjorie, was another sister of my grandmother's, so the search was back on. I discovered lots of interesting information about Marjorie in the newspaper archives, such as her old marriage announcement.
While offering good genealogical information on Marjorie, this historical marriage announcement also led me to another interesting story about her soon-to-be brother-in-law being awarded the Purple Heart after an air raid in WWII.
However, once again I had nothing that solved my mystery about Uncle L.
I moved on to the last family member who lived in the States. This was my grandmother's brother Thomas Cottle who lived just a couple of blocks away. I searched his family, his wife's family the Morrells, his wife's brother Wilbert, and his brother-in-law's wife's family the Ricks. Again I gained much useful information for my family tree, but my mystery uncle remains just that.
While I refuse to call this treasured family photograph a brick wall, I am back to staring closely at the photo and analyzing the name. Does it begin with an L, a T, or possibly even a script Q?
What do YOU think? Take a good look yourself, post a comment and let me know…PLEASE!
(Visited 99 times, 1 visits today)