Are you free any time between now and this Saturday?
Do you have Internet access?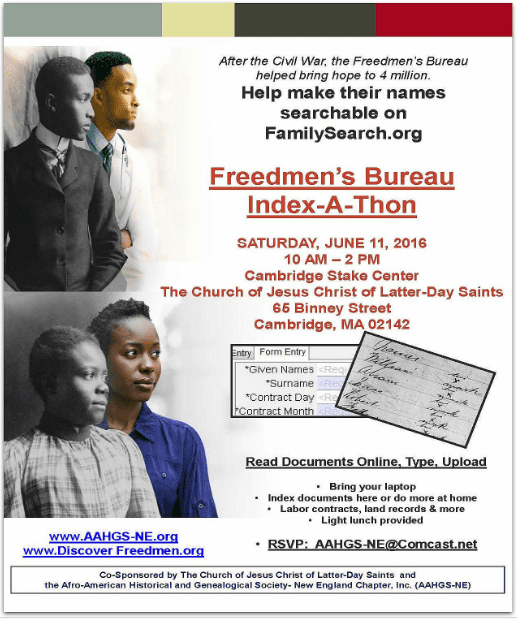 Bonus Question: Do you live near Cambridge, Massachusetts?
If you can answer yes to any of these questions, then you can help with an important indexing project.
Plan to pitch in between now and Saturday morning to help complete the indexing of the Freedmen's Bureau Project – you can index from home or be there in Cambridge to join the massive in-person index-a-thon.
The Freedmen's Bureau Project was created as a set of partnerships between FamilySearch International and the National Archives and Records Administration (NARA), the Smithsonian National Museum of African American History and Culture, the Afro­-American Historical and Genealogical Society (AAHGS), and the California African American Museum.
The Project is 87% complete, and is focused on indexing the records of the Freedman's Bureau that was established after the Civil War to assist the recently-freed slaves.
To see a list of the record sets that have been completed and the few that remain to be completed, click here.
Let's start now – by pitching in and indexing these records to help everyone in the genealogy community find their roots.
Related African American Genealogy Articles: