Introduction: Scott Phillips is a genealogical historian and owner of Onward To Our Past® genealogy services. In this guest blog post, Scott—sparked by an award announcement he read—reminisces about some of the great family history discoveries he's found in GenealogyBank's historical newspaper archives.
Congratulations on the great news! I just read that GenealogyBank.com, one of my all-time favorite "Go To" genealogy and family history websites, has been selected one of the "101 Best Websites for Genealogy in 2013" by Family Tree Magazine again! You can find the list online on the "Best U.S. Genealogy Websites of 2013" page on the Family Tree Magazine website.
I was happy to see this selection for such a super genealogy website, especially when I know that Family Tree Magazine has the largest circulation of any genealogy/family history magazine in America. I'm going out now to get my copy—the new issue of the magazine went on sale at newsstands nationwide today—to read all about the inclusion of GenealogyBank.com in the "101 Best." This is certainly well deserved recognition for a terrific genealogy website.
Personally, I access GenealogyBank.com on almost a daily basis. Not only do I look up articles of interest on my ancestors, but with the constant growth and daily additions to GenealogyBank's historical newspaper archives, I am always finding new and exciting gems for my family tree.
As I think back, GenealogyBank.com has provided me with some of the most memorable discoveries for my ancestry and in my genealogy work.
I will never forget the excitement and feelings of wonder when I first subscribed to GenealogyBank.com and quickly discovered an article in an 1897 Ohio newspaper titled simply "His Commission."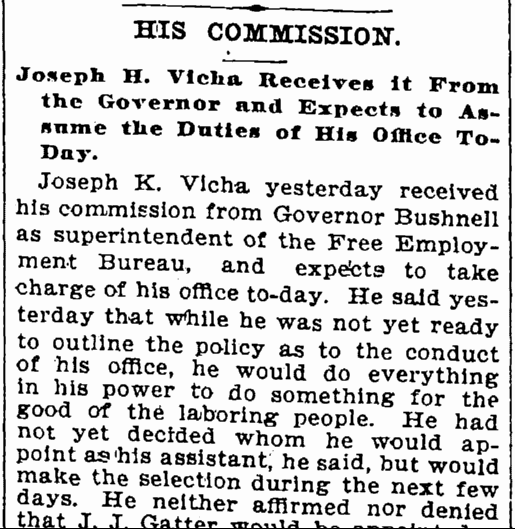 I had been working for years trying to find any clues that might lead to my great-grandfather, Joseph Vicha. This was especially meaningful since my then 90-year-old Mother had asked me to "find my grandfather" for her. This old newspaper article was the first lead I found, and it included such details as his work, approximate age, his activities in the Bohemian community, and even that he had received this position through an appointment by the governor of Ohio. It opened the doors to dozens more articles that have resulted in me gaining a much fuller picture of my great-grandfather. It was through a lead in one of these follow-up articles that I was able to locate an actual image of my great-grandfather. To this day it is the only known photograph of great-grandfather Vicha the family has ever seen.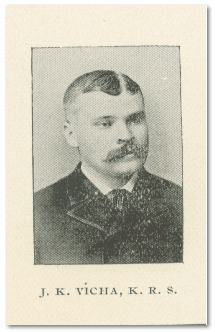 I have used GenealogyBank.com to find the serious side of my ancestors' lives, such as death notices, estate matters, divorces and more. I have also found the positive through births, marriages, anniversaries, and even stories of surviving when the ship they were on was torpedoed by a U-Boat!
I have even found stories that amazed me. One of my favorite family stories was this discovery in a 1915 Ohio newspaper titled "I Fed Her; I Petted Her; I Trusted Her; But Never Again!" This wonderful newspaper article that covered the story, complete with a pen and ink image of my ancestor, Joseph Kapl, (and "Minnie" the elephant too), related how he, as a zookeeper, was almost trampled to death by Minnie the circus elephant!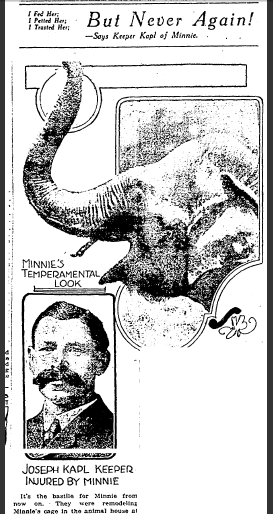 I constantly work to weave what I call the tapestry of our family history. I attempt to find and join the threads of our family's cultures, values, and histories together into a tapestry that will represent all we are and all we have been, for the future generations. I couldn't do that without the wonderful stories I find in newspapers thanks to GenealogyBank.com.
Congratulations again on being named one of the "101 Best Websites for Genealogy in 2013." To me you will always be my #1!