Introduction: In this article, Mary Harrell-Sesniak shows how old newspapers can tell us about the major storms, especially hurricanes, that our ancestors experienced. Mary is a genealogist, author and editor with a strong technology background.
It's a hurricane! It was a hurricane!
Having been through Hurricane Wilma (2005) in South Florida and Hurricane Ike (2008) in Texas and now Hurricane Matthew (2016) in Florida, I wondered about my ancestors – chances are many of them were affected by similar storms.
To satisfy my curiosity, I went sailing into the Historical Newspaper Archives at GenealogyBank to see if any of my ancestors weathered such great storms as we had. As I descend from early New Englanders and some seafaring families, the East coast – with its connection to the sea – was an obvious choice for me to search. What I found was interesting. Tales of survival and shipwrecks abound.
Perhaps one of your ancestors' experiences can be found in old newspapers!
Finding Historical Reports
If you search storm reports on the Web, you soon find that 1851 is a critical date. The Hurricane Research Division of NOAA has a chart of Continental United States Hurricane Impacts/Landfalls
1851-2015. See http://www.aoml.noaa.gov/hrd/hurdat/All_U.S._Hurricanes.html
But what about storms from earlier dates? That's when a collection of old newspapers can really help your research.
Long before we started naming storms, there were hurricanes – lots of them. We know them only by their dates and locations. But as we all know, historical newspapers are the main source to learn what happened in the past.
Look past the obvious when doing your searches.
My first query was for the obvious seafaring reports, but I soon learned to look past that assumption.
For example, a snowstorm – reported in a letter extract published in a 1779 newspaper – resulted in an uncommonly high tide and the loss of 2/3 of Nantucket's sheep. Such a loss would have affected the local food supply, as well as the islanders' ability to make clothing and blankets from wool.

Tales of Survival
With the prevalence of unpredictable storms, captains and crew had to plan how they'd survive an unexpected event – and so it's interesting to read this 1722 newspaper article about how various British ships that had "since come up" got through a recent hurricane.
Some drove their vessels onto shore – and others cut their masts and rode out the storms at sea. The newspaper reports:
The Brown, Captain Myers, drove ashore near the mouth of Rio Cobre, and expected to be got off
The Whidaw, Captain Dags, drove on the middle ground and stranded, men and cargo saved
Don Carolus, Capt. Nickins, cut away her masts and rid out the storm
Portland, Capt. Lubbuck, cut away her masts and rid out the storm
Neptune, Captain Hill, stranded, men saved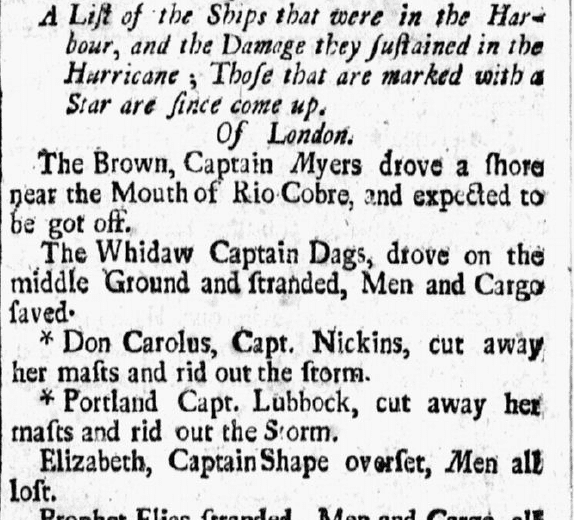 Journals & Letters

Storm survivors' journals are a valuable resource to find storm reports – so if you are chasing old reports, search for journals and use keywords such as "storm," "tempest" or "hurricane."
For example, in 1760 an officer of a troop transport ship heading to Boston reported how they were blown off course to the West Indies. His account discusses a horrendous storm which cast three ships on their beam ends, flooded sections of the ships, and left them without proper equipment or any way to prepare provisions:
From the 18th to the 1st of Jan. beating on the coast of New England to no purpose, the troops growing sickly, by means of their being confined between decks for near 20 days, the cabouse [i.e., a kitchen on the ship's deck] being washed overboard the first night, provisions could not be dress'd, nor any thing got warm for the sick, it was agreed to try for any part of the continent, but the wind continuing to blow hard against us, were obliged to put away for the West Indies…
Hurricane Season
In Florida, we all celebrate the end of the Atlantic hurricane season, which ranges from June 1 to November 30, a fact well known by mariners of the past.
This 1740 newspaper article reports that warships left St. Augustine, Florida, to avoid the hurricane season.

Note: An online collection of newspapers, such as GenealogyBank's Historical Newspaper Archives, is not only a great way to learn about the lives of your ancestors – the old newspaper articles also help you understand American history and the times your ancestors lived in, and the news they talked about and read in their local papers. Do you have any accounts of your ancestors experiencing a hurricane or great storm? Please share your stories with us in the comments section.
Related Articles: