Introduction: In this blog article, Gena Philibert-Ortega – in honor of Mother's Day – gives search tips for finding information about your mom and other female ancestors before they got married and became mothers. Gena is a genealogist and author of the book "From the Family Kitchen."
Mom is the woman of the hour that we celebrate this Sunday. But who was she before she became your mom? Sometimes when we research female family members we concentrate solely on her marriage and family – who her husband and children were – and don't consider her life before marriage and children.
Who your mom, grandmother or even great-grandmother was before she substituted her given name for the title "mom" is a good question and can be a difficult genealogy challenge. Fortunately, answers can be found in collections of old newspapers, such as GenealogyBank's Historical Newspaper Archives.
Baby Contests, Quinceanera, and Sweet 16
Your mom's photo as a child or young adult could have been featured in all kinds of newspaper articles, ranging from parties and contests to school and church activities. From the time she was a baby to her teenage years, there may be some mention of her and her photograph in the newspaper.
I have to admit that I love photos of baby contest winners from generations past. This one from the Trenton Evening Times is especially cute. The prize-winning baby of 1914, Margaret Chaplin, is described as:
…a very attractive little girl, fond of out-door exercise and a favorite in the neighborhood. Baby Margaret is one of the prizewinners who seem to have chosen music as a life work, because she is always singing and, according to her mother and others who know her very well, she has an exceptionally fine voice for a baby.
Imagine learning all of that information about your mother or grandmother!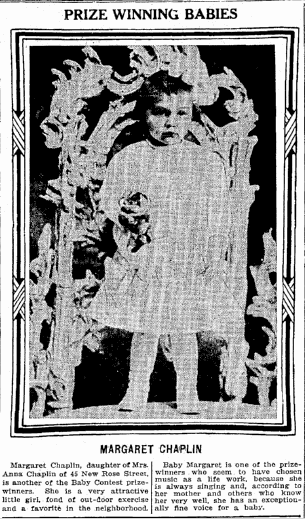 What special event was part of your mom's younger years? Maybe your mom had a party thrown in her honor such as a Quinceanera or Sweet 16 birthday party. Newspaper articles documenting these events can include names of those in attendance as well as a photo of the birthday girl. I especially like this notice for Sue Chattler's party since it ends with the mention that her grandmother (perhaps maternal grandmother) Mrs. Rose Weininger of Chicago would be in attendance.
A Quinceanera is a party for a 15-year-old girl. For those whose moms had such a party, make sure to check GenealogyBank's Hispanic American Newspaper Archives for articles and photos, as in this 1955 example from San Antonio, Texas. The birthday girl, Suzel Annette, is photographed with her friends as she opens her presents.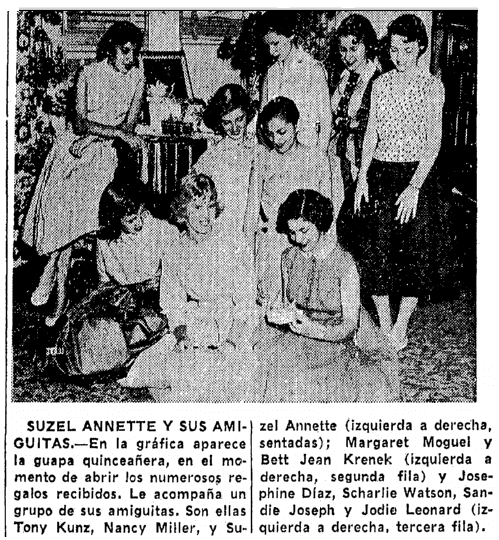 High School and College Life
What articles document a young scholar's life? Newspaper articles written about students and schools range from a list of students involved in a school activity or a sport, to articles that single out graduating students or school officers.
Student achievements are often documented in newspapers, and a good example of that is this 1921 Idaho newspaper article about 17-year-old Katherine Butterfield, who won a national essay contest sponsored by H. S. Firestone. She earned a college scholarship and a trip to the White House, where President Warren G. Harding congratulated her.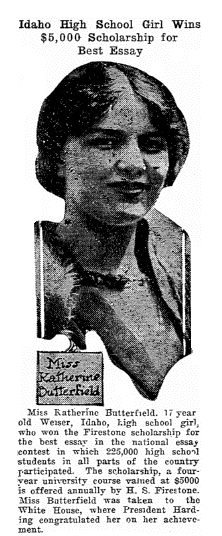 Engagements and Weddings
Have you looked for your parents' engagement and wedding newspaper notices? Don't forget to document the family members you know along with those from past generations. Engagement notices can reveal details that have been lost to the family. I especially like this 1919 engagement notice from the San Francisco Chronicle that announces the engagement of Annette Jean Meyer to Dr. Harry Auslen. The notice mentions that the wedding won't take place until the next summer after the bride-to-be graduates from the University of California. What a clue for a descendent who can now seek out records of her college years.

One of the great things about newspaper wedding notices is the genealogical information they provide. Sure, there may be some genealogically irrelevant facts (but I still love these details) describing the bride's dress and the food served, but there's also the names of parents, maybe even grandparents and others in attendance. You might even learn the occupations of the groom and perhaps bride, and what city they would call home. Names of bridesmaids may provide unknown-to-you family members and, at the very least, friends of the bride.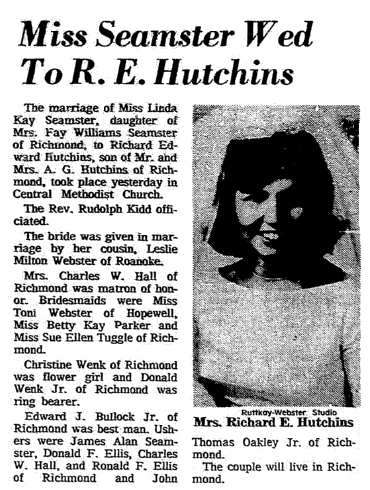 The best part of engagement and wedding notices is that they often include a photo of the bride.
Genealogy Tip: Remember when you are researching married women to spend some time searching using their maiden name.
Mom's Life before Kids
So what newspaper articles have you found about your mom before she was a mom? Did you uncover any surprises? Tell us about her in the comments below.
Happy Mother's Day!
Related Articles: