Introduction: In this article, Gena Philibert-Ortega examines census records from 1790-1880 to show how marital status has been reported. Gena is a genealogist and author of the book "From the Family Kitchen."
As researchers we depend on the U.S. Federal Census to provide us information about our ancestors. However, that information changes over time. It starts with the first census, in 1790, with only the name of the head of household – and then later continues in the mid-19th century with every name of the household listed, to eventually in 1880 every person's name and relationship to the head of household.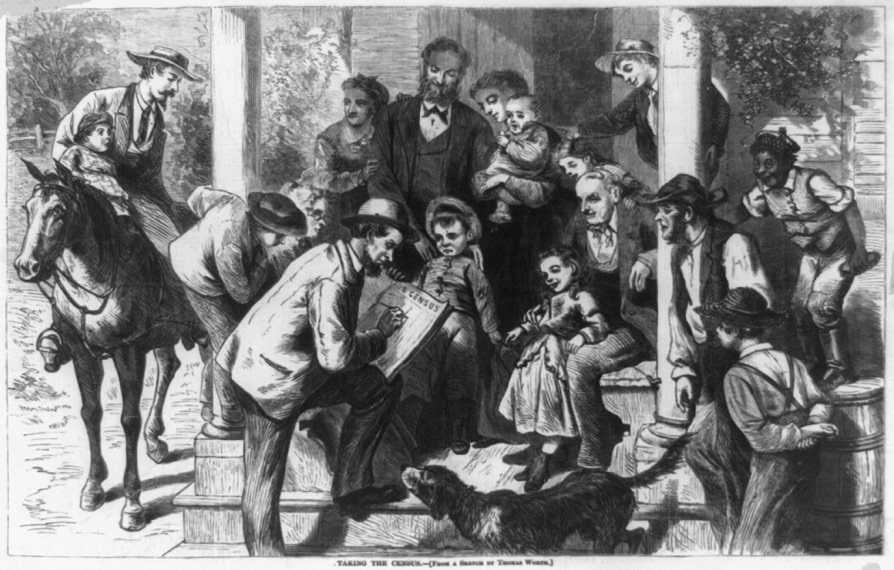 Those later census enumerations also provide us a glimpse into our ancestors' marital statuses, which then can lead us to additional records such as marriage licenses, marriage certificates, notices in historical newspapers, and even divorce records.
What can we learn about your ancestor's state of matrimony (or lack thereof) in the census? Here's a look at clues to marital status in the census and what that year's census does (and does not) tell us.
1790 U.S. Census
While the first census enumerations provide us nothing in terms of familial relationships and marital status, the little bit of information they do provide might be the hint you need. Keep in mind that the 1790 census is recording free white females and males with columns for "all other free persons" and "number of slaves."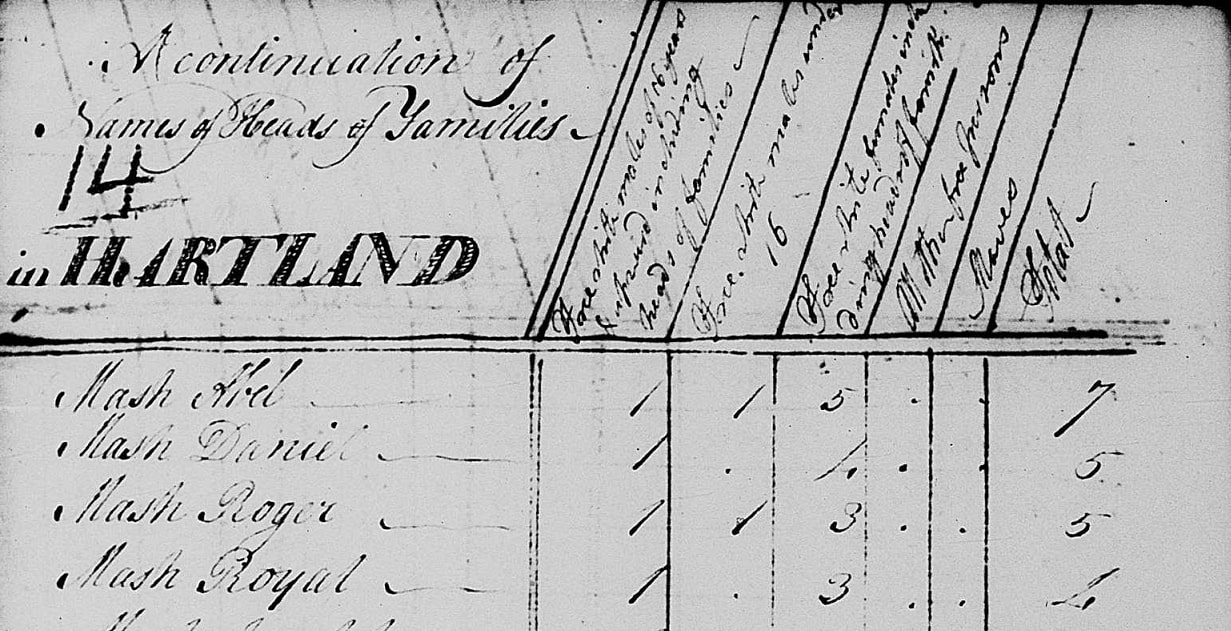 Starting with 1790 and continuing on until 1850, only the head of household is named. Although the head of household is often a man, remember it can be a woman – especially if she never married, was widowed, or divorced. One unfortunate aspect of the 1790 census, in relation to our female ancestors, is that it does not provide us a breakdown of women by age. So, the number of females living with a man might be a clue to a spouse, but it could represent female children, a mother, sister, or some other female family member.
1800 and 1810 U.S. Censuses
In the 1800 and 1810 censuses, tick marks for those enumerated are expanded to include ages for free white females. The age ranges include: under 10; 10-15; 16-25; 26-44; and 45 & over. It's possible that, if you know a little bit about the family already, you might be able to pinpoint a spouse based on her age. Keep in mind that these are free white men and women; there are additional columns for "All other [free] persons except Indians not taxed" and "Slaves," but they are not broken down by age.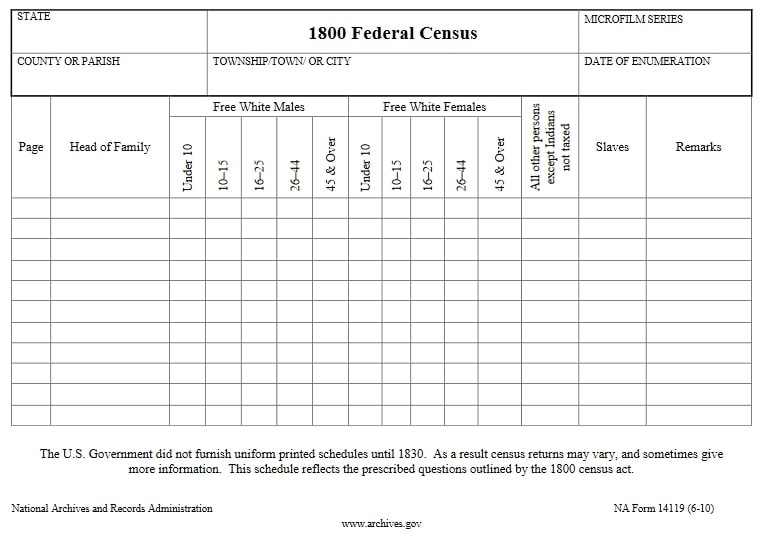 1820-1840 U.S. Censuses
From 1820-1840 we once again are looking at only the name of the head of household, but age categories are provided for all "free white persons" and "free colored persons."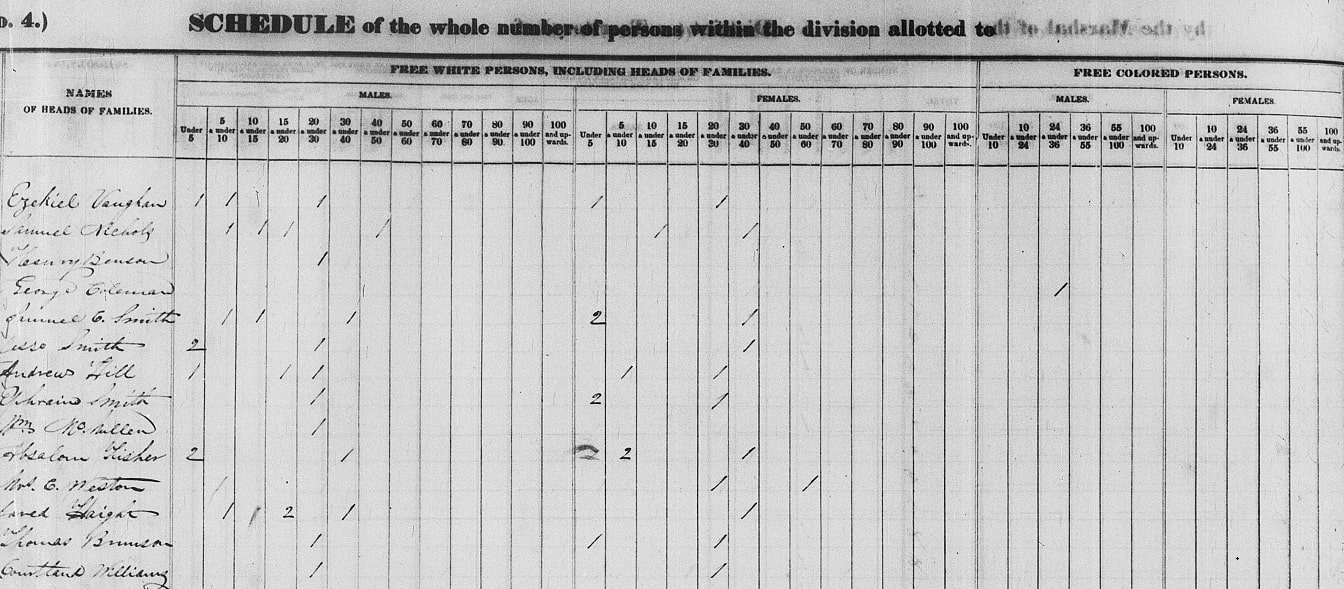 One thing to look for with the 1840 census is the report of Revolutionary War pensioners or their widows. The report includes: the name of the pensioner; their age; and the name of the head of household the pensioner lives with, revealing a name behind the tick mark. You can find the list of names on the U.S. Census Bureau website in the publication "A Census of Pensioners for Revolutionary or Military Services": https://www.census.gov/library/publications/1841/dec/1840d.html. You can download the whole report or specific states.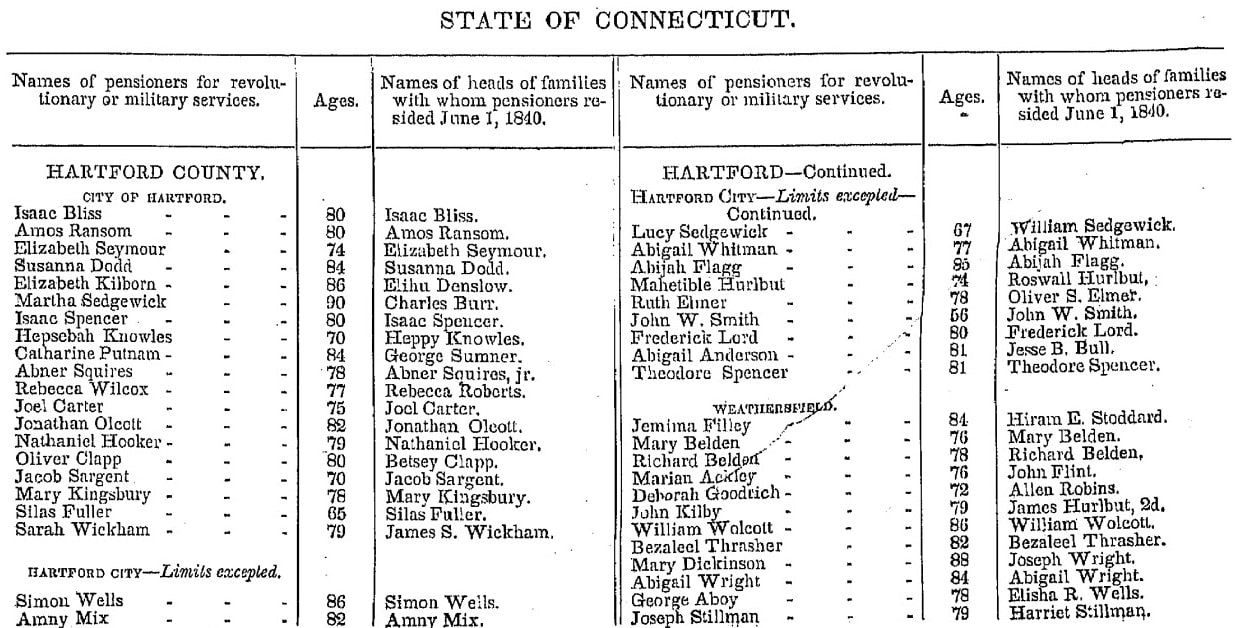 1850-1870 U.S. Censuses
In 1850 the census becomes an "every-name" census for "white persons and free persons of color," meaning that white and free persons of color are named individually.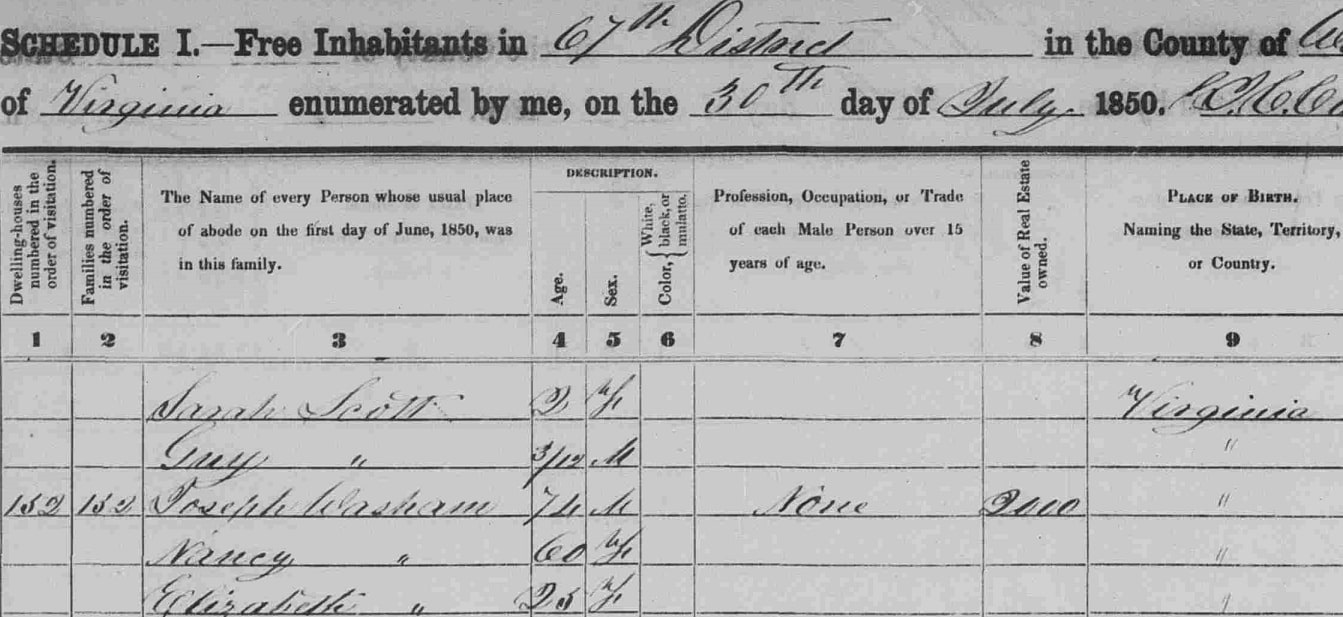 One clue to marriage status is a column found in the 1850-1870 censuses that asks whether the person was married within the year, which can provide a valuable clue for the newly married. However, keep in mind there are no relationships to the head of household listed. That means we can't assume that a man and woman listed who are about the right age are necessarily married to each other. The spouse may have died or left prior to the census enumeration.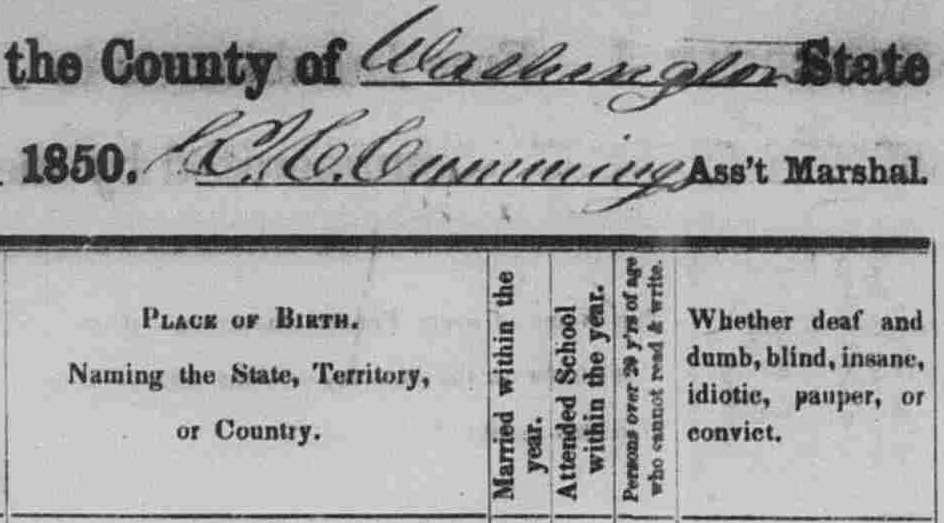 If your ancestor was enslaved during this time period, the 1850 and 1860 slave schedule lists slave owners and statistics about slaves, but not the names of the enslaved.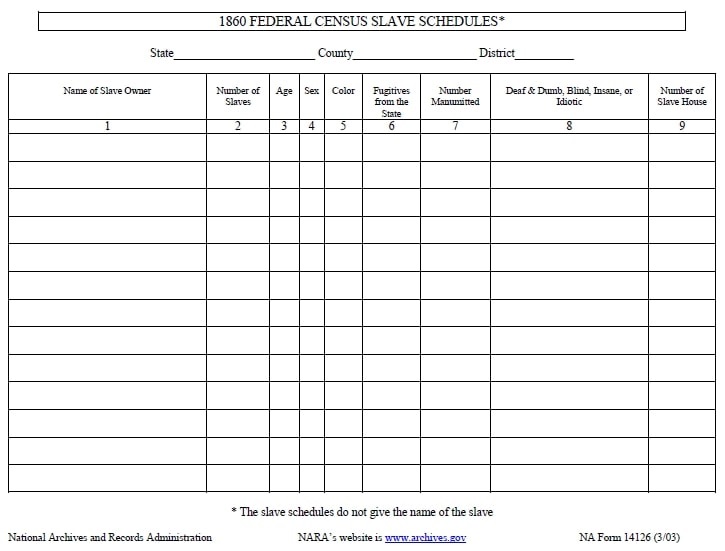 1880 U.S. Census
The 1880 census provides us, for the first time, a look at the names and relationships found in a household. We now have not only an "every-name" census, but also the relationship to the head of household. Finally, we have an indication of the names of a married couple. (Keep in mind that we don't know who the informant is in any census except 1940, so we don't know how much or how little the person providing the information to the census enumerator knew. It may or may not have been a family member or the head of household themselves. This "every-name" census includes a column for relationship to the head of the household, marital status, and whether married within the year.

What Does the Census Reveal about Marital Status?
While early census records provide only basic, limited information about our family and their relationships, they can provide clues for further research – and later censuses contain more and more family information. You can access the U.S. Federal Census on GenealogyBank.
Also, it's important to remember that census enumerations are just one record we should refer to in our research. Remember to document what you find and follow it up with other records that exist for that time and location. A search in historical newspapers, such as GenealogyBank's Historical Newspaper Archives, for the time period and location you're researching might also provide more detailed information and further hints – so make sure to use newspapers in conjunction with your census search.
In part 2 of this article, we will take a look at 20th century census enumerations.
Explore over 330 years of newspapers and historical records in GenealogyBank. Discover your family story! Start a 7-Day Free Trial.
Note on the header image: Seal of the United States Bureau of the Census. Credit: United States Bureau of the Census; Wikimedia Commons.
Related Articles: