Introduction: In this article, Gena Philibert-Ortega writes about a little-known type of newspaper article that could help your family history research: a Card of Thanks announcement. Gena is a genealogist and author of the book "From the Family Kitchen."
When we think of finding our ancestor's death in the newspaper, we immediately consider obituaries. That makes sense; there's a chance that an obituary was placed after the person's death, and it provides us with some of the basic life facts we need for our family history research. However, an ancestor's death can result in more than one type of newspaper article. Take for instance the "Card of Thanks."
I will be the first to admit I don't know the history behind newspaper articles titled Card of Thanks, but the earliest versions I found have nothing to do with death. Originally, the phrase Card of Thanks was used to thank individuals and communities for everything from their participation in a fundraising event to their heroic actions saving a home or property from fire or other destruction.
For example, this 1820 notice is from Allen Pratt, thanking the community of Westmoreland for a donation made to him.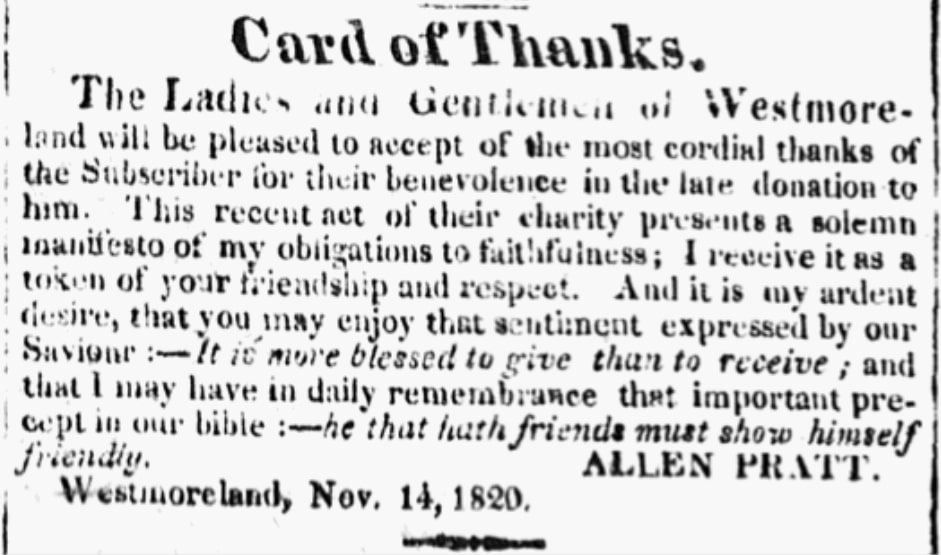 This 1823 Maine example is penned by Benjamin Goodwin, whose saw mill and dam were saved from fire by neighbors.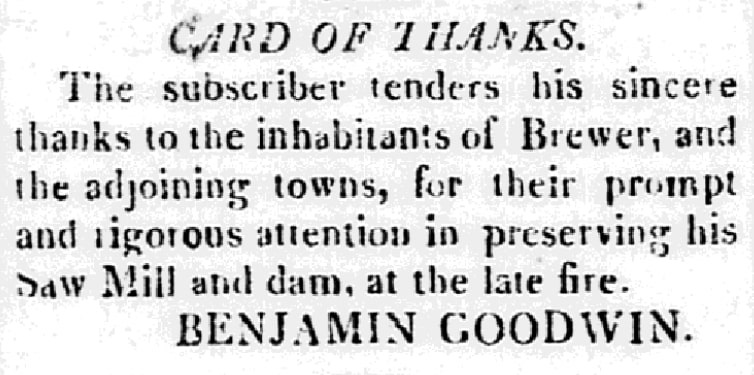 Genealogy Lessons Learned from Card of Thanks
It appears that the Card of Thanks was used in correlation with a death or funeral starting in the later 19th century. In my newspaper search, the earliest Card of Thanks relating to death or funerals that I found was in 1879. That's not to say they don't appear earlier, but this is when I noticed that they seem to start appearing.
These cards can provide information about the circumstances of an ancestor's death, details of the funeral, family members who attended, etc.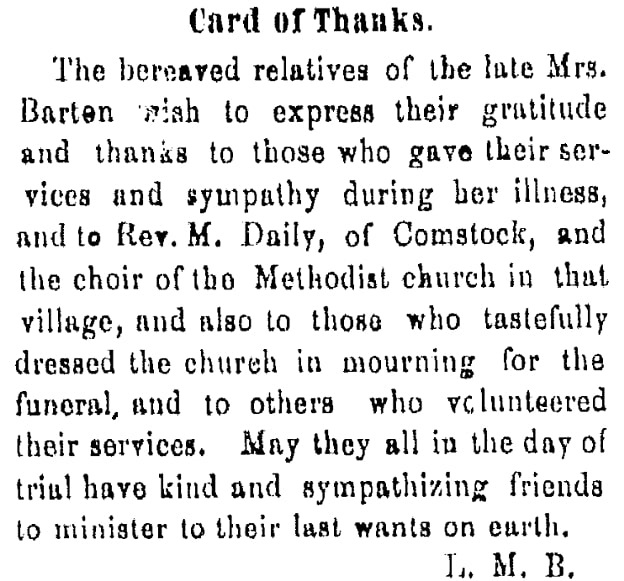 While these cards can provide important information for your genealogy, it's obvious that those in the newspaper industry weren't always fans. As early as 1900 they were seen by some as a nuisance. "The Card-of-Thanks Nuisance" in the periodical Newspaperdom states:
"If newspapers will persist in accepting as news cards of thanks after funerals among their subscribers, they ought to amend the delicacy that prevents them from editing the cards. A Venango county (Pa.) paper recently accepted a card in which the neighbors, the preacher, the local lodges and about everybody and everything else were thanked by the author of the card for 'kindly assisting in the sickness and loss' of his wife. These cards should be accepted as advertising, subject to editing."*
If you can find an ancestor in one of these acknowledgements, it can add details to your genealogy. Consider what information a Card of Thanks might include. Not surprisingly, it may include the following:
Family Names and/or Relationships
This 1915 example from Trenton, New Jersey, was published by Abraham L. Haflett for Lydia L. Haflett, who is described as a "wife and mother."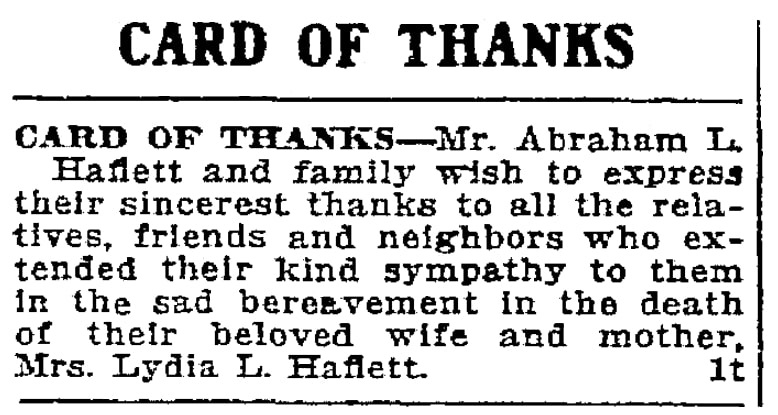 This 1908 Card of Thanks for Christine Hunsinger lists her as a "widow" – a helpful relationship status if you were trying to determine when her husband died.

One of my favorite Card of Thanks examples I found was from a husband who lists his wife's maiden name (Muller). A very lucky find for a researcher in an unexpected place. Unfortunately, although we know his surname is Corvers, he only signs the notice "From husband and sisters," denying us those additional familial names.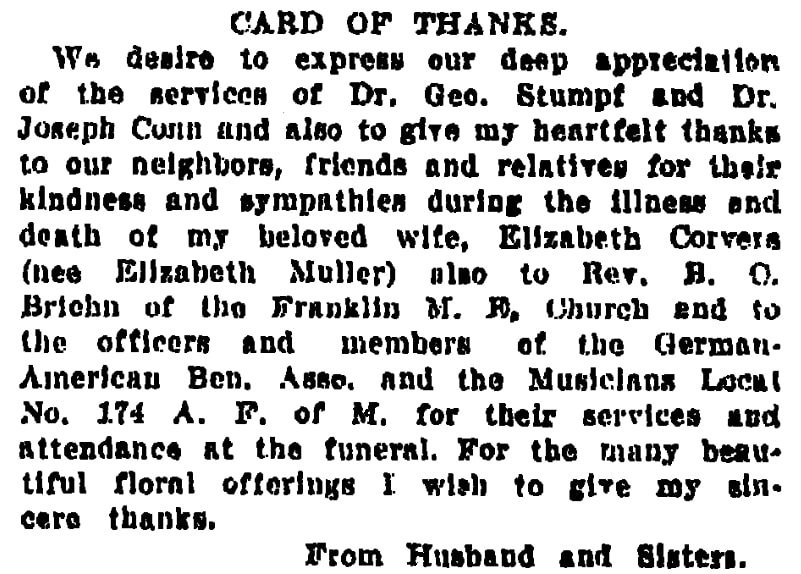 Religious Records
This Card of Thanks not only gives relatives' names (the deceased's daughters' married names) but lists a minister of St. John's Church, which might be a clue to additional records.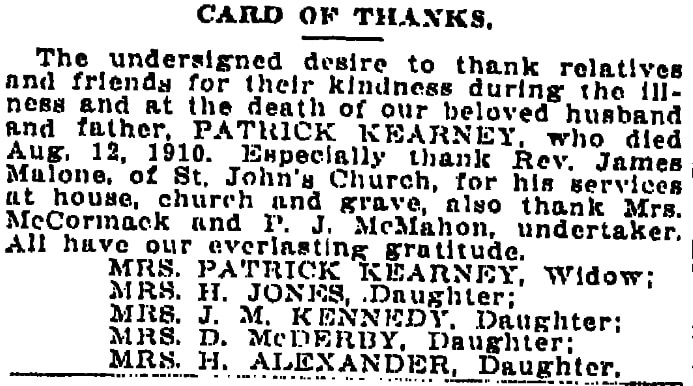 Occupations and Memberships
In this California example from 1925, Mrs. Johanna Behrendt thanks the Associated Oil Company, the Fraternal Order of Eagles, and a lodge of the Od. H. S. (Order of the Sons of Herman, which was a German mutual aid society for immigrants). These clues, perhaps referring to her unnamed husband, might provide more information about his (or her) work, ethnic background, and lodge membership.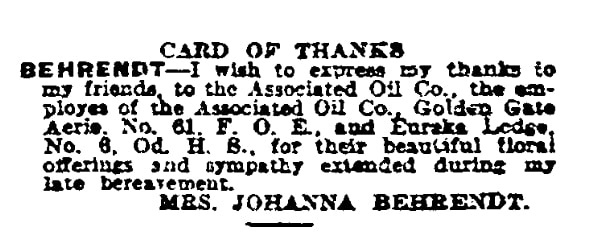 Don't Stop at an Obit
You can see how valuable these Card of Thanks announcements are to family historians, but there are two things to consider as you search for them in historical newspapers. First, don't limit your search to the death date or week of death. These notices may appear right after the funeral or quite some time later. So instead, try setting the search to the year of death to find these notices. Second, as you search for a name, remember that if family members are listed it may be by their initials or relationship to the deceased only.
Card of Thanks announcements are a good genealogical lesson in the need to conduct a thorough search of newspapers. Don't stop with the obituary when confirming your ancestor's death. Look for other possible newspaper articles for a complete genealogical picture.
Note: An online collection of newspapers, such as GenealogyBank's Historical Newspaper Archives, is a great resource for genealogists – there are all kinds of newspaper articles, and any of them might surprise you with family history information you didn't expect.
* "The Card-of-Thanks Nuisance," Newspaperdom, 27 September 1900 (https://books.google.com/books?id=s6AKCk4s-6AC&newbks=1&newbks_redir=0&dq=%22card%20of%20thanks%22%20newspaper&pg=RA4-PA4#v=onepage&q=%22card%20of%20thanks%22%20newspaper&f=false)