Introduction: In this article, Mary Harrell-Sesniak provides a genealogy tip to help you understand and find delayed birth certificates. Mary is a genealogist, author, and editor with a strong technology background who has written and collected some of the funniest, quirkiest, or most touching sayings about genealogy that she's encountered in her career as a family historian. Please attribute this article if sharing.
After reading a social media post about why delayed birth certificates (DBC) were issued long after someone's birth, I read many comments and then did some research.
Here's an example. As this image confirms, Bessie Bland was born in 1899, but didn't receive a birth certificate until 1913.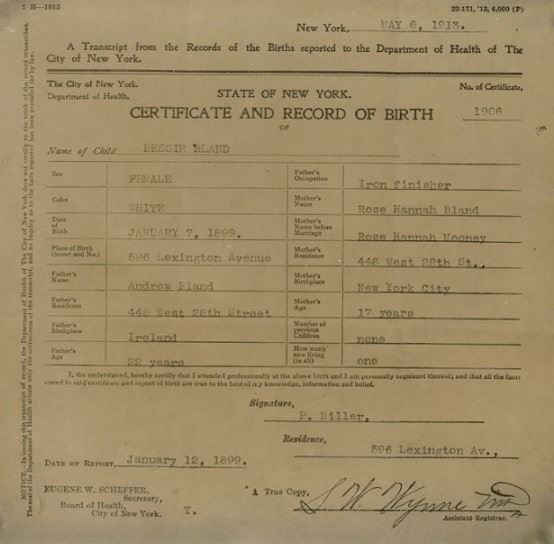 So why does this happen?
Turns out that even the experts frequently get the answers wrong – or at the very least, leave out alternative reasons.
Civil Registration Laws
Most observant family researchers, including myself, note that civil birth registrations (e.g., reporting to a governmental office) were mostly not required until various dates in the 20th century. Each state set their own laws, so if you're seeking proof of a birth, do research on what happened in your target location.
Prior to Civil Registration
One misconception is that legal documents didn't exist prior to these laws – and guess what, digitized newspapers (not surprisingly) prove otherwise!
People frequently needed to prove birth rights, and not just for another frequently stated reason: pension eligibility. In the following newspaper article, we see that seamen impressed (forced) into foreign service wrote letters home seeking proof of their births from their families, churches and even custom houses.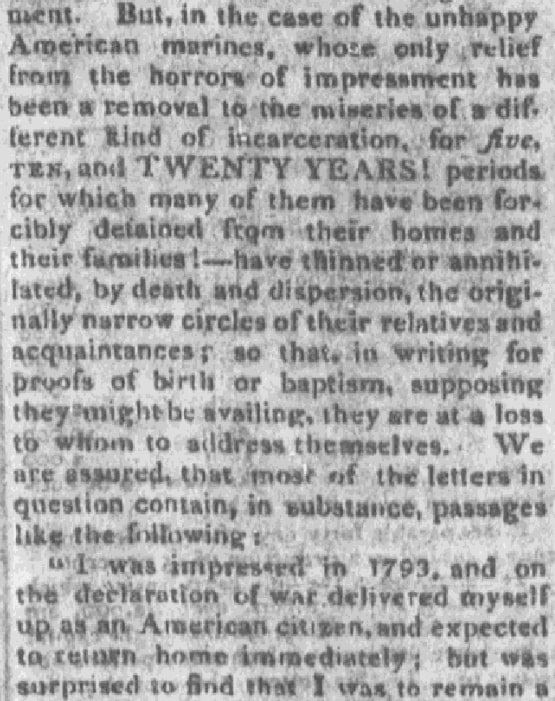 The first reference I found for "birth certificate" dates to 1836 in regards to a man in France who wished to validate the good character of a potential spouse. He was sent many attestations of her good character and other supporting documents, including her birth certificate.
Child Labor
After browsing the Library of Congress Prints and Photograph Division and GenealogyBank's Historical Newspaper Archives, I found other important reasons why a requirement for birth certificates became the law.
As horrible as this poster is by today's standards, children as young as ten often worked, and most often in poor conditions. In 1913, a poster was published making a contrast between Georgia and Massachusetts cotton mills. Massachusetts mills employed immigrant children 16 and older; Georgia mills employed American children as young as 10. Georgia mills got away with this by not demanding birth certificates.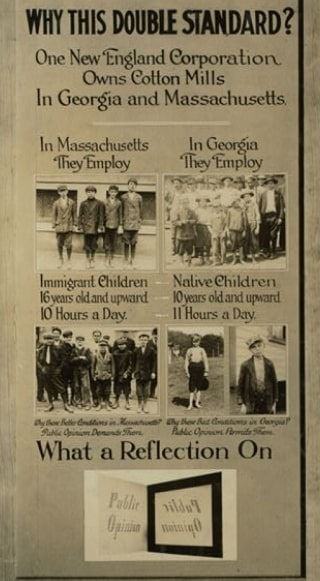 Lying about Age
Another sad fact is that desperate (and likely impoverished) parents were found lying about the age of their child in order to get them employed in mills and factories. Again, there was no demand for birth certificates.
National Defense
Lastly, I learned that the defense of our country in 1941 was the primary motivator for DBC. At the onset of World War II (1 September 1939), the military – described in this article as War, Navy and Commerce Departments – needed to prove who was a natural-born citizen. The obvious pathway was to turn to census records, but by 1941, with as many as 60,000,000 native-born citizens not having documentary proof of their birth, the system became overloaded.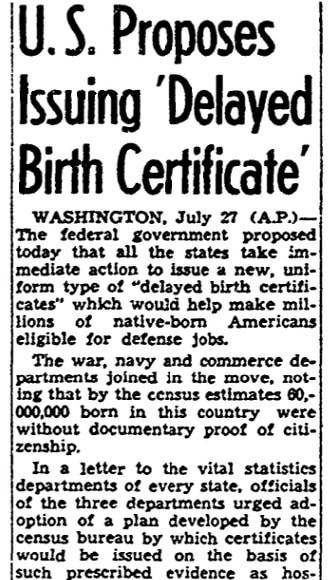 One can only imagine how overwhelming the manual look-ups became to the staff, so it was proposed that a system for "delayed birth certificates" be constructed.
Evidence
An interesting follow-up was a look at what evidence was required.
The guidance from the state of Texas suggested that persons without birth certificates should first contact the Texas Registrar of Vital Statistics at Austin to see if their birth was properly registered. In the event that a birth was not properly recorded, one should start gathering records as evidence, such as church and hospital records, along with a Family Bible. One source that family historians often overlook today (perhaps since it is not easily documented) are insurance records.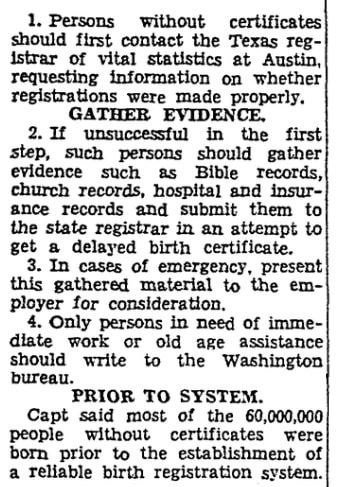 To help in the war effort, only persons in need of immediate assistance were directed to write to the Washington Bureau. It was also suggested that organized crime rackets providing false documentation were being investigated.
Genealogy Tip: Delayed birth certificates happened for a variety of reasons. If you're having trouble finding a birth certificate for your ancestor, expand your search – keeping in mind that one may have been issued long after the actual date your ancestor was born.
If you have uncovered additional reasons for delayed birth certificates and wish to chime in, please leave a comment.
Note: If you are looking for genealogy gifts for the upcoming holiday season, please consider my copyrighted book and title, Where There's a Will, There's Always a Genealogist! It's available through online book sellers and also at Lulu.com.