Introduction: In this article, Mary Harrell-Sesniak writes about a source of family history information helpful to genealogists: citizenship and naturalization reports in old newspapers. Mary is a genealogist, author and editor with a strong technology background.
Sometimes we wonder how, when and why an ancestor became a citizen or was naturalized. When researching this aspect of your family history, keep in mind that naturalization and citizenship granting is always dependent upon the laws at the time.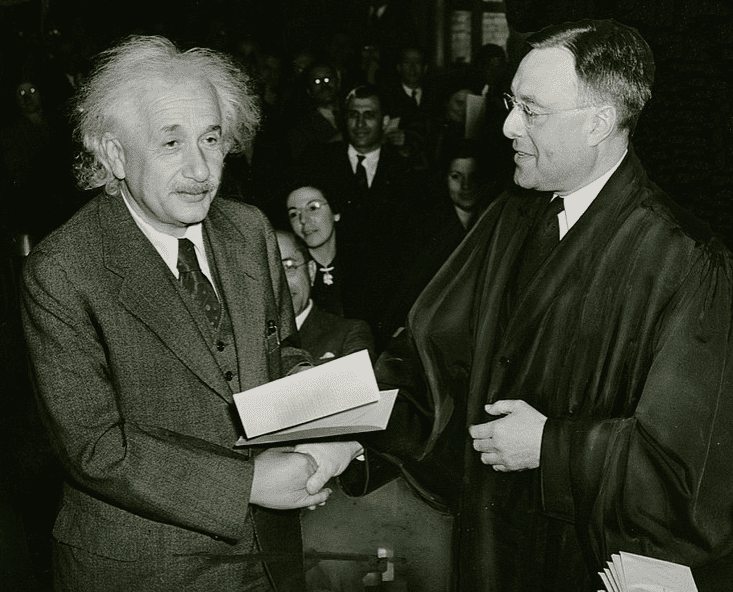 Citizenship and Naturalization Difference
Many of you are probably asking: just what is the difference in these two terms?
We acquire citizenship from our parents, either because someone was born in this country or because we have a birth right to become a citizen. Usually this has to be established before the age of 18.
If these conditions do not apply, a certificate of naturalization is given to someone who later becomes a citizen through a naturalization process.
You can contact the National Archives to order pertinent historical documents. If you need a more recent certificate, you can find information at the U.S. Citizenship and Immigration Services website. Fees can be expensive, however, so first try exploring citizenship and naturalization reports in online newspaper archives.
Citizenship and Naturalization Laws
This topic is so vast that a true scholar should study how the laws have changed. Here is an example from a naturalization bill of 1802 that proposes to repeal a law passed in 1798 which required 14 years of residency. The proposed bill shortened the requirement to five years.
Citizenship Testimony
When you find reference to someone admitted to citizenship in newspapers, it may or may not have a lengthy report. The longer ones typically address how long someone had been a resident, whether a woman had married a foreigner, and other factors such as whether they had renounced citizenship in their home country.
Occasionally you'll find an article reporting the questions put to an immigrant as a citizenship test.
In 1908 a person named Sundin, who had been a resident of Naugatuck since 1902, was asked who the president was and other questions pertaining to our government and country.  His knowledge led to him being admitted to citizenship, along with 20 other petitioners unfortunately not named in the article.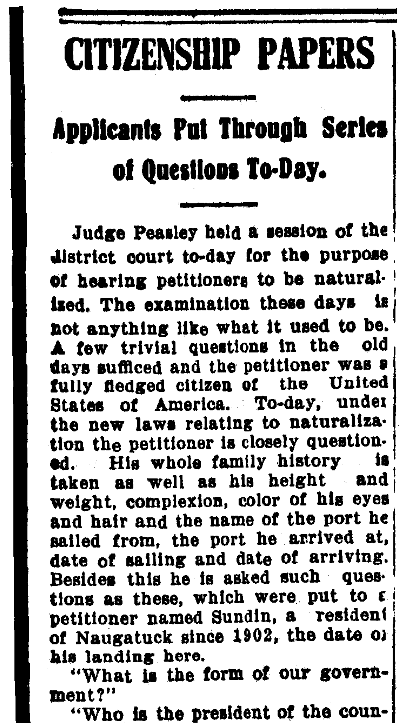 Unusual or Famous People
As we see today, when there was a famous or unusual person involved, it was reported in the newspaper.
Ernest Rommell, a retired circus performer and "noted dwarf," stated that he had been born in Germany, was a resident of this country, and had been married four years. We also learn about his career in vaudeville.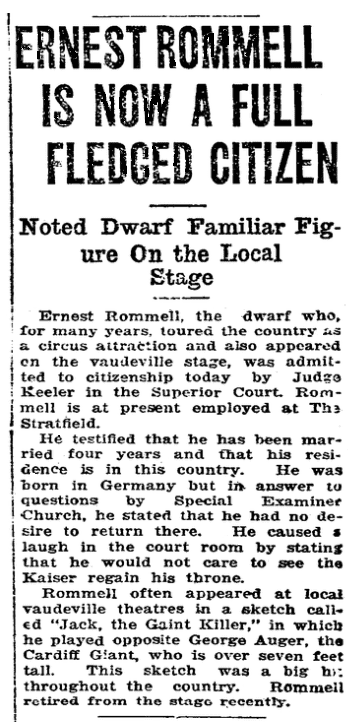 Silvio Contri, who had built the Palace of Justice in Mexico City, became a U.S. citizen in 1914. At the time he was considered a world-famous architect and was associated with several civil engineering societies.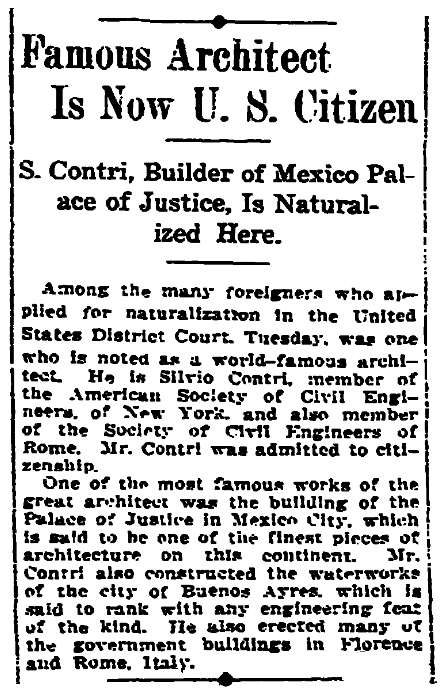 Women
It's an unfortunate aspect of our research that women were frequently not even mentioned, since their eligibility often depended upon their marital status. At one time if you married a foreigner, your citizenship was revoked. However, on occasion, a woman was granted citizenship in her own right.
Here we read about Anna Gamewell, an unmarried teacher and resident for 67 years. She was granted citizenship in 1915 at the age of 74. As we approach the 100-year anniversary of the 19th Amendment granting the right to vote for women, it's nice to see she, as an ardent suffragist, was hopeful the amendment would pass within the year. She wasn't far off: the 19th Amendment passed Congress in 1919 and was ratified in 1920.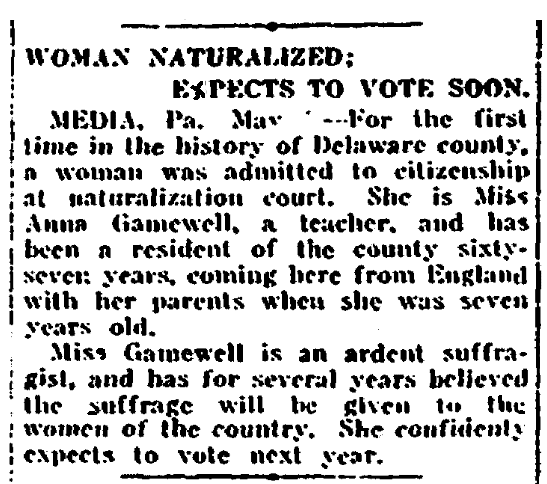 Other Reports
Although the above examples gave in-depth details, many articles aren't as thorough. However, you'll find numerous newspaper reports about court actions regarding citizenship, such as the following, that provide important clues about your ancestors.
San Andreas, California (1858)
During the June term of 1858, Alexander Love, Thomas Wilson, Patrick Highland, M. Corcoran and Edmund Hodapp were admitted to citizenship.
Clayton, New York (1903)
Alex Levy (perhaps an abbreviated given name) of Lafargeville was admitted to citizenship. He was probably a native of Poland, although it just says he was formerly from that country.
Yuma, Arizona (1873)
In March of 1873, William H. Tone was admitted to citizenship.

Tips to Narrow Your Search
I found these newspaper examples by querying for "was admitted to citizenship" and sometimes adding keywords such as "District Court" or "Naturalized."
Don't forget to use initials or try common abbreviations, such as "Wm" for William, and don't be afraid to insert the country of origin into your query. However, as in the case of a country where borders changed, use the name at the time of naturalization.
Related Article: