I was recently doing some family history research, looking for information about my ancestor Captain Elisha Smith—when I ran into a dilemma that genealogists occasionally face: two men with the same name from roughly the same time period.
Here's how it happened, and here's what I did to solve this riddle.
I was looking for my ancestor Captain Elisha Smith (1755-1834) who served in the American Revolutionary War.
Hmm…
Family records show that he was born in 1755, died in 1834, and lived in New Hampshire.
A quick search in GenealogyBank's Historical Newspaper Archives—Bingo—there he is.
OK. This old death record seems to fit.
He did live in New Hampton, New Hampshire.
The age is about right: "in the eightieth year of his age."
Captain, and "soldier of the Revolution."
Yes, that all fits my ancestor's profile.
He's called "a republican of the Jeffersonian school" and "a firm supporter of the present administration."
OK, I have no idea what his politics were, but it is interesting to know that he was such a strong supporter of Thomas Jefferson and Andrew Jackson.
"He was among the first settlers of the town in which he lived."
OK, that fits. The family lived in New Hampton, New Hampshire, for generations.
He's called "an enterprising and industrious farmer."
OK; good testimonial to his character and work ethic.
So—this seems to be the old obituary of my ancestor.
"Hey, wait a minute…"
As the doctor said when my twin brother and I were born: "Hey, wait a minute, there's another one."
I found another historical obituary for a person named "Capt. Elisha Smith."
Is this my "Captain Elisha Smith" ancestor that I was looking for?
Did I have the dates and places for him wrong?
The name in the death record is the same, so is his title.
So that fits.
This Capt. Elisha Smith died in 1825 "aged 74."
He was 74 years old in 1825, so his dates are approximately 1751-1825.
This could be a record for my ancestor—maybe the dates/places I had were wrong and this is the correct Elisha Smith.
He has the title "Captain." Given his age he probably served in the American Revolutionary War; a local militia or other military role.
This Elisha Smith died in Lyman, Maine.
Lyman, Maine?
Hmm… that doesn't fit as well.
As you can see from this map, Lyman, Maine, is about 70 miles from New Hampton, New Hampshire.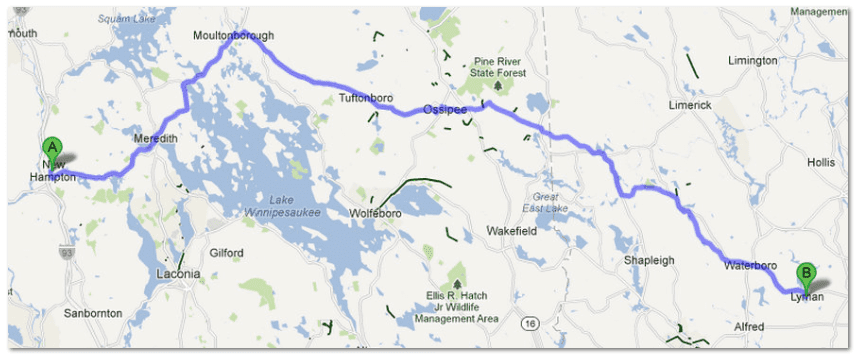 Was he traveling in Lyman, Maine, when he died?
I decided to see what else I could find about "Captain Elisha Smith," so I Googled his name.
Bang. Up came a book written in 1915 by Mary Elizabeth Neal Hanaford: Family Branches of the Hanaford, Thompson, Huckins, Prescott, Smith…and Allied Families. (Rockford, Illinois: Author, 1915).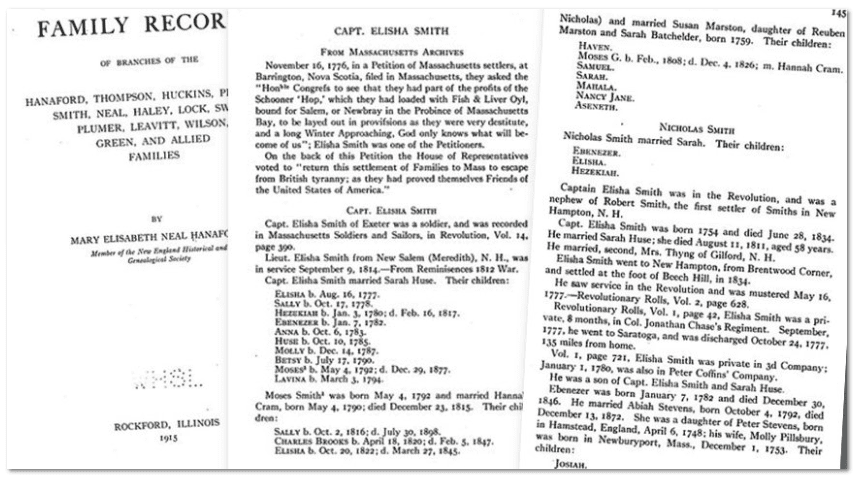 Genealogy Research Tip: Google has digitized hundreds of thousands of local histories and genealogies just like this one. Use Google Books as a quick source to see what conclusions other genealogists and local historians have made. It's free, and can really help you with your own family history research.
Hanaford's book is terrific. She published her research almost 100 years ago, in 1915, and she included a section on Captain Elisha Smith.
Hmm. She makes no mention of Lyman, Maine, for her Elisha Smith.
On page 145 she states: "Elisha Smith went to New Hampton [New Hampshire] from Brentwood Corner [New Hampshire] and settled at the foot of Beech Hill, in 1834." Since he died 28 June 1834, he moved to New Hampton within weeks of his death. Perhaps it was his advancing age and possible ill health that prompted the move to New Hampton, to be closer to other family members.
Hanaford's book has pages of references and citations that give more details on his life and that of the other members of the family.
I still need to check out those references, but with the additional corroboration in Hanaford's book I can reasonably conclude that the first obituary I found in GenealogyBank for "Captain Elisha Smith," the one published in the New Hampshire Patriot, is for my target ancestor Captain Elisha Smith that I was researching.
(Visited 221 times, 1 visits today)