Recently a kind genealogist reached out to me and sent me two old family photos of Charles Alfred Mayall (1863- ) and Frank Emerson Mayall (1861- ).
Today while researching my great-grandparents Robert Starbird (1782-1870) and Abigail Haskell (1803-1861), I decided to turn my attention to their son-in-law William Milliken Mayall (1820-?), who married their daughter Eunice A. Starbird (1829-1910) and was the uncle of Charles and Frank Mayall.
I began by searching GenealogyBank for William's first and last names in Maine records specifically, because I know from my notes that William and Eunice were both born there and married in Gray, Cumberland County, Maine, on 10 April 1851.
Among the three search results, I found a very interesting Maine Farmer article about patents that gave me a great clue as to what William's profession was.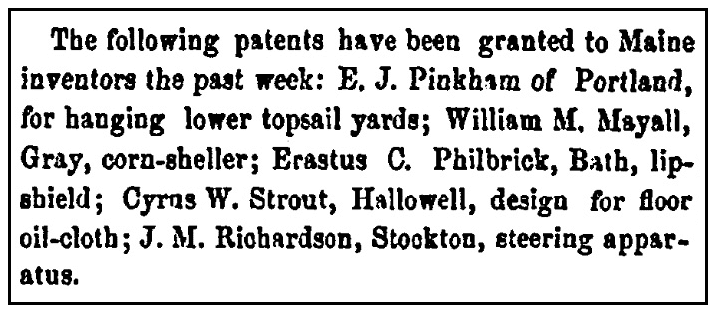 So, William was an inventor.
A quick search of Google Patents helped me locate William's corn sheller patent, which is described as follows:
"Threshing apparatus specially adapted for maize; Threshing apparatus specially adapted for particular crops other than cereals for maize, e.g. removing kernels from cobs."

Source: Google Patents, US96938A, 1869-11-16, Status: Expired – Lifetime, https://patents.google.com/patent/US96938
Also accompanying the description of William's patent was a drawing of the design.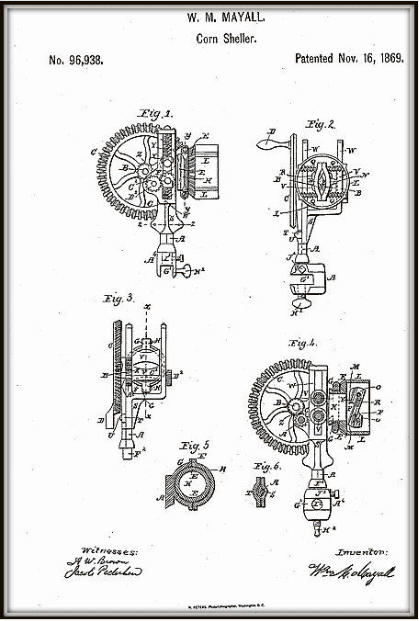 Small world – there are clues everywhere. From the kindness of a stranger to uncovering interesting details of each of our family histories.
Day by day I am able to discover and piece together the stories of my family and connect and extend the family tree.
Genealogy Tip: Examine every article – even the smallest reference can reveal just how resourceful and inventive your relatives were.