Introduction: In this article – part of an ongoing "Introduction to Genealogy" series – Gena Philibert-Ortega writes about an unusual resource for genealogists: theses and dissertations. Gena is a genealogist and author of the book "From the Family Kitchen."
What sources have you used for your family history research beyond the genealogically familiar censuses, land records, old newspapers, and city directories? What are some of the more unusual sources available to the family historian? You know you should research at a library, and maybe you've even ventured out to a university library to do your research. Have you checked out their thesis and dissertation collections?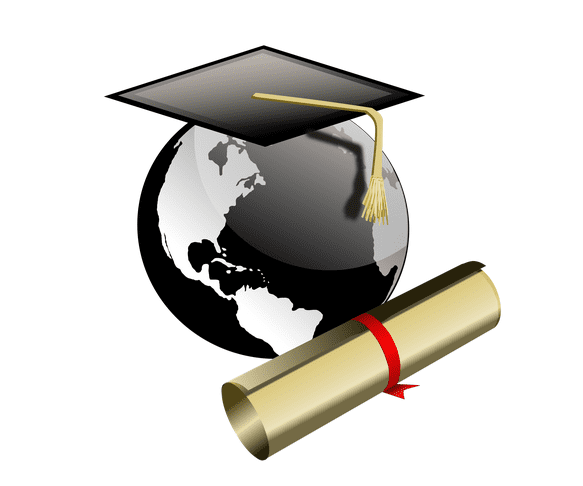 You may be wondering how an academic thesis or dissertation can help you with your family history research. While it is true that they are less likely to have lists of names, dates, and places, they can include information about a community, a group of people, or even individuals.
Before we continue our discussion, let's define what theses and dissertations are. Theses and dissertations are unpublished works by college graduate students (Masters and Ph.D students, respectively) who have spent much time and effort researching and documenting a subject. These works focus on a narrowly defined topic within a course of study.
For example, I wrote a Master's thesis on: "Nineteenth Century American Women's Attitudes toward Mormon Polygamy." This means that I researched that topic at length, I used a combination of original and derivative sources, and I wrote about individual women, including one of my ancestors.
In some cases, a thesis or dissertation may be eventually published as a full-length book or a scholarly journal article. While some of these works have no genealogical relevance, there are many in the realms of history, anthropology, social work and other disciplines that would be of interest to the family historian. In some cases, personal and oral histories might be a part of the research paper that may even shed some light on your own family.
In the case of one of my 4th great-grandmothers, her 1850 Texas divorce was documented in a student's dissertation that was later published as a book. I found the mention of her in that book by searching for her name in Google Books. I found details about her divorce in that book that were not available when I researched at the court house in person.
One of the reasons that family historians don't explore theses and dissertations has to do with the difficulty in searching for relevant manuscripts. No easy-to-access index is available. There is an index available through the subscription website ProQuest . Unfortunately for family historians, searching the index would need to be done at an academic institution – which isn't always convenient. However, there are a few other ways to find these works while searching from home. Let's take a look at a few.
WorldCat
WorldCat is "the world's largest network of library content and services." WorldCat is a catalog of over two billion items available from libraries worldwide. You can conduct a keyword search to receive results that include books, articles and yes, even theses and dissertations. To find a relevant thesis or dissertation, conduct a search using a keyword or keywords for the location your ancestor lived, their occupation, an event, or something else that you might want to know about their life. Once you receive your results, narrow the results by the category thesis/dissertation (found on the left-hand side of the page, as shown in this screenshot).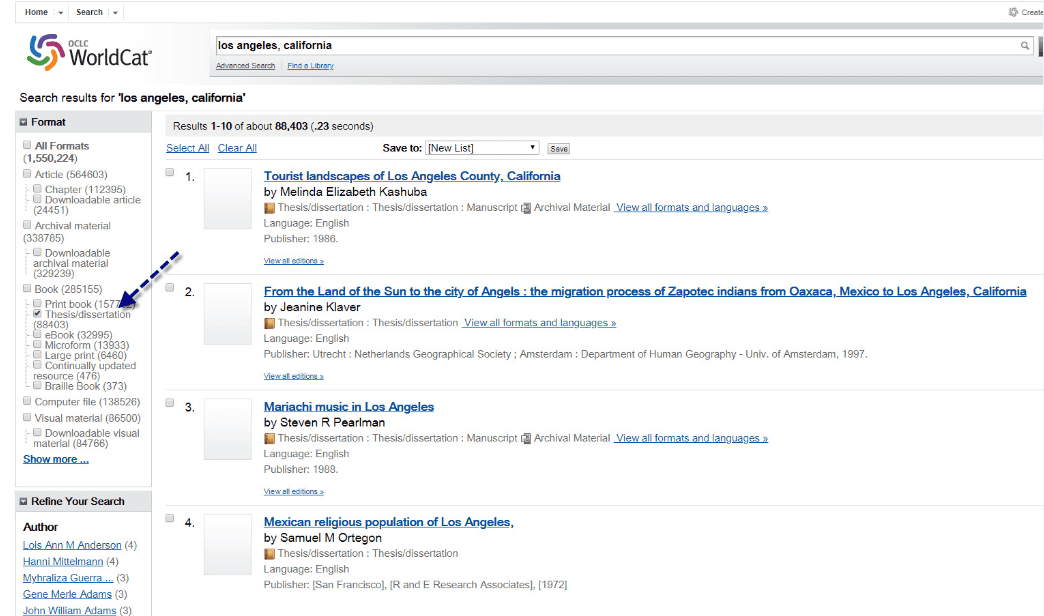 Because the thesis or dissertation you may be interested in might not circulate, consult your public library reference librarian about other ways to access the material.
University Library Catalogs
Another way to find a thesis or dissertation is by searching a university or college library catalog. When searching, remember to not limit your search to just the surname of your ancestor. Instead, search under the ancestor's locality and any other keywords that may describe him/her, like a religion or occupation. In some cases, under an advanced search option you may be able to limit your results to only show theses or dissertations.
A small example of what can be found are these titles from the University of California, Riverside. A search on the city "Redlands" brings 274 results including books, articles, and newspapers. However, when I chose "Dissertations" under Materials Type in the Advanced Search, I received 9 results, some of which are historical studies of the city and its residents such as:
A study of attitudes and actions of the citizens of Redlands, California, toward the local Chinese immigrant labor force from 1885 to 1895, by Loren Marvin Horton
Crime and scandal in early Redlands, by Edith Parker
Louis Robidoux, California pioneer, by John William Nelson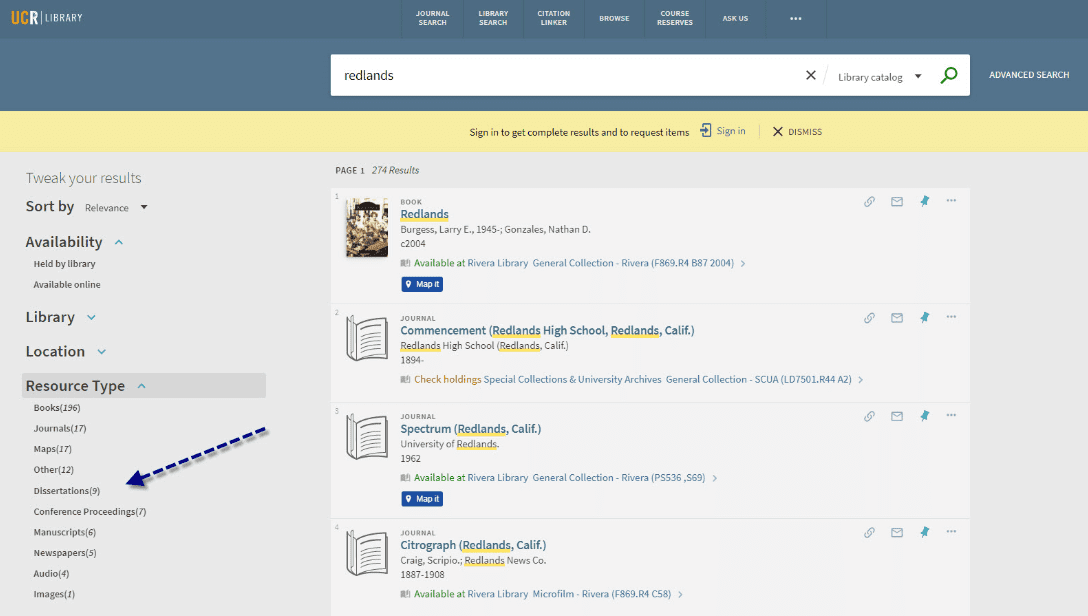 A search on the phrase "California women" included historically rich results:
Presidarias y pobladoras: Spanish-Mexican women in frontier Monterey, Alta California, 1770-1821, by Antonia I. Castañeda
Gender and justice: Women police in America, 1910-1946, by Janis Appier
Google Scholar
Various online periodical indexes might also help in finding relevant works, including the website Google Scholar which is a search engine for "academic" works including peer-reviewed journal articles, books, theses and dissertations. You can search Google Scholar as you would Google. The results I found included some theses and dissertations that were available to download for free.
Theses and Dissertations for Your Genealogy
There are other ways to find theses and dissertations; in some cases a thorough online search may uncover them. I've had times when I googled a subject and came across a dissertation available to download as a PDF for free. Googling beyond just your ancestor's name can lead to helpful discoveries.
Have you used theses and dissertations in your family history research? You should search for topics involving a location, event, occupation, or religion – but you may be surprised to find something focused on your family or surname. For example, did you know that the last name origin for Taylor comes from the occupational name for a tailor? ProQuest published a blog article that lists a few family history-related dissertations to give you an idea of what may be available.
Consider adding a different source to your family history research: explore theses and dissertations. You may be surprised at what you find.