Introduction: In this article – part of an ongoing "Introduction to Genealogy" series – Gena Philibert-Ortega describes how helpful gazetteers can be to your family history research, and provides links to find them. Gena is a genealogist and author of the book "From the Family Kitchen."
Experienced genealogists know that you should use maps in your genealogical research. Maybe you're familiar with the diversity of maps you can use, such as atlases, cadastral maps, fire insurance maps, or even birds-eye view maps. What about other geographical tools? Have you heard of a gazetteer? Have you tried using one?
Gazetteers for Genealogy
First, what is a gazetteer? According to Wikipedia (based on Marcel Aurousseau): "A gazetteer is a geographical dictionary or directory used in conjunction with a map or atlas." It typically contains information concerning the geographical makeup, social statistics, and physical features of a country, region, or continent. Content of a gazetteer can include a subject's location, dimensions of peaks and waterways, population, gross domestic product and literacy rate. This information is generally divided into topics with entries listed in alphabetical order. (1)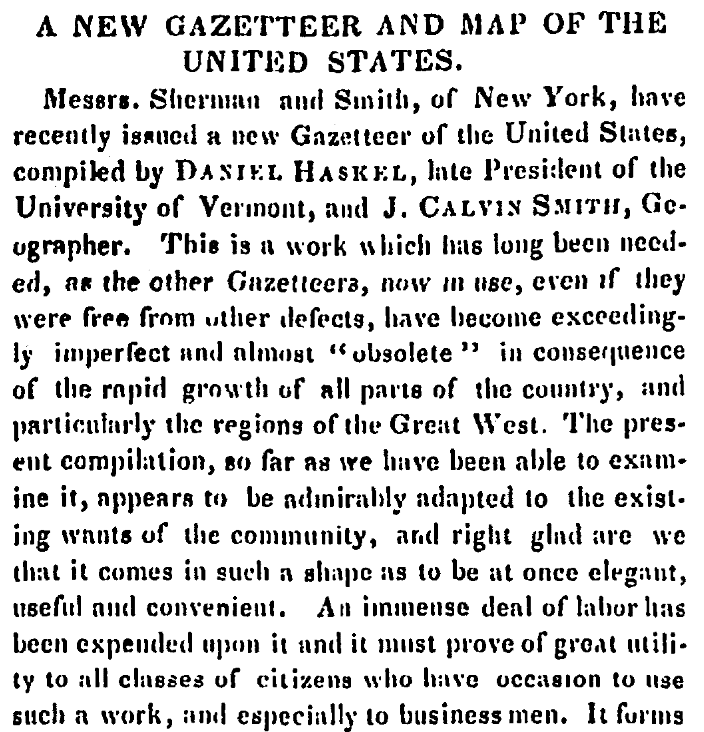 Why would a gazetteer be important for genealogical research? An ancestor's location is vital to the research we do. Most of the records we seek out have to do with a location or are indexed or catalogued according to place. But places change over time. Territories become states. Cities bustling in 1850 can disappear by 1910. County boundary lines change and incorporate areas that were previously parts of adjoining counties.
Gazetteers can help us with learning more about that location. The FamilySearch Research Wiki reminds researchers that: "Gazetteers can also help you determine county jurisdictions used in the FamilySearch Catalog." (2) In order to do a reasonably exhaustive genealogy search, we need to make sure we know about the place our ancestor lived and what it was called during the time that they lived there.
While gazetteers differ in the amount of information they provide and the location they cover, they are, at the very least, a geographical dictionary and should be used in conjunction with historical maps. In some cases, a gazetteer has very basic information about a place – like this 1906 Colorado gazetteer example from FamilySearch. (3)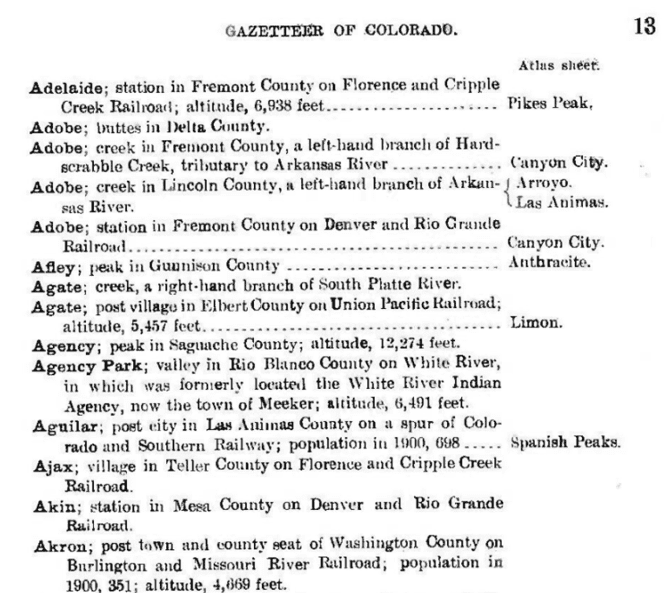 Here is an 1853 U.S. gazetteer found on Internet Archive that includes a section on "Counties, Cities, Towns, Villages, &c." and includes some historical background. For example, in the entry for Addison, Vermont, it states that: "The French commenced a settlement here in 1731. The English came here about 1770." (4)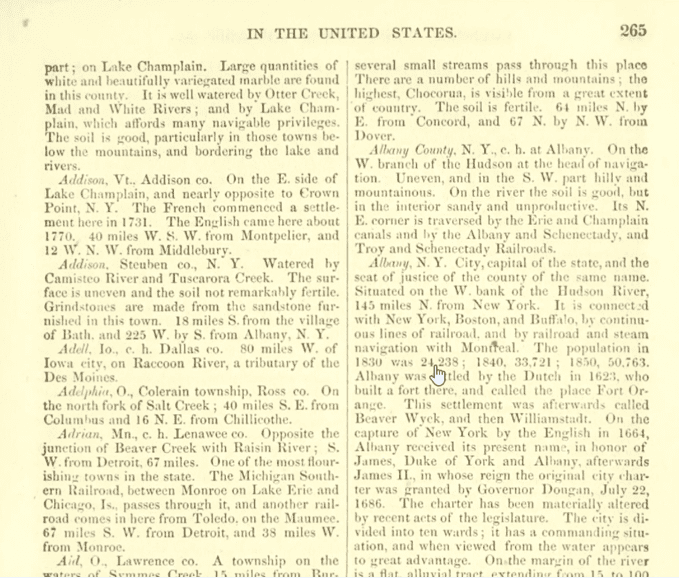 Where Can You Find Gazetteers?
There are a number of places you can find gazetteers for the place and time period you need. FamilySearch is a good resource, both their Catalog and the Digital Library. Also, don't forget that Wiki articles for maps and gazetteers exist on the country or state's homepage under the category "background." For example, there is a United States Gazetteers Wiki page. This page provides information about gazetteers and where to access them.
Digitized book websites will also have gazetteers in their online collections. Google Books, Internet Archive, and Hathi Trust should be consulted. A search for the keyword "gazetteer" on Internet Archive resulted in nearly 4,000 results; however, the keywords "United States Gazetteer" brought with it 165 results, some of which were multiple copies of the same gazetteer – so proceed carefully. It's important to remember that these websites are constantly being added to, so you will want to check back from time to time.
There are also other places to search for gazetteers. In one case, there is a gazetteer that has its own website: the Meyers Gazetteer.  According to the FamilySearch Wiki: "Meyer's Gazetteer (often referred to as Meyers Orts) lists the names of places as they existed in Germany from 1871 to 1912. It gives the name of the state or province where each town was located at that time."
Where Did They Live?
I know finding mentions of an ancestor in a record is exciting, but it's also important to do some of your homework prior to and while searching for an ancestor. Take some time to learn more about where they lived so that you can find the records you need. Maps and gazetteers are an important part of helping you learn more about your ancestor's place in time.
________________
(1) "Gazetteer," Wikipedia (https://en.wikipedia.org/wiki/Gazetteer: accessed 21 January 2020).
(2) "Gazetteers," FamilySearch Research Wiki (https://www.familysearch.org/wiki/en/Gazetteers: accessed 21 January 2020).
(3) A Gazetteer of Colorado: http://www.familysearch.org/library/books/idurl/1/105233
(4) A Gazetteer of the United States of America:  https://archive.org/details/gazetteerofunite00hayw/page/n6/mode/2up
Related Article: