Introduction: In this article – to honor April being National Grilled Cheese Month – Gena Philibert-Ortega searches old newspapers to find some of our ancestors' exciting grilled cheese recipes. Gena is a genealogist and author of the book "From the Family Kitchen."
April is National Grilled Cheese Month, which got me thinking about that simple comfort food we eat for lunch, paired with tomato soup, and even is the basis for other sandwiches like tuna melts. Whether you like your grilled cheese made in the traditional manner – just melted cheese between two slices of bread – or you like to add something unique (I like chopped artichoke hearts in mine), the newspaper has recipes for your next sandwich. I found all of these recipes in GenealogyBank's Historical Newspaper Archives.
The Beginnings of the Sandwich
Grilled cheese sandwiches weren't always referred to as "grilled cheese." They started out as "hot cheese sandwiches." These sandwiches featured grated cheese and various seasonings, which make them slightly different than the cheese slice, bread, and butter combination you may be more familiar with today. Prior to sliced bread and processed cheese, recipes detailed the type of bread to use and the "bold" seasonings to include.
This 1899 recipe includes cutting the bread in a round shape with a biscuit cutter and adding a dash of cayenne pepper. Instead of using butter to "fry" the sandwich, this recipe calls for equal parts of lard and butter.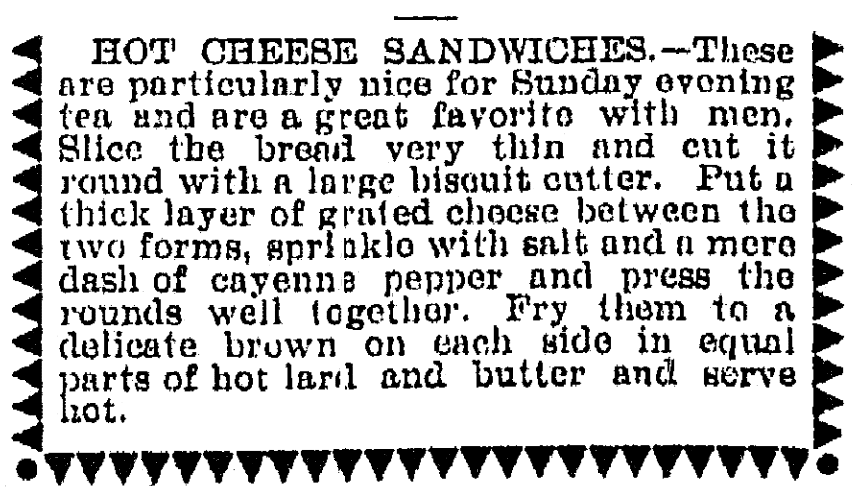 A recipe from 1915 for French Toast Sandwiches describes them as:
"…favorite tea room novelties that housewives find it easy to duplicate at home. These sautéed slices of bread put together in pairs, with any preferred filling have the advantage of being adaptable to any of the three meals of the day, while their particular mission is to afford something a little out of the ordinary for the Sunday night tea table or the after theater supper."
In this newspaper article, the cheese sandwich is dipped in an egg batter before cooking. This hot cheese sandwich has a filling of "softened cheese moistened with cream and highly seasoned with Worcestershire sauce and paprika."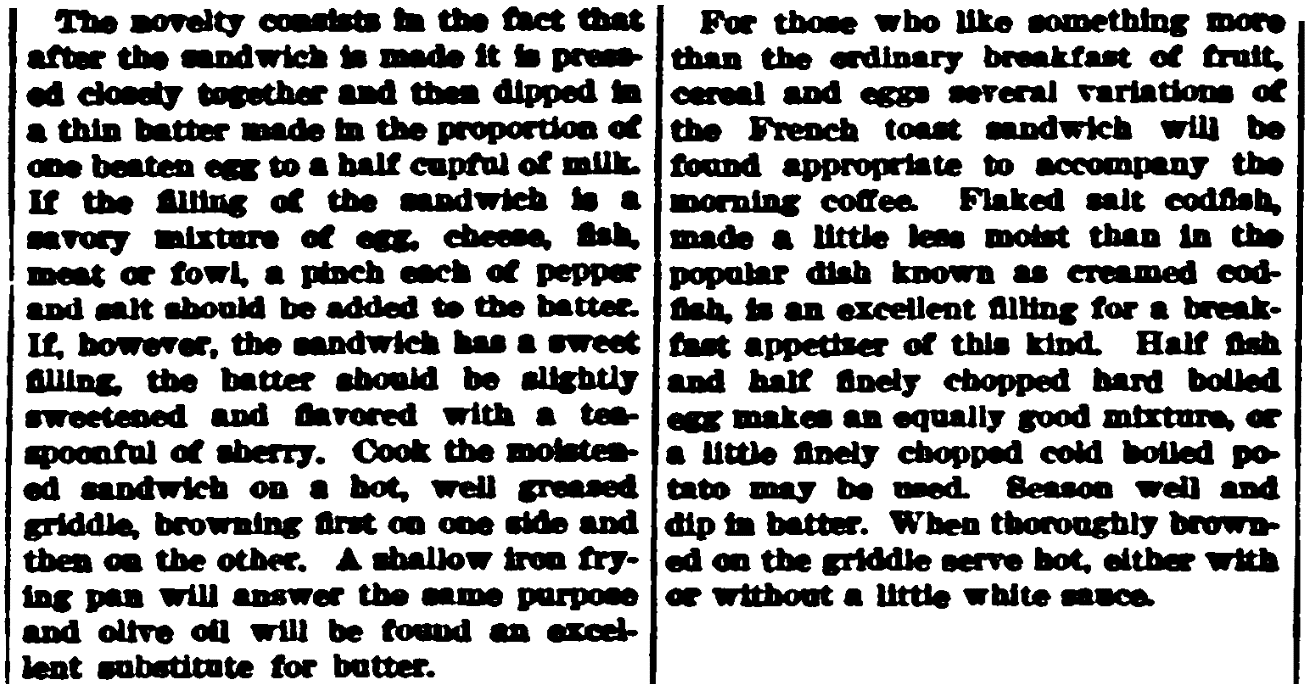 More Grilled Cheese
The early 20th century saw food newspaper columns that focused on sandwiches. This 1901 Hot Cheese Sandwich recipe is one such example. It begins by explaining, "Since fashion has approved of the sandwich, it has become one of the indispensables on the family table as well as on the menu for large entertainments." This recipe suggests cayenne pepper, as well as paprika and grilling "over a slow fire or brown in the oven" and is served with olives. Understandably, some of these early recipes mention hot cheese sandwiches as an alternative to Welsh Rarebit (a recipe involving a cheese sauce served over bread).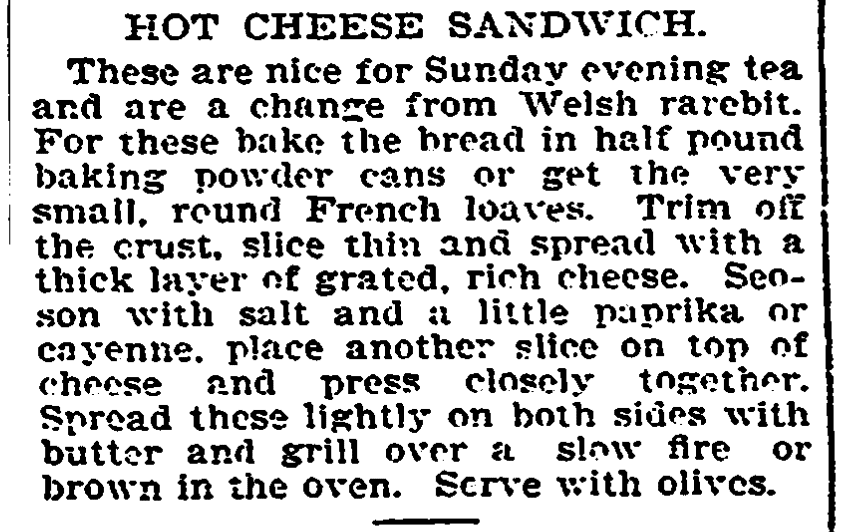 By the 1940s, grilled cheese sandwiches had become common fare, being advertised in diners and in recipes for luncheons.

It's More than Just Cheese
I love the traditional grilled cheese sandwich, but I also love creative ways to reimagine that same grilled cheese. What's your unique take on the classic standard? The newspaper provides some ideas if you need to shake up your grilled cheese routine.
Melted cheese can be paired up with a host of ingredients to make the perfect sandwich; think veggies, meat, and even fruit. A grilled cheese sandwich my son ate recently included BBQ beef and macaroni and cheese. Yes, all of that paired with melted cheese between two slices of bread.
This newspaper's sandwich recipe includes an interesting combination of onions and prunes – be courageous; even some rather "unusual" sounding sandwiches turn out to be quite tasty when surrounded by hot, melted cheese and buttered bread.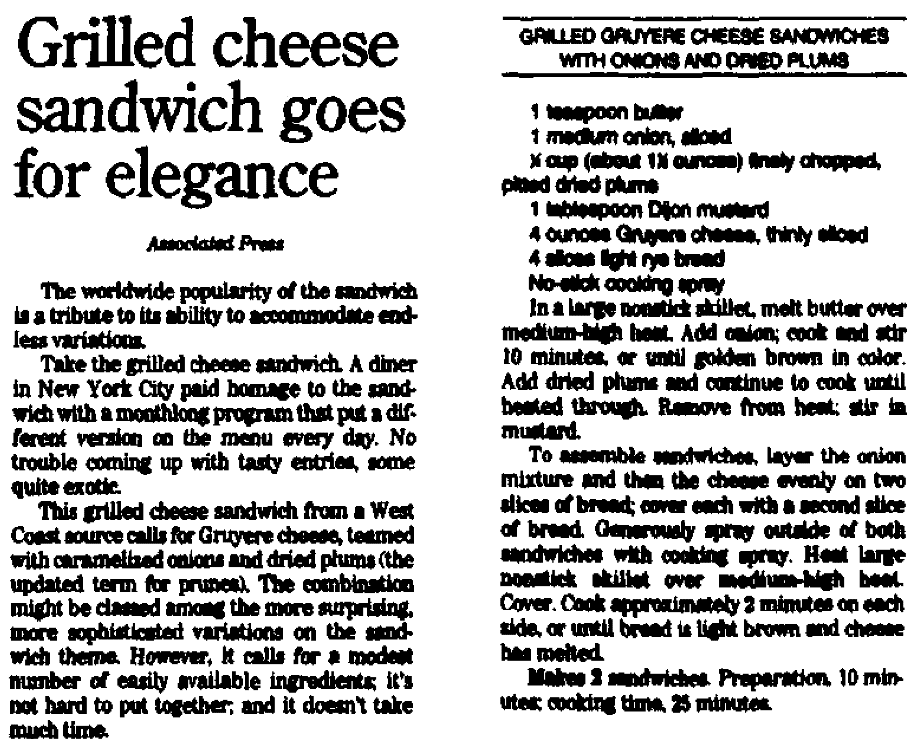 This 2016 Louisiana newspaper article commemorating National Grilled Cheese Day includes local restaurant offerings such as crab, pork, and of course, crawfish. While the recipes aren't included, the descriptions should be enough to help you recreate these sandwiches.
Grilled cheese sandwiches can be customized using various ingredients as well as sauces. This Green Cilantro and Cumin Chutney recipe is one way to add a little heat to that melted cheese with the addition of jalapenos.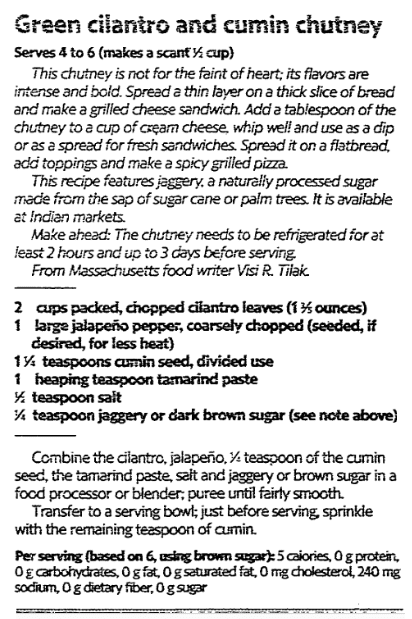 What's for Lunch?
Ready to celebrate National Grilled Cheese Month with a sandwich? Do you have a unique grilled cheese recipe? Any family memories involving grilled cheese sandwiches? I'd love to hear about them in the comments section below.