I have been researching my Irish roots for over 50 years.
When I want to search for an Irish marriage record, I go to FamilySearch and to GenealogyBank to get the details.
I use FamilySearch because it has the preeminent collection of Irish church and governmental registers, and GenealogyBank because it was common for Irish American newspapers to publish marriages solemnized in Ireland for the benefit and awareness of their newspaper readers here.
Recently, I was looking for the wedding of my cousin Anna Moore to James O'Grady in the mid-1850s – so I searched for information in both databases.
I found the details of their wedding using GenealogyBank, published in the Irish American Weekly.

And here is the record of their marriage I found in FamilySearch.org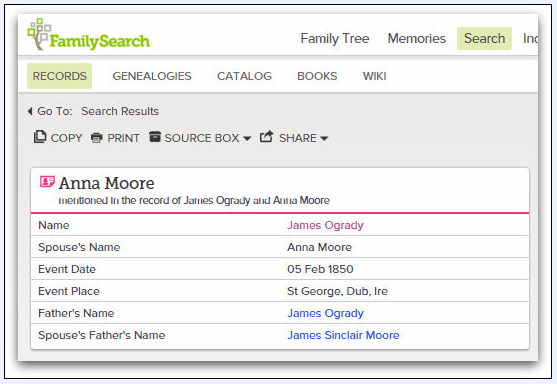 See: (https://familysearch.org/ark:/61903/1:1:FG6C-TWR
Both sources tell us that they were married at St. George's Church (Denomination: Church of Ireland) in Dublin, Ireland, on 5 February 1850.
The newspaper account adds that they were married "by Rev. Gibson Black, and afterwards according to the rites of the Roman Catholic Church." Good information to have.
The record in FamilySearch gives the name of the groom's father (James Ogrady) and both FamilySearch and GenealogyBank give us the name of the bride's father (James Sinclair Moore) – with GenealogyBank adding the detail: "the late James Sinclair Moore, of Moorebrook, in the county of Armagh."
The GenealogyBank account also adds that the groom lived at Mountjoy Square in Dublin.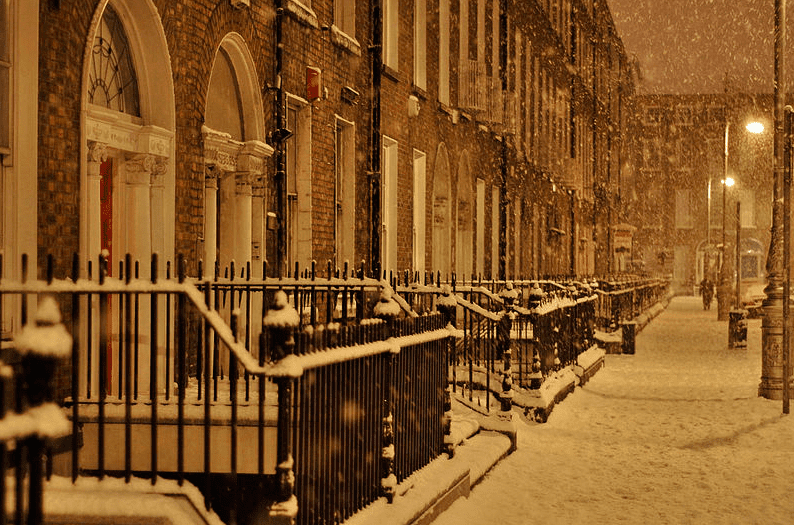 Per Wikipedia, construction of Mountjoy Square was begun in the early 1790s and completed in 1818. With its distinctive Georgian architecture, "the square has been home to many of Dublin's most prominent people: lawyers, churchmen, politicians, writers and visual artists."
This is a good clue that the "James O'Grady, Esq." reference in the Irish American Weekly was a man of means or perhaps a lawyer.
Genealogy Tip: When searching for old Irish marriage records, it is essential that you check both the Ireland Marriages, 1619-1898 on FamilySearch and GenealogyBank's collection of Irish American Newspapers (1810-2016). You will find important details and clues on one site that you will not find on the other. It's a great day for genealogy!
Related Articles: