Introduction: In this article, Gena Philibert-Ortega gives recipes for a trend she's noticed during the pandemic: people cooking with dandelions. Gena is a genealogist and author of the book "From the Family Kitchen."
With the increase in at-home cooking during the pandemic, people are trying old recipes or ingredients that aren't as popular or as well-known as they once were. One food trend I've noticed recently is the use of dandelions in recipes. Sure, dandelions are a weed – but like one newspaper article proclaimed: "These obnoxious weeds can become a dandy dish."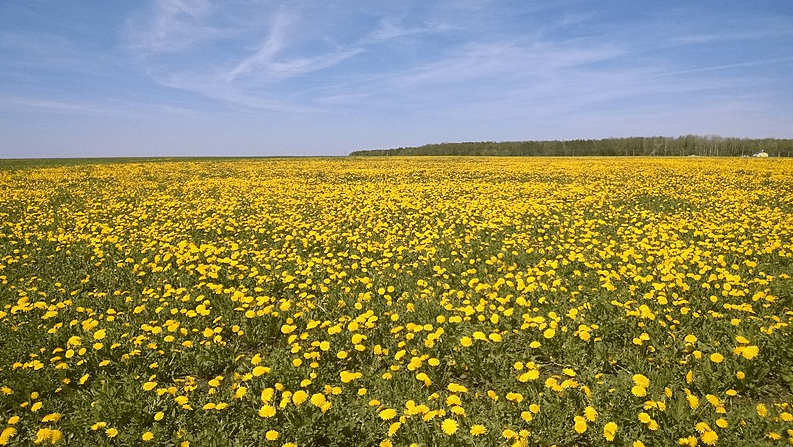 In addition, dandelions are surprisingly nutritious! As the State Journal-Register article from 2006 shown below reports:
"The flower, leaves and root of the ubiquitous weed are not only tasty, but amazingly nutritious. The plant contains more beta-carotene than carrots, more potassium than bananas, more lecithin than soybeans, more iron than spinach, and loads of vitamins A, C, E, thiamine, riboflavin, calcium, phosphorus and magnesium… In fact, the dandelion's scientific name, Taraxacum officianale, means 'official remedy for disorders' in Latin."
I was surprised to find the numerous ways to prepare dandelions, from the flower to the root. Literally you can eat dandelions for everything from a salad, to an entree, to dessert, and then wash it all down with a dandelion tea or wine.
I decided to see what dandelion recipes I could find in historical newspapers and quickly realized that I could have written a cookbook with all the recipes I found! Below are just a few of the recipes I found in case you decide you want to do some foraging yourself.
Cooking with Dandelions
This 1916 newspaper column, "The Dandelion" (though the headline writer unfortunately misspelled it as "Dandeloin"), starts out lamenting that "modern American housewives have never learned to appreciate the medicinal and dietetic properties of the star-eyed dandelion."
The article reports:
"From the tip of its slender root to its golden aureole-crowned stem it is full[y] charged with alkaline salts, whose therapeutic properties are well understood and liberally employed by the manufacturers of the various sarsaparilla preparations that come out with the spring.

"In grandmother's roster of vegetable 'cure-alls' dandelion tea, made from the roots and leaves and administered by the wineglassful three or four times a day, was listed as benefiting the liver and unexcelled for stopping any internal hemorrhage."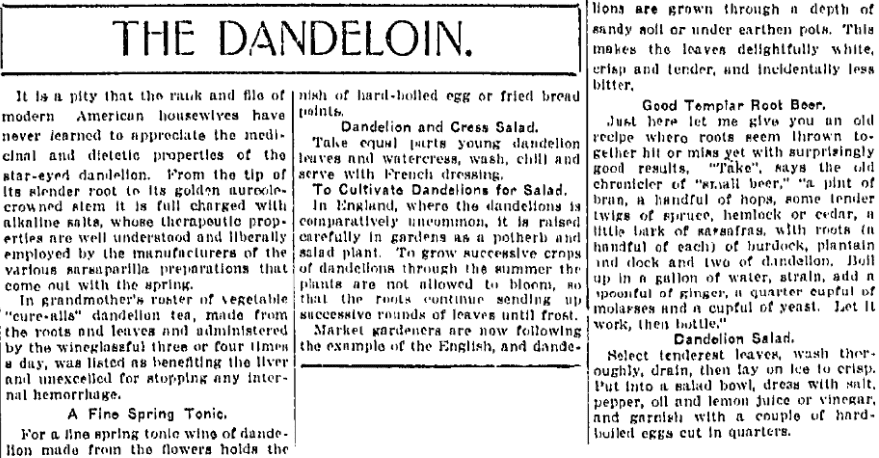 Other recipes in the article are for a tonic, a root beer, and salad. The last salad recipe is a fairly simple one that calls for dandelion leaves dressed with salt, pepper, oil and lemon juice or vinegar and garnished with hardboiled eggs.
Going beyond Salad
Sure, you can use dandelion greens for salad. That's a given. But I have to admit I became fascinated with the variety of dandelion recipes. There really are more uses than I could ever imagine. I also learned that there are dandelion farms, like the one featured in this 1988 article that includes recipes from the cookbook New Jersey's World Famous Dandelion Recipe Book (when the following newspaper article was written there were 17 dandelion farms in South Jersey). Recipes featured include a dandelion soup that combines greens with meatballs cooked in a chicken stock. The Italian Dandelion Casserole adds alternating layers of dandelions, meatballs, and canned tomatoes.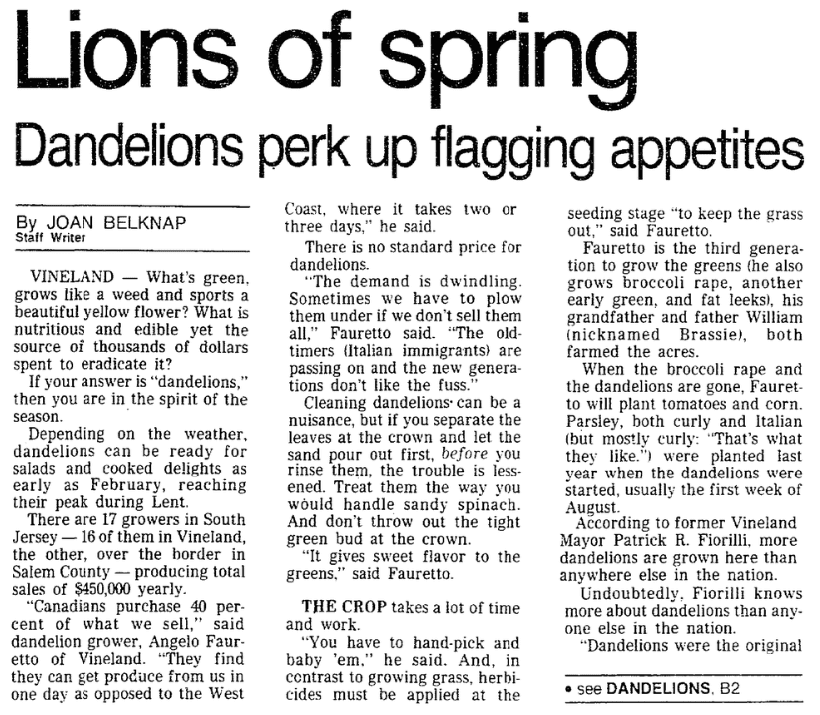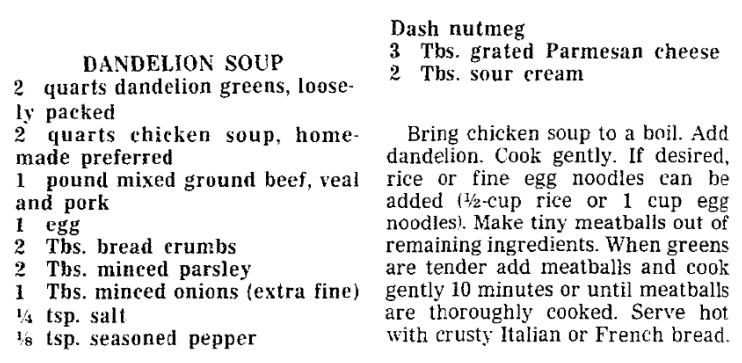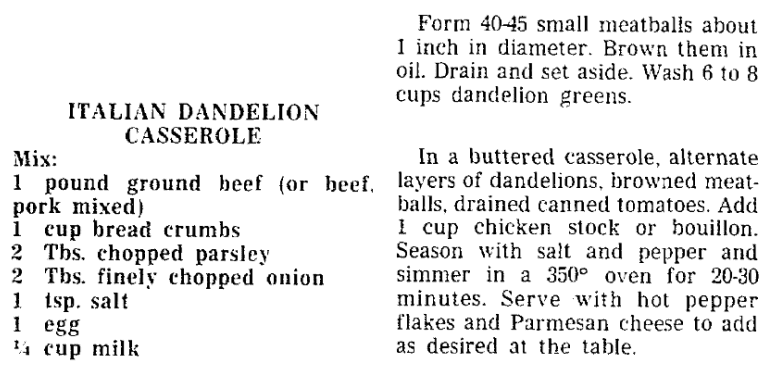 More creative dandelion uses are these recipes from 2006 that use dandelions in an omelet, a pizza, and even as a coffee substitute.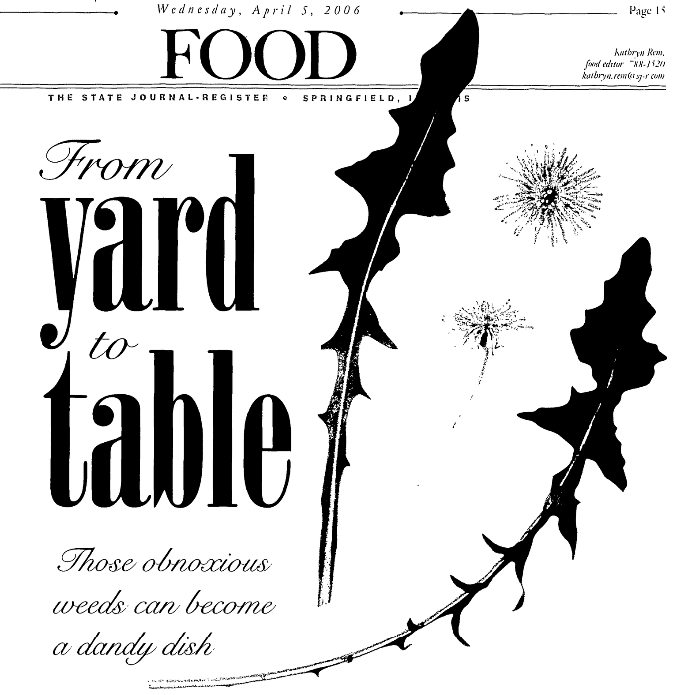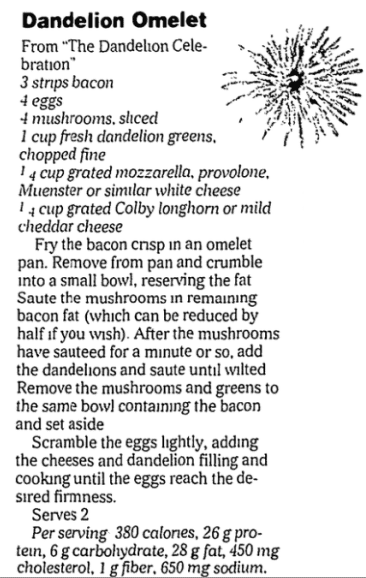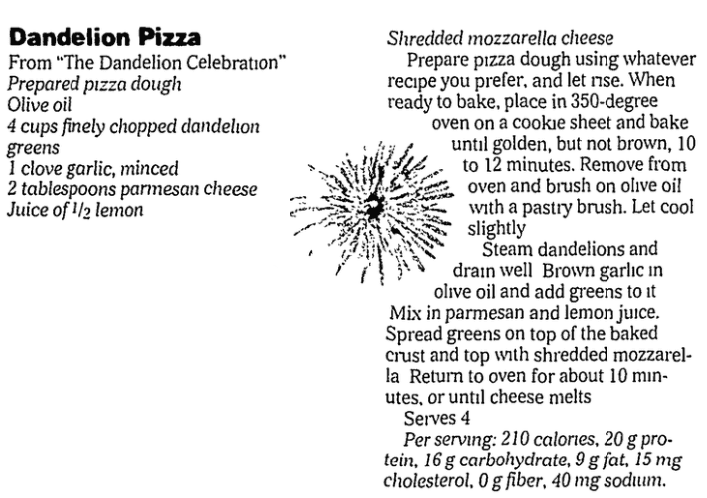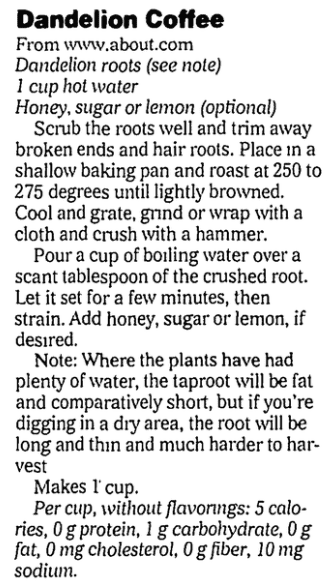 Dandelion Wine
One of the more familiar uses of dandelions is dandelion wine.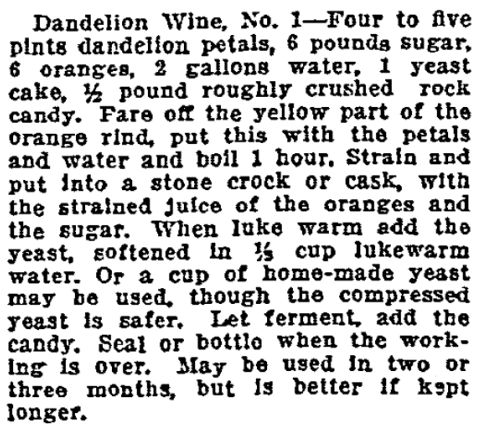 Ready to Eat Some Dandelion?
You know I love when food history intersects with family history. One of my favorite newspaper articles about dandelions is this one by Eileen Mears in the 15 April 1976 State Journal-Register from Springfield, Illinois, where she encourages her readers to try dandelions and does so by sharing her family history. She teaches her readers about dandelions, or "poor man's spinach," by talking about her grandmothers:
"I spent more time with my maternal grandmother, Margaret Lucinda Moore Spencer, who was a 'greens and potherb' cook. I don't recall that my paternal grandmother, Magdalena Spring Opper, ever cooked dandelions. Instead, she fixed a raw salad with bacon, hard-cooked eggs and cooked salad dressing, and used only the very tender, bleached heart or light green leaves of the plant. Neither grandmother picked the dandelions after they'd begun to flower (usually the older plants are apt to be bitter)."
Not only does she provide some recipes in her column but she gives the full names of her grandmothers. What a tribute!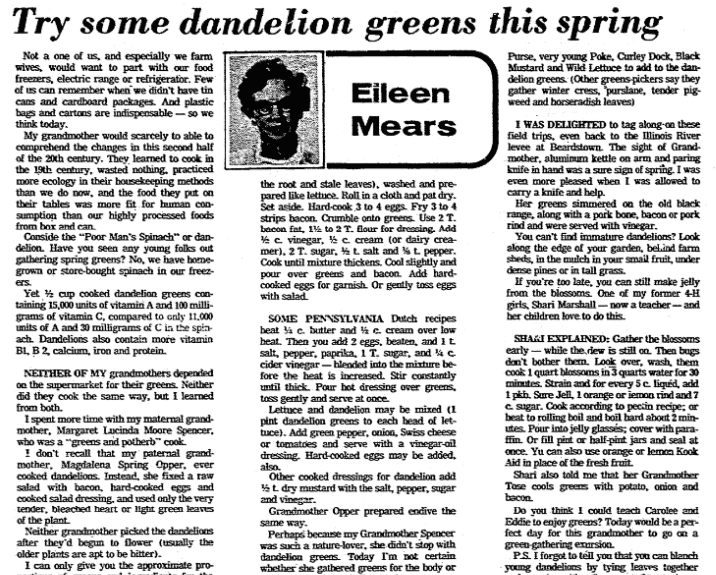 Have You Eaten Dandelions Lately?
I've never eaten dandelions, that I know of, but I'm eager to try a recipe. I remember my dad telling me that when my maternal grandmother came to visit us in the 1970s, she took my dad on a tour of our grassy yard and the edible weeds growing there. She taught him what was edible and how to cook them. I'm sure that one of those weeds was the dandelion, since she enjoyed drinking dandelion tea.
According to my copy of the Food Lover's Companion, when choosing dandelions to eat, keep in mind that "the bright green leaves have a slightly bitter, tangy flavor that adds interest to salads. They can also be cooked like spinach. The roots can be eaten as vegetables or roasted and ground to make root 'coffee.' Though they're available until winter in some states, the best, most tender dandelion greens are found in early spring, before the plant begins to flower. Look for bright-green, tender-crisp leaves, avoid those with yellowed or wilted tips. Refrigerate, tightly wrapped in a plastic bag, up to 5 days." [p.176]*
Because most people consider dandelions a weed, make sure that you are using plants that have not been sprayed with pesticides and that you wash them well before using.
Do you have a favorite dandelion recipe? Did your family eat dandelions? I'd love to hear about it in the comments below.
* Herbst, Sharon Tyler. Food Lover's Companion, second edition. New York: Barron's, 1995.