Introduction: In this article, Gena Philibert-Ortega suggests celebrating Cinco de Mayo by tracing your Hispanic ancestry using GenealogyBank's Hispanic American Newspapers collection—and provides tips how to do this. Gena is a genealogist and author of the book "From the Family Kitchen."

Looking for ideas for tracing your Hispanic ancestry this Cinco de Mayo? Maybe the typical regional newspapers aren't yielding many results in your family history searches? Have you considered narrowing your search to an ethnic newspaper? GenealogyBank's Hispanic American Newspapers collection has many different U.S.-based newspapers that served the Hispanic community, beginning in the early nineteenth century. These Spanish-language newspapers (note: some are bilingual) might provide the ancestral answers you're looking for.
Need some ideas to help you get started tracing your Hispanic genealogy? Consider the following:
1) Search for Different Types of Newspaper Articles
Sure, genealogy researchers should search for their ancestors' obituaries—but don't forget about other life events including marriages, births, military service, and graduations; these events were all reported in local newspapers. Remember that your ancestor was part of a community and participated in academic, religious, and organizational activities and events. Some articles may only provide a brief mention of your ancestor's name, but even that helps to place them in a specific area and time—or maybe even give you an idea about when they left a place.
It's difficult to list all the different type of newspaper articles you might find an ancestor listed in, but a thorough search will help you uncover articles you may not have otherwise considered. For example, finding an ancestor's name in a newspaper's unclaimed letters list might indicate that they had moved on, were moving to the area, passed away, or just didn't pick up their mail often. Noting when and how often they appear on such a list could be an important clue to follow up on.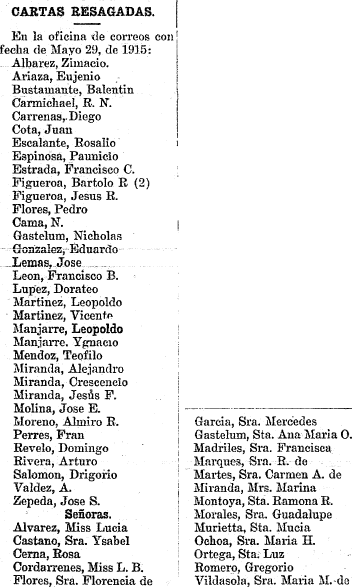 As you search for your Hispanic or Latino ancestor in the newspaper, consider searching by surname or full name only and not including a place name or other keywords. Now this may be difficult if your ancestor's surname is common but—as you can see in the article below—individuals can be found in articles outside of the place they lived in. Limiting your initial search with a location may filter out relevant articles that were published elsewhere.
The following is an article acknowledging donations to help journalist and political activist Juan Sarabia, who in 1910 was detained in a Mexican prison. This newspaper article shows that donations came from donors on both sides of the border. In some cases, the city of the donor was included as well as their donation amount.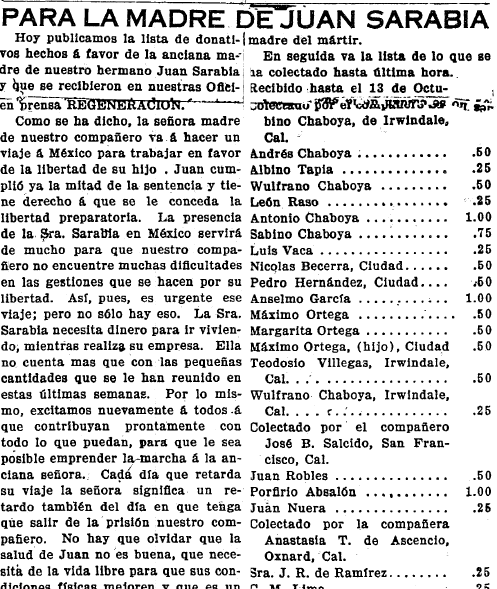 2) Read the Paper to Learn More about Your Ancestor's Community
By learning more about your ancestor's community, you can get a sense of their lives and even what records may be available. Don't ignore news articles that don't specifically mention your ancestor. Learning about their community can help you tell their story. For example, learning more about important industries where your ancestor lived can provide you with information about why they migrated or why they chose a particular industry for employment. In some cases an article might point to higher wages, safer working conditions, or even recruitment of migrants with specific skills.
This historical newspaper article, exploring the topic of pearl fishing in the Gulf of California, is one such example of learning more about a community. In the old news article we learn that the inhabitants of La Paz understand pearls—and it makes sense they would, since the article reports that the production value in 1908 was 3 million pesos and the annual export in pearl shells was 2 million pesos!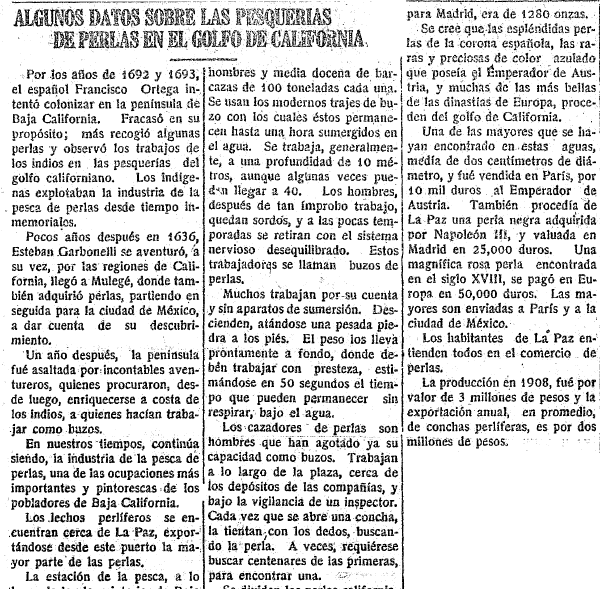 3) Don't Assume These Newspaper Are Spanish Only: Bilingual Newspapers
It's easy to assume that a newspaper targeting a Spanish-speaking community would be printed in Spanish. While this is for the most part true, one thing a researcher quickly learns is not to make assumptions.
Not all of the newspapers in GenealogyBank's Hispanic American Newspapers archives are printed solely in Spanish. For example the Ideal, described as a national bilingual and bi-monthly newspaper, includes articles written in both English and Spanish. Looking at this issue from 1970 for Coachella, California, you can see that articles are printed in both languages side by side.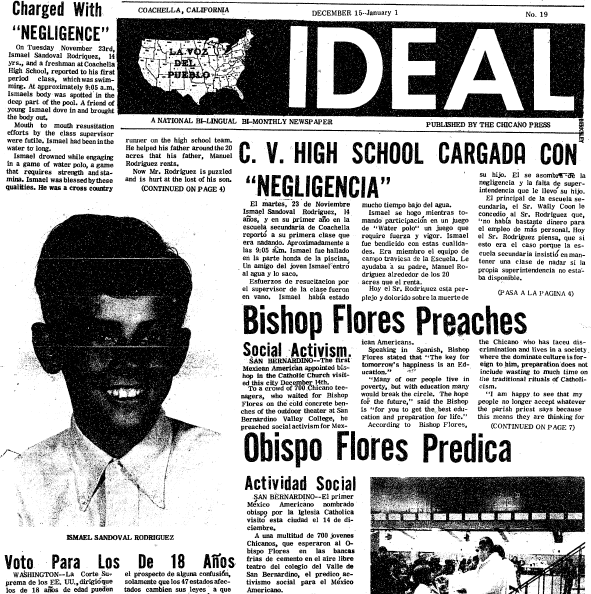 This small newspaper includes community events, local interest articles and advertisements that provide the researcher with a better sense of their family's community.
Click here to see a list of GenealogyBank's Hispanic American Newspapers published from 1808-1978. Here you will find a table (sorted by states) that includes a link to each newspaper's search page, and lists the dates of available coverage for each newspaper.
Related Article: