Introduction: In this article, to help celebrate Black History Month, Gena Philibert-Ortega searches old newspapers to learn more about Sister Rosetta Tharpe, the "Godmother of Rock 'n' Roll." Gena is a genealogist and author of the book "From the Family Kitchen."
What do Johnny Cash, Elvis Presley, Chuck Berry, Aretha Franklin, Little Richard, and Jerry Lee Lewis have in common? They were all influenced by a gospel-singing, electric guitar-playing African American woman named Sister Rosetta Tharpe.
You've probably seen the viral video of Rosetta performing outside in the rain at an English train station, playing her electric guitar as she sings the appropriately named "Didn't It Rain" for a live audience. The 49-year-old woman behind the electric guitar appears to be an unlikely rock and roll star, but in reality she was one of the early influences of the genre and so much more. In fact, even Chuck Berry said of his career that it was "just one long Rosetta Tharpe impersonation." (1)
Queen of Gospel, Godmother of Rock and Roll
Born 20 March 1915 in Cotton Park, Arkansas, Rosetta's mother Katie Bell was a Pentecostal singer and preacher. At the age of 4 Rosetta was playing the acoustic guitar in church, and by age 6 was traveling with her mother performing for churches, combining sermons with gospel music. (2) Later, after her short marriage to minister Thomas Thorpe, she adapted his surname and used the name Rosetta Tharpe as her stage name.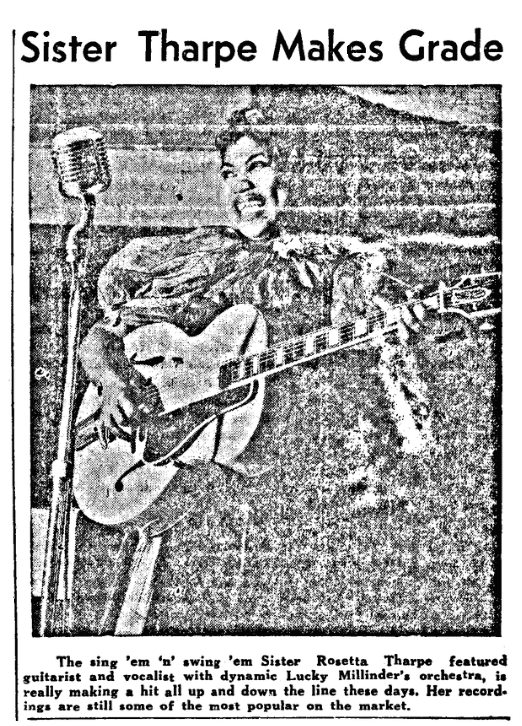 Eventually trading in her acoustic for an electric guitar, Rosetta's career went from the church to the jazz club. Her version of gospel music, played to secular audiences in jazz clubs – as well as decidedly ungospel-like songs – made her unpopular with her gospel audience, who frowned upon the songs she sang and how she performed. However, they quickly reembraced her when she later returned to her gospel roots. (3)
Rosetta wasn't just popular on tour; a publicity stunt resulted in thousands of people paying admission to her 1951 combination wedding and concert. This newspaper article detailing her wedding reported:
"Immediately following the wedding ceremonies, Sister Tharpe and Madam [Marie] Knight, the two 'First Ladies' of spiritual music, presented a thrilling concert… In keeping with the spirit of the July 4, the affair ended with an elaborate display of fireworks including cupid's heart pierced with arrows designed especially for the bride and groom."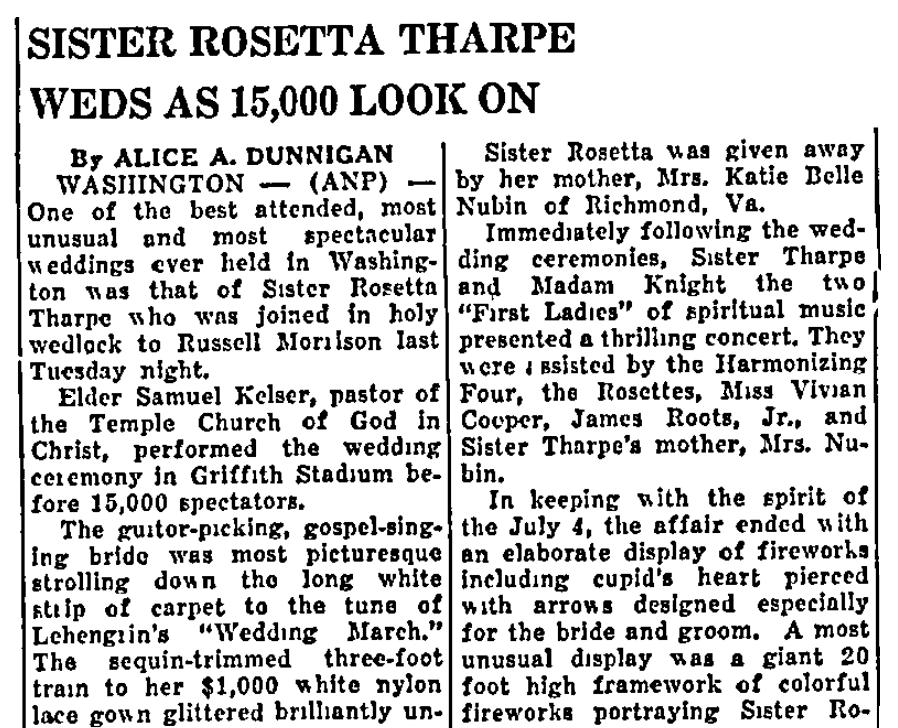 Throughout the 1940s, Rosetta toured with both black and white male Gospel quartets, challenging racial and societal conventions. Her celebrity remained strong, and Rosetta recorded the first Gospel R&B billboard top-10 hit, "Strange Things Happening Everyday," in 1945. Her popularity in the United States waned in the late 1950s; as what was popular evolved, she was slowly replaced by the very artists she influenced. However, she found a new popularity in a tour of Great Britain in 1964. (4)
After Her Death
Rosetta Tharpe died on 9 October 1973 in Philadelphia at the young age of 58. Her obituary sang her accolades as the "Queen of Gospel," including that she was the first gospel singer to appear at Carnegie Hall. Her music career included playing with such famous jazz greats as Cab Calloway and Louis Armstrong. In her half-century career, she recorded 5,000 records on the Decca, Mercury, and Savoy labels.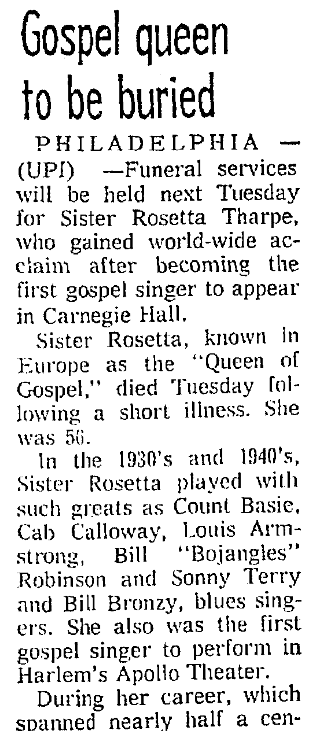 Rosetta was posthumously inducted into the Rock and Roll Hall of Fame in 2018.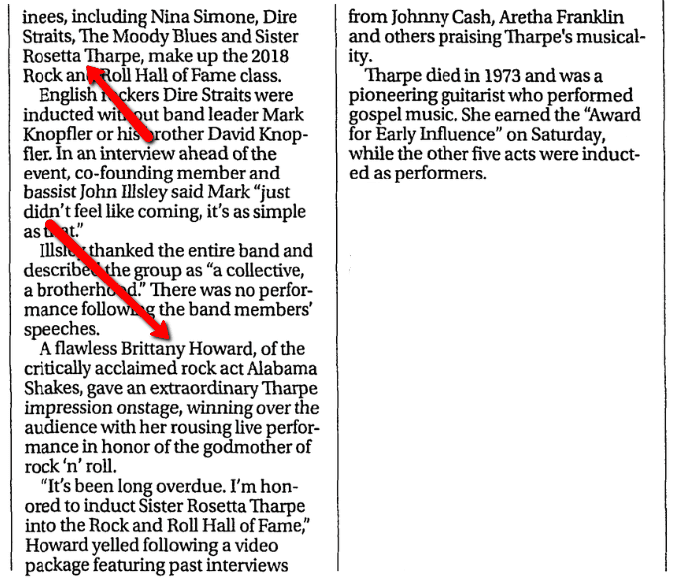 In an interview with NPR, Tharpe's biographer Gayle Wald remarked that when asked about the younger generation's rock and roll music, Tharpe would reply:
"Oh, these kids and rock and roll – this is just sped up rhythm and blues. I've been doing that forever." (5)
Wald's book about Tharpe is called Shout, Sister, Shout! The Untold Story of Rock-and-Roll Trailblazer Sister Rosetta Tharpe (Beacon Press, 2007). You can watch documentaries and videos of Rosetta performing on YouTube.
______________
(1) "She Can Make That Guitar Talk," NPR (https://www.npr.org/2019/09/24/759600717/she-can-make-that-guitar-talk: accessed 18 February 2020).
(2) "Sister Rosetta Tahrpe," Wikipedia (https://en.wikipedia.org/wiki/Sister_Rosetta_Tharpe: accessed 17 February 2020).
(3) "Featured Composer May 2019: Sister Rosetta Tharpe (1915-1973)," Carolina Music Museum (https://carolinamusicmuseum.org/featured-composer-may-2019-sister-rosetta-tharpe-1915-1973/: accessed 17 Febraury 2020).
(4) Ibid.
(5) "Sister Rosetta Tharpe Gets Her Day In The Rock & Roll Hall Of Fame," NPR (https://www.npr.org/sections/world-cafe/2018/04/12/601808069/sister-rosetta-tharpe-gets-her-day-in-the-rock-roll-hall-of-fame: accessed 17 February 2020).