Introduction: In this article, to help celebrate the federal holiday Washington's Birthday, Gena Philibert-Ortega searches old newspapers to find claims of relation to George Washington. Gena is a genealogist and author of the book "From the Family Kitchen."
One of the legends on my dad's side of the family is that we are related to President George Washington through his sister Betty Washington Lewis. Now to be honest, I have never seen any evidence that this is true – but we can go into that family legend in another blog article. Having had this claim in my own family, I started to wonder about other people's claims of Washington relationships.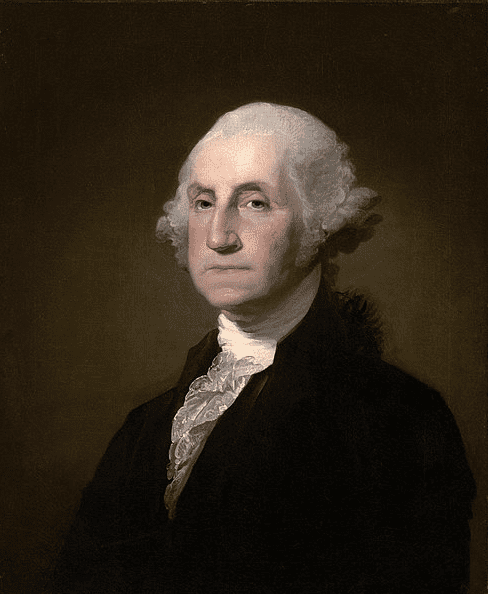 Historical newspapers contain numerous mentions of people claiming a familial relationship to George Washington. Whether these people's stories are fact or fiction requires further research, but just the newspaper articles themselves provide for some fascinating reading.
Related to Washington
This 1898 newspaper article about Major Ebenezer Burgess Ball states that he had been declared by the lineage society "Sons of the American Revolution" to be the nearest living relative of Washington, and that he had a "remarkable personal resemblance." The newspaper reports:
"At first sight his picture is nearly always taken for a likeness of General Washington. Mary Ball, the mother of Washington, was a cousin of Col. Burgess Ball, the grandfather of the subject of this sketch."
In addition to his famous family, Major Ball also led an interesting life; he "went west and became famous as an Indian fighter and California pioneer" as well as serving in the Confederate Army during the Civil War.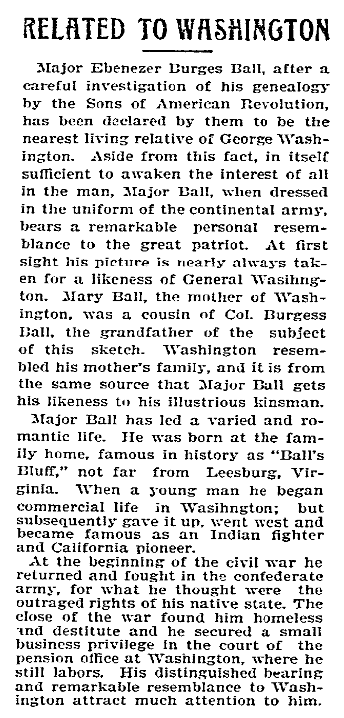 When Ball died two years later, his relationship to Washington was mentioned again in obituaries.
Another lineage society, "Society of the Cincinnati," had their own claim to a Washington descendant in one William Lanier Washington. William Washington's descent was from Augustine Washington 2nd, the eldest half-brother of George Washington. This 1915 newspaper article reports that:
'The genealogical table of William Lanier Washington shows that he is the ninth in direct male descent from Colonel John Washington, the first American member of the family."
The article ends by stating that although William was married, he had no sons to "inherit his status."
Obviously, depending on the lineage society, tracing one's self back to American colonial days is important. This Washington relative, Mrs. C. E. Buck of Texas, was a member of "Colonial Dames of the 17th Century" and "Daughters of the American Revolution." She claimed to be George Washington's third cousin, three times removed. Her 4X great aunt, Ann Pope, was married to Col. John Washington. Their son, Lawrence Washington, was grandfather to the president. Mrs. Buck was a genealogist, and this 1948 newspaper article ends with saying that: "Tracing her ancestry is Mrs. Buck's No. 1 hobby and consumes a great deal of her time." I think many of us can relate to that!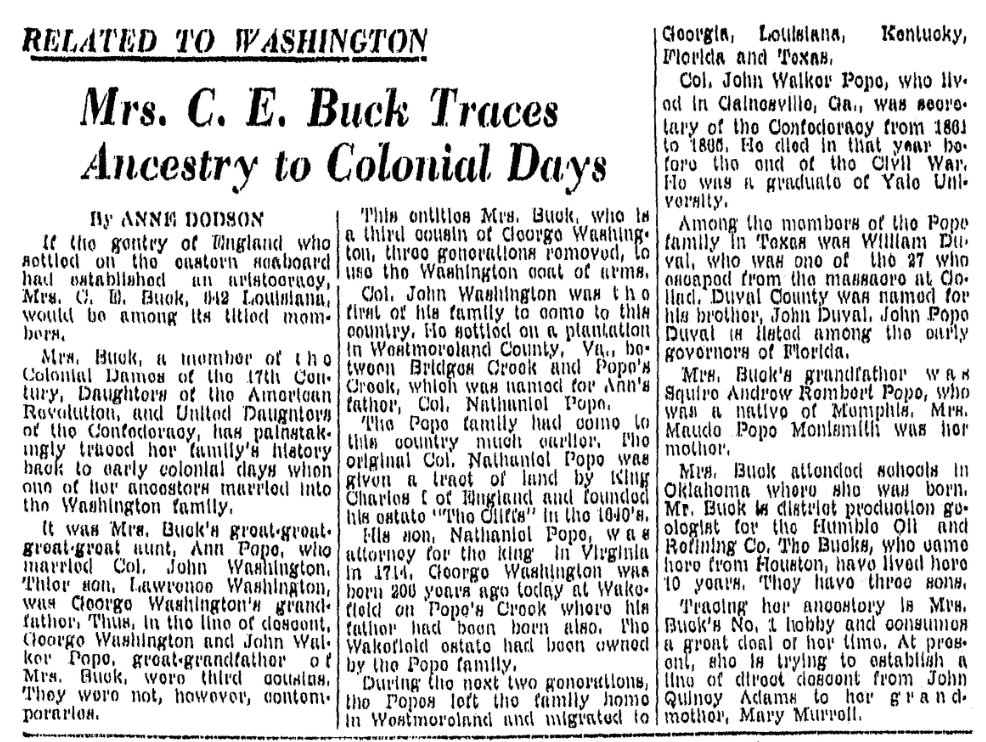 Even in Death
A relationship to Washington wasn't something that only the living bragged about. It was also mentioned in death notices of the recently deceased. Take for example this 1903 mention of Maryland resident Mrs. Louise Ancrum Cruger in a Nebraska newspaper:
"Her father was the late James Hassell Ancrum, and her mother was Miss Jane Washington, a great granddaughter of Colonel William Washington, a first cousin of George Washington."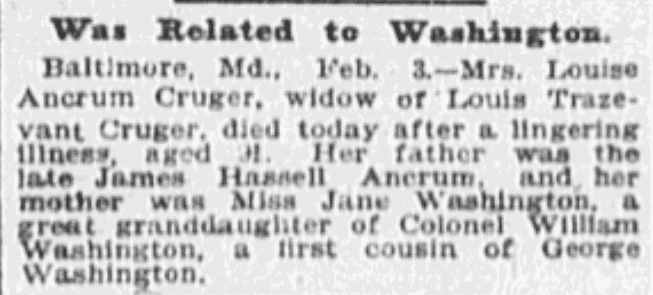 How Do You Know You're Related?
There's no doubt that many Americans claim to be related to President George Washington, but even non-Americans can claim familial relationships. For example, Queen Elizabeth in this 1957 newspaper article is said to be Washington's "second cousin seven times removed."
So, you've heard the stories and you're wondering if you are related to George Washington, or for that matter any president of the United States. What do you do? You'll want to take some time to trace your family lineage and the family tree of the president. In the case of presidents, there are a lot of online family trees and resources to help you.* One book you may wish to consult is Gary Boyd Roberts' Ancestors of American Presidents. Just remember that as you work on proving (or disproving) this connection, you will need to verify and evaluate all facts, especially those without a source citation.
Note: An online collection of newspapers, such as GenealogyBank's Historical Newspaper Archives, is a great way to research your own family history, and investigate some of those rumors of famous connections. Does your family lore include a possible link to George Washington?
* "Presidential Family Trees," ThoughtCo (https://www.thoughtco.com/presidential-family-trees-1422297: accessed 3 February 2020).