Introduction: In this article – to help celebrate tomorrow's Fourth of July festivities – Gena Philibert-Ortega reminisces about the U.S. Bicentennial in 1976. Gena is a genealogist and author of the book "From the Family Kitchen."
Are you old enough to remember 1976? If you are, you might remember the spirit of the Bicentennial that was a part of everything in the United States that year, from postage stamps, coins, and government logos to historical reenactments and 4th of July celebrations. I was 7 years old in 1976, but I still remember adding the "spirit of '76" stamps to my stamp collection, standing in front of a patriotic backdrop for my school pictures, and the patriotic mural painted on a nearby dam.
What was going on in 1976 to celebrate the Bicentennial where you lived? Do you remember the American Freedom Train or the Bicentennial Wagon Train? Did you have the opportunity to see either of these? Or do you simply remember the commemoration of the year in postage stamps and coins? Was there any special activities or events put on by your city or state?
American Freedom Train
The official events celebrating the Bicentennial were kicked off when the American Freedom Train started its 21-month tour of the 48 contiguous states on 1 April 1975. (1) Traveling over 23,000 miles, the American Freedom Train included 26 cars and three steam engines. Tens of millions of Americans saw the train as it made its way across the United States. (2)
The train wasn't just something that you watched as it rolled by your city. You could also pay to board the train for a tour at one of its many stops. In California you could see it next to the Queen Mary in Long Beach, and for Thanksgiving near the state railroad museum in Old Town Sacramento. Those seeing it in Anaheim, California, might have also caught a glimpse of Buzz Aldrin and Mickey Mouse, who also visited the train at Angel's Stadium. (3)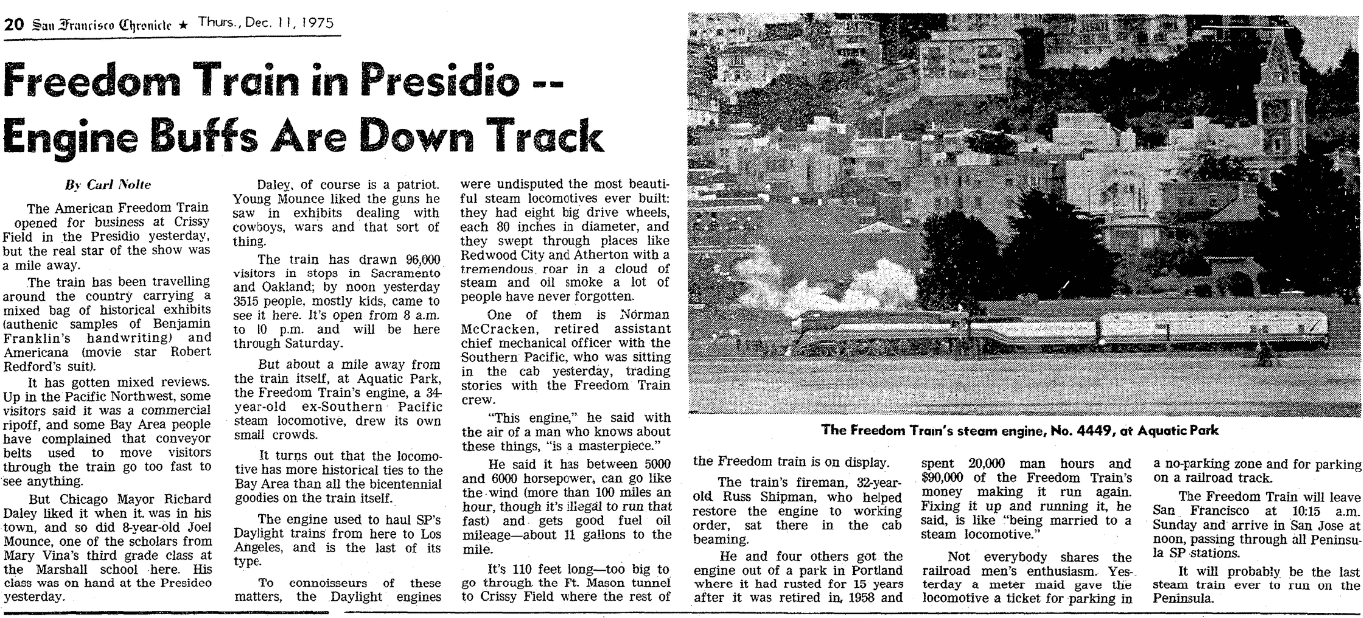 The train ended its tour in December 1976 with its final stop in Miami, Florida.
Bicentennial Wagon Train
If watching trains wasn't of interest, you may have chosen to see the Bicentennial Wagon Train as it made its way from Blaine, Washington, to Valley Forge, Pennsylvania. This wagon train utilized the historic wagon routes to make its journey, including the "Bozeman Trail, California Trail, Gila Trail, Great Wagon Road, Mormon Trail, Natchez Trace Trail, Old Post Road, Old Spanish Trail, Oregon Trail, Santa Fe Trail, and Wilderness Road." (4)
The Wagon Train wasn't just something Americans could go watch – many were a part of the effort to get to Valley Forge for 4 July 1976. This San Diego couple, Jim and Gracie Cox, tell about their involvement in the recreation.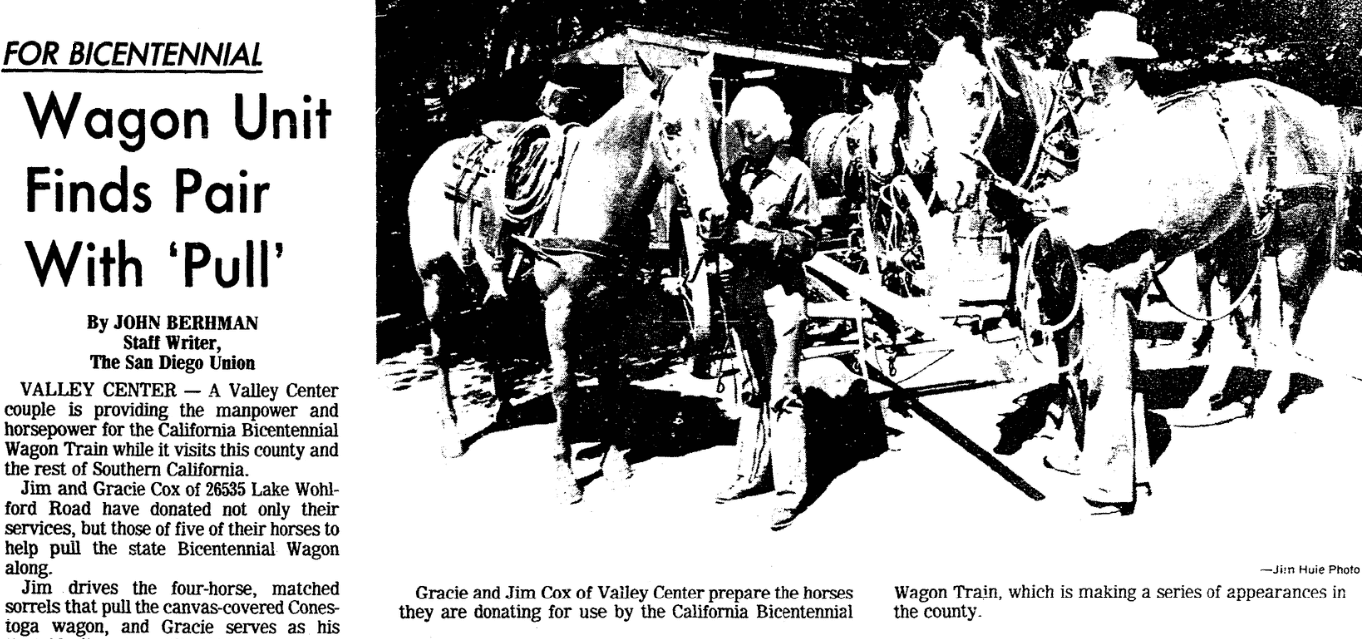 While they covered less miles than the Freedom Train (4,500 vs. 23,000), the wagons ran into their share of difficulties in this effort that involved 60,000 waggoneers and horsemen. One wagon master and an assistant wagon master died of heart attacks, and another died of burns sustained from a gas explosion. According to this newspaper article from Sacramento, commemorating the end of the trail, those involved did everything – from quitting jobs to pulling kids out of school – for the historic opportunity to retrace the steps of America's pioneers.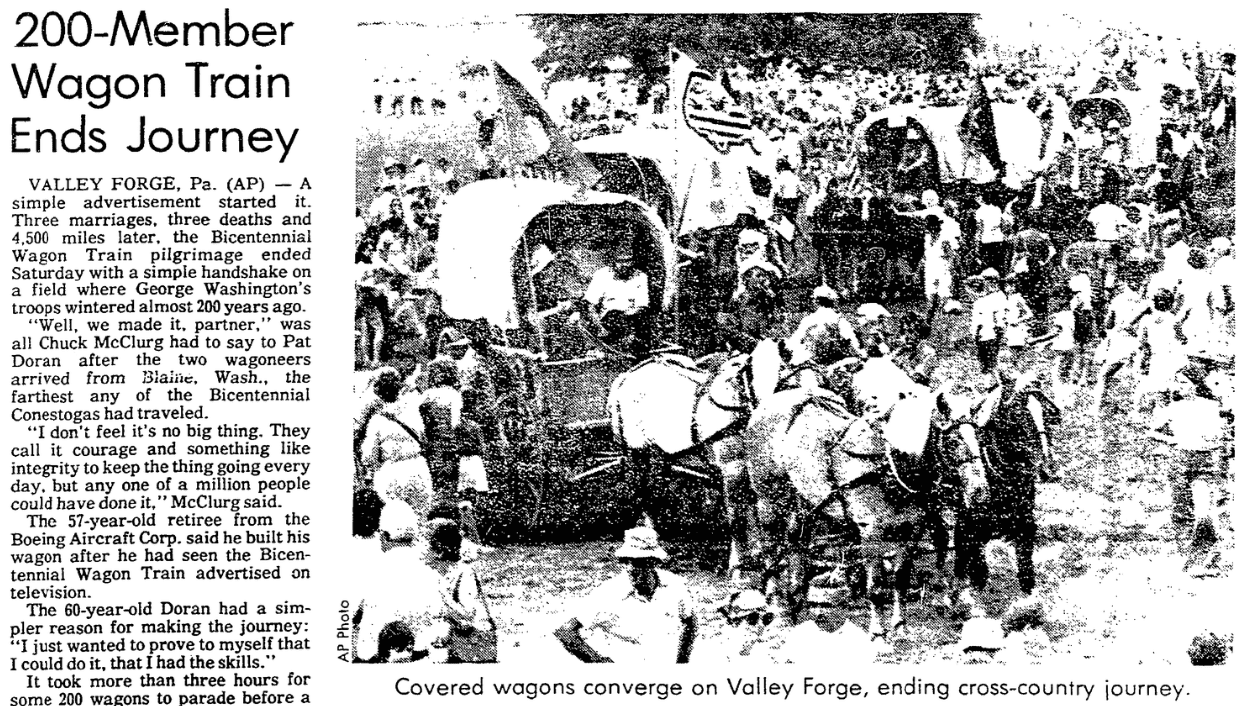 Bicentennial Quarter
You may not remember the Bicentennial events of 1976. Perhaps you just vaguely remember seeing fireworks displays similar to what you have seen every year on the 4th of July. But there is one reminder of that year that you may have in your loose change. Before the special state commemorative quarters there was the Bicentennial quarter.
The Bicentennial quarter, with the years "1776-1976" under George Washington's portrait, and a colonial drummer on the reverse, was actually part of a commemorative set that included the Eisenhower dollar and Kennedy half-dollar.
You may be wondering if your stack of Bicentennial quarters has some value today. In 1977 Mary Brook, the Director of the U.S. Mint, believed that the set would be very valuable in 100 years' time.
Judging from various coin websites. these quarters – depending on their condition and where they were minted – can be worth more than their face value, up to a little over $1.50. However, a visit to a local coin dealer will tell you more about your collection and its worth.
Happy 4th of July!
It's fun to think back on holiday memories – and the Bicentennial celebration produced memories of activities, events, and even material items beyond the usual 4th of July festivities. Take some time this summer to write down your memories of that historic year. Who knows, maybe your descendants will read your recollections 57 years from now, during America's Tricentennial celebration in 2076!
__________________
(1) "United States Bicentennial," Wikipedia (https://en.wikipedia.org/wiki/United_States_Bicentennial: accessed 1 July 2019).
(2) "The Story of the 1975-1976 American Freedom Train," FreedomTain.org (https://www.freedomtrain.org/american-freedom-train-home.htm: accessed 1 July 2019).
(3) "Timeline for the 1975 – 1976 Bicentennial AMERICAN FREEDOM TRAIN," FreedomTrain.org (https://www.freedomtrain.org/american-freedom-train-timeline-printable.htm: 1 July 2019).
(4) "United States Bicentennial," Wikipedia (https://en.wikipedia.org/wiki/United_States_Bicentennial: accessed 1 July 2019).
Related Articles: