Introduction: In this article, to help celebrate National Hispanic Heritage Month (Sept. 15-Oct. 15), Gena Philibert-Ortega shows how you can do family history research in Spanish-language newspapers – even if you don't read or speak Spanish. Gena is a genealogist and author of the book "From the Family Kitchen."
National Hispanic Heritage Month (Sept. 15-Oct. 15) is a time to celebrate "the histories, cultures and contributions of American citizens whose ancestors came from Spain, Mexico, the Caribbean and Central and South America." Hispanic Heritage Week was first observed in 1968, and was increased to a month-long celebration twenty years later.
This month-long tribute begins with a week that remembers the September 15th anniversary of the independence days of Costa Rica, El Salvador, Guatemala, Honduras and Nicaragua, as well as Mexico's (September 16) and Chile's (September 18) independence.*
You can read more about National Hispanic Heritage Month by checking out the Library of Congress-hosted website. Genealogists should click on the website's Exhibits and Collections link for guides to Hispanic collections at the Library of Congress, National Archives, and the National Park Service.
This is a good time to take a look at GenealogyBank's Hispanic American Newspaper Archives. With newspaper titles from 14 states, covering the years 1808 to 1978, these Spanish-language newspapers are an important resource for researching your Hispanic ancestors. New to the collection? Here are a few tips to get you started.
Searching Even if You Don't Speak Spanish
For those of us who only speak or read English, researching in a Spanish-language newspaper can feel like an impossible barrier to overcome. Searching on a name may be easy, but how do you search beyond the name to a specific event? This is especially important when searching on a common name. How will you be able to determine if the article you found is about your ancestor and not a non-related person with the same name?
One step to better searching is to use a Spanish word list. The FamilySearch Family History Research Wiki's Spanish Genealogical Word List can help. Scroll down the page and notice the Key Words list where you'll find words for events like birth, burial, death and marriage, as well as terms for familial relationships like spouse, child, and father. Use these words in conjunction with your ancestor's name when you search.
Don't Forget to Include and Exclude
In some cases, searching historical newspapers can be difficult when your ancestor's surname or first name is fairly common. Add Mary or Juan to a common surname and you can receive more results than you could ever look through. When researching a common name, don't forget to utilize the Include Keyword and/or Exclude Keyword boxes in your search.
Some keywords to "include" may be a less common relative's name, an occupation, or residence. What to exclude? Well, it depends on your surname. For me, the surname Ortega in California is associated with a food brand and a highway – so I would exclude words associated with that. If your surname is a noun or a verb, there will be associated words you may want to exclude. Using keywords to "Include" and "Exclude" can help you narrow your search to more relevant hits.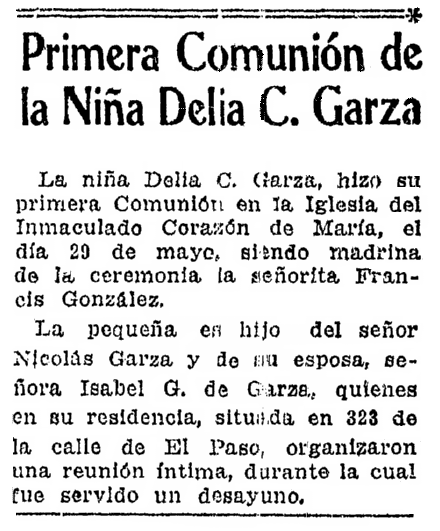 Don't Forget History!
As family historians, we tend to stress the personal details found in historical newspapers. That's great; we should focus some of our searches on documenting what our ancestors were doing at a specific time and place. But we should also consider historical events that were happening around them, and that may have affected their lives – such as this 1928 newspaper article about an earthquake in Peru.
Such events like political unrest, extreme weather, and crime may have had an impact on our ancestors' personal lives, resulting in a sudden migration, change in occupation or even an unexpected death. My ancestors living in Northern Mexico found themselves fleeing their homes and migrating to the United States because of Pancho Villa. To better understand this time in their lives, I've searched GenealogyBank's newspapers to learn about Villa and what was happening in their specific city.
Celebrate Your Ancestors!
National Hispanic Heritage Month is the perfect time to start documenting your ancestors in Spanish-language newspapers. Take some time this month to celebrate your heritage!
————————–
* "About National Hispanic Heritage Month," National Hispanic Heritage Month (https://www.hispanicheritagemonth.gov/about/: accessed 13 September 2017).
Related Articles: