Introduction: In this article, Mary Harrell-Sesniak searches old newspapers to find recruitment ads that induced men to enlist in the War of 1812. Mary is a genealogist, author and editor with a strong technology background.
Last year I wrote about the vast amount of genealogy data found in Civil War recruitment advertisements (see Civil War Recruitment Advertisements: What Induced Your Ancestor to Serve?). Incentives swayed the choice to enlist, and provide an interesting look into the decisions made by our veteran ancestors.
As a comparison, I decided to explore the War of 1812, which lasted from 18 June of 1812 to 18 February 1815. Were there similar newspaper ads offering similar perks like during the Civil War? Although I did not find as many variations as I found in Civil War ads, I did discover a number of intriguing offerings.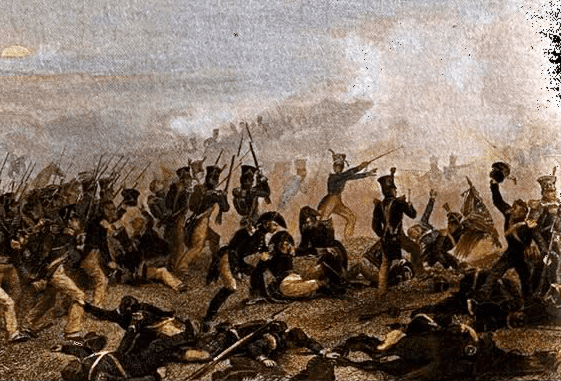 Background
Let's take a brief look at what was happening during this time period.
The United States declared war on Great Britain for several reasons. Among them were:
There were trade restrictions with France.
American merchantmen found themselves impressed (forced to serve) into the Royal Navy.
Native Americans, who opposed settlement on the western frontier, were receiving aid from Britain.
The two sides traded insults, particularly after the British boarded an American frigate looking for British deserters. Research the Chesapeake–Leopard Affair of 22 June 1807 for more details.
What Was Offered?
After war was declared, various acts of Congress were established to help in the recruiting process. As seen in most wars, bounties played an important role. At various times and with varying amounts, they provided rations, advance pay, regular wages and bounty land (typically 160 acres) upon finishing one's term of service.
1812
A November 1812 newspaper ad from Portland, Maine, stressed that able-bodied men of patriotism, between the age of 18-45, would receive an enlistment enticement of $16 with three months' additional pay. Also, 160 acres of land would be provided at the expiration of five years, unless the enlistment was for 18 months.
Note: According to the FamilySearch Wiki, this stemmed from an issuing act of 24 December 1811.
Later there were other warrants for 320 acres of land in Arkansas, Illinois, Michigan and later Missouri. (For more information, see https://familysearch.org/wiki/en/US_War_of_1812_Bounty_Land_Warrants.)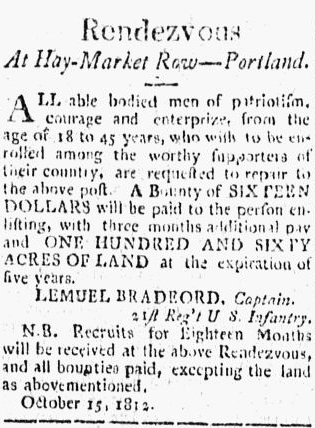 In the winter of 1812, volunteer artillerists were recruited for one-year terms to be stationed at the winter quarters. The sum of $14 per month (pay plus rations) was the same as regular troops received.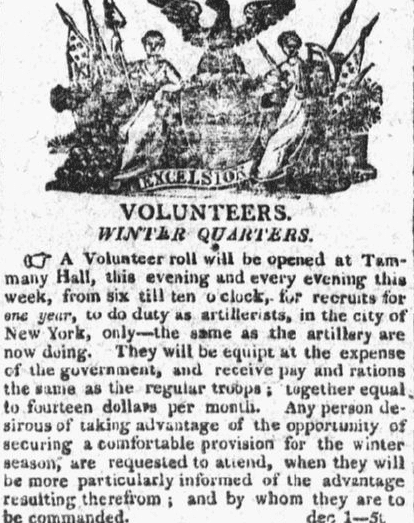 1813
In January of 1813, Capt. Jonas Holland invited "sons of freedom and independence" to join a troop of Light Dragoons. A bounty of $16, exclusive of clothing and rations, was offered, along with $8 a month pay. Upon discharge after completing the term, there would be an additional three months' pay ($24) and 160 acres of land.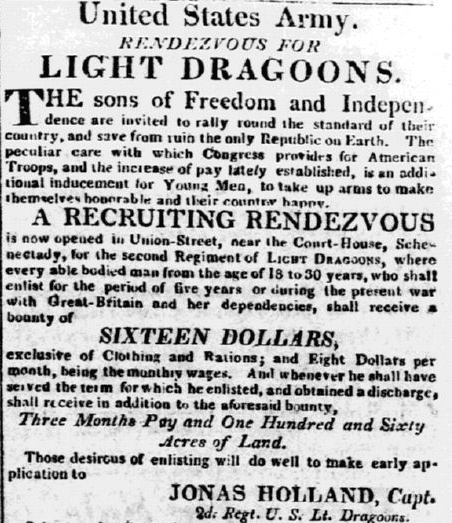 1814
A year later, the act of 5 July 1813 was in place. It had similar incentives to previous offers, with a few additions. Lt. Enoch Manning of Salem, Massachusetts, ran an ad promising a $16 bounty, $24 advance pay, $8 a month regular wages, warm clothing, good rations and – at the end of the war – 160 acres of land. He wrote:
What nobler object can a generous American have, than the protection of our most populous cities from threatened destruction? And who is so base that he would not avenge the unparalleled cruelties inflicted upon the inhabitants of Frenchtown and Hampton?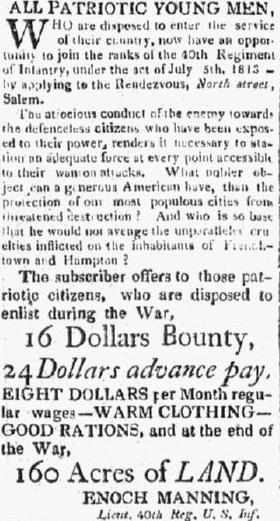 1815
By 1815, there was an increase in recruiting bounties and terms. Captain John A. Thomas, of the 25th Regiment U.S. Infantry, promised a $124 bounty for a five-year enlistment. $50 would be paid upon enlistment, $50 when mustered, and $24 upon discharge, $8 per month pay, rations and clothing, and the customary bounty of 160 acres of land.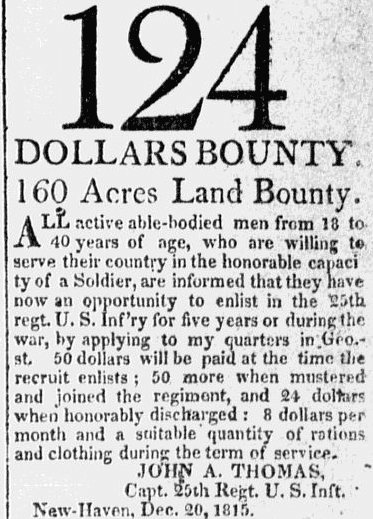 Promised Rations
Curious about the promised rations, I searched for newspaper articles about War Department proposals, and found this from 14 July 1813:
Good and wholesome rations needed to be in sufficient quantities 6-months in advance and to be transportable according to the discretion of the commanders:
1¼ pounds of beef, or ¾ of a pound of salted pork
18 ounces of bread or flour
1 gill of rum, whiskey or brandy (about ¼ pint)
2 quarts of salt to every 100 rations
4 quarts of vinegar to every 100 rations
4 pounds of soap to every 100 rations
1½ pounds of candles to every 100 rations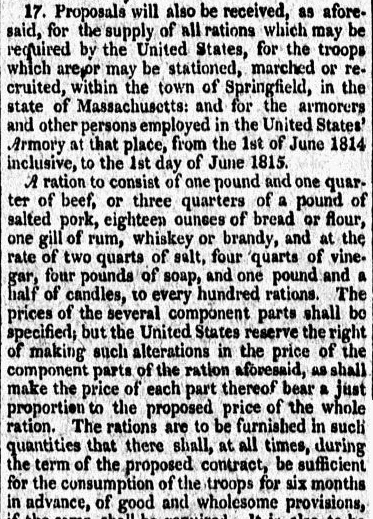 If you haven't yet searched recruiting ads corresponding to ancestral service during the War of 1812, I welcome you to seek details within GenealogyBank's Historical Newspaper Archives.
Related Articles: