In addition to all the great new content just added to GenealogyBank (see: May Update: GenealogyBank Just Added New Content from 41 Titles!), we continue to make improvements to the site. Two recent additions are: a new way to browse; and custom email alerts.
Browse by Date
Want to explore the newspaper archives without having to enter a name or keyword? Now you can navigate from state to city to newspaper title, and then on into a specific date and page of the newspaper. Find the new "Newspapers by Date" experience under the Browse link.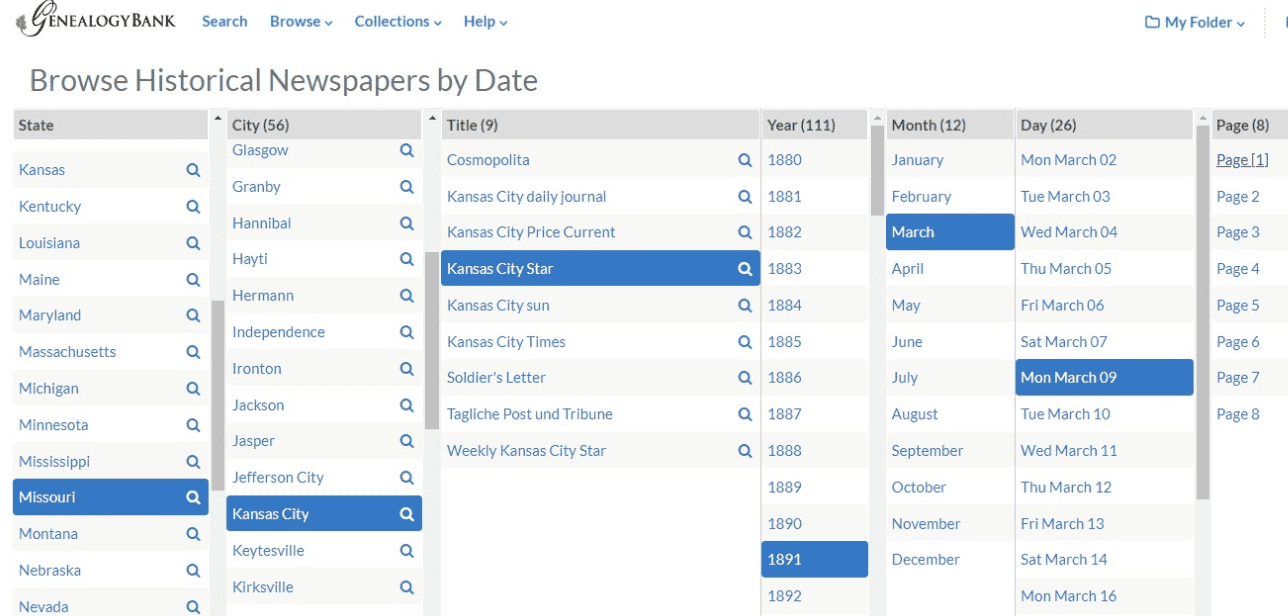 Email Alerts
You can now set up alerts in the Historical Newspaper Archives and Recent Newspaper Obituaries collections. When new content comes in that matches your search, we'll send you an email. Start today by selecting the "Save/Alert" option at the top of the search results page.
What kinds of alerts can I set up?
Content gets added every week for two collections: Newspaper Archives and Recent Obituaries. The Historical Newspaper Archives have digitized newspapers going back to 1690. The Recent Newspaper Obituaries collection has new, up-to-date obituaries from newspapers across the United States. You can set up custom email alerts on a surname or a keyword in both collections. When we find matches, we'll send you an email with links so that you can review your results.
How do I create an alert?
There are two ways to create an alert:
Do a search that you'd like to be alerted on. In the upper right corner of the results page, click on Save/Alert and choose the Alert option.
Visit the Saved Searches section of your My Folder page. Click Get Email Alert for any saved search that you want to turn into an alert.
How do I turn off an alert?
Visit the Saved Searches section of your My Folder page to manage your alerts. Click on Turn Off Alert to disable alerts for that search.
How often will I get an alert?
This will vary depending on the amount and type of content that is added to our collections, and on the search you've created. Broader searches might lead to multiple matches in a week, while narrower searches might be less frequent.
Is there a limit to how many alerts I can set up?
At this time, you can have up to 30 alerts active.
Good Luck with Your Searches!
GenealogyBank will continue to add new content and new features in the months to come. Good luck with your family history searches!