Are you researching your family roots in Utah? Here are two good sources of Utah genealogy information online—GenealogyBank and vital records put up by the state itself—to help with your family history research in the "Beehive State."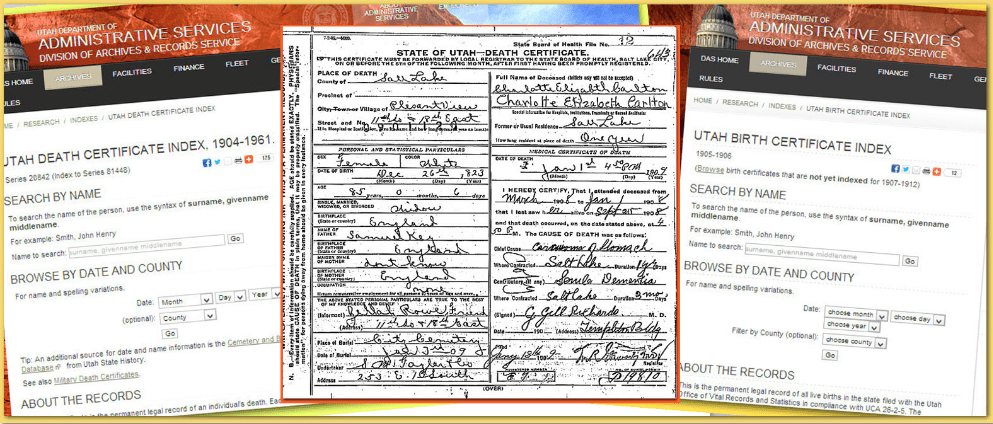 Utah county and state genealogical records are going online. The state's Division of Archives & Records Service is putting up indexes and digital copies of original records ranging from birth certificates to probate records, and all types of records in between.
Utah has put up a wider variety of records than perhaps any other state in the U.S.
Utah has digitized and is in the process of putting online their death records from 1904-1961. These are Series 20842 (Index to Series 81448).
According to its website there are also these records. (Note: the series without links are not available online, but can be searched in person at the Utah Division of Archives & Records Service office.)
Utah has an index to Birth Certificates 1905-1906 and has additional Birth Certificates 1907-1912 that are not indexed but can be browsed.
According to its website there are also these related birth records online:
More Utah Records for Genealogy
Utah has also put an extensive collection of records online ranging from cattle brand registration books to naturalization records to probate records. See its complete list of records here.
GenealogyBank has an extensive collection of Utah newspapers online dating from 1851 to 1922 & 1988 to Today.
Search Utah Newspaper Archives (1851 – 1922)
Search Utah Recent Obituaries (1988 – Current)
Discover a variety of genealogy records and news stories in these 8 Utah newspapers:
Search recent obituary records for your relatives in these 15 Utah newspapers:
Click on the image below to download a printable list of the Utah newspapers in GenealogyBank for your future reference. You can save to your desktop and click the titles to go directly to your newspaper of interest.
Feel free to share this list of Utah newspapers on your blog or website using the embed code provided below.
(Visited 118 times, 1 visits today)