Are you researching your family roots in Arkansas? Here are some good resources for Arkansas genealogy information online—GenealogyBank and vital records put up by the state itself, as well as FamilySearch—to help with your family history research in "The Natural State."
GenealogyBank has an extensive collection of Arkansas newspapers online from 1819 to Today.
Search Arkansas Newspaper Archives (1819 – 1999)
Search Arkansas Recent Obituaries (1999 – Current)
Discover a variety of genealogy records and news stories in these 23 Arkansas newspapers:
Search recent obituary records for your relatives in these 55 Arkansas newspapers:
Click on the image below to download a printable list of the Arkansas newspapers in GenealogyBank for your future reference. You can save to your desktop and click the titles to go directly to your newspaper of interest.

Feel free to share this list of Arkansas newspapers on your blog or website using the embed code provided below this article.
In addition to all the vital records you can find in newspapers, there are several collections of Arkansas vital records online to help with your family history research.
Some of the important collections you want to use are:
Arkansas Probate Records (1817-1979)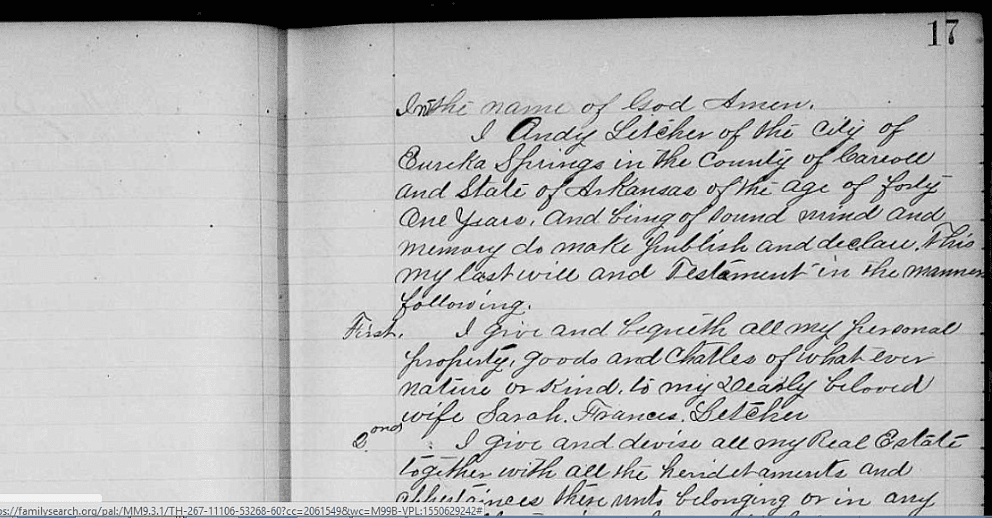 As you can see from the above example, this is a collection of digital copies of the original county probate records.
Currently this collection has 940,000 digital wills and probate papers from the following counties (click on the county name to see the probate record):
Arkansas History Commission: Arkansas Deaths (1819-1920)
The Arkansas History Commission has undertaken an important effort to index multiple sources that give the date of death for Arkansas residents from 1819-1920. They have indexed county death registers, census mortality schedules, obituary indexes, funeral home registers, Confederate pension registers and similar sources.
Arkansas County Marriage Records (1837-1957)
This important online collection has more than 1 million digital copies of Arkansas marriage records online. These records were indexed by FamilySearch and the Arkansas Genealogical Society.
It's a great day for genealogy!
(Visited 216 times, 1 visits today)