If you're researching your family roots in Alabama, I suggest you rely on two online sources—GenealogyBank and FamilySearch—to find digitized newspapers and genealogy records from the "Heart of Dixie."
Concentrating your Alabama genealogy research on these two websites will give you the documentation you need to learn about your family's stories—and the specifics of their birth, marriage and death dates.
You want to focus on the best genealogy websites—the ones that have the information you need to trace your ancestry from Alabama.
GenealogyBank has the most extensive newspaper archive of Alabama newspapers online.
Search Alabama Newspaper Archives (1816 – 1992)
Search Alabama Recent Obituaries (1992 – Current)
FamilySearch has 14 collections of early Alabama records free online.
Search Alabama Census, Probate & Vital Records
Let's look at the marriage of Joseph A. Gilbert and Margianna Whiddon on 4 August 1859 in Mobile, Alabama.
Looking in GenealogyBank's historical Alabama newspaper archive we find their marriage announced in the Mobile Register (Mobile, Alabama), 11 August 1859, page 2.
The newspaper article tells us:
The date of the marriage: 4 August 1859 at 8 p.m.
The exact place of the marriage: "the residence of Levi H. Norton"
Groom: Joseph A. Gilbert, formerly of Greenville, Butler County, Alabama
Bride: Margianna Whiddon, "adopted daughter of the officiating gentleman"
Great genealogical information—we have the who, what, when and where.
Let's dig deeper and find out exactly who the "officiating gentleman" at the wedding was.
Looking at the Alabama marriage certificates online records on FamilySearch we can easily find the marriage certificate for Joseph Gilbert and Margianna Whiddon.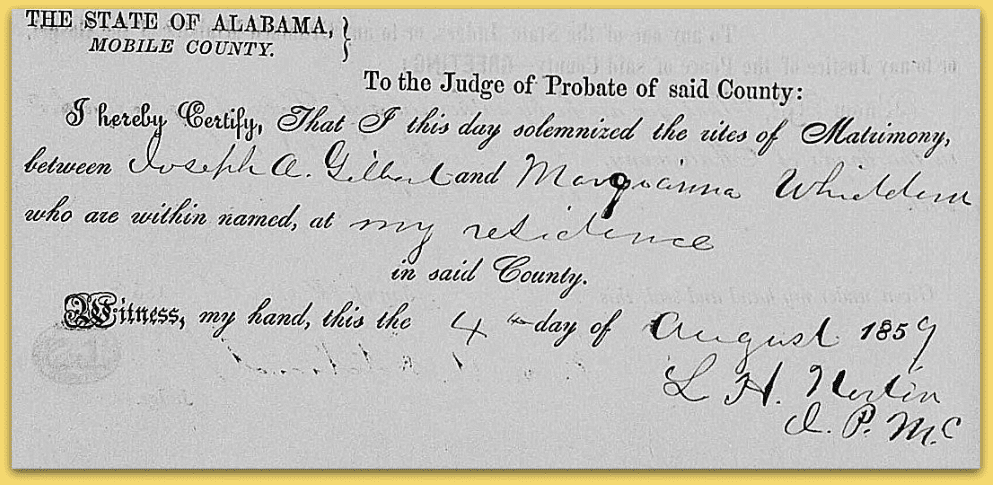 Who performed the wedding?
Looking at the signature of the Justice of the Peace, it appears to be L.H. Hardin or L.H. Nordin.
"L.H. Nordin" —that looks a lot like the Levi H. Norton named in the marriage announcement published in the Mobile Register. Their wedding was performed at his home.
So—we have the "officiating gentleman's" name from the old newspaper and, although very difficult to read, confirmed again in the signature on the marriage certificate.
The marriage certificate gives us the basic facts given in the newspaper marriage announcement: their names and the date and place of the wedding, plus it tells us who performed the wedding.
The old newspaper announcement adds the important details that the officiator was her adopted father and that Joseph Gilbert was from Greenville, Butler County, Alabama.
By using only the best genealogy resources online we can find the facts we need to document our family and, importantly, the crucial details that fill in the stories of their lives…while focusing our ancestry research and saving time.
Note that this article is part of our ongoing series covering the top genealogy websites. To read the previous articles in this series visit the links below:
Top Genealogy Websites Pt. 1: Google
Top Genealogy Websites Pt. 2: Google Books & Internet Archive