GenealogyBank is adding 21 new newspapers with thousands more obituaries to its Recent Obituaries archives to help with your family history research.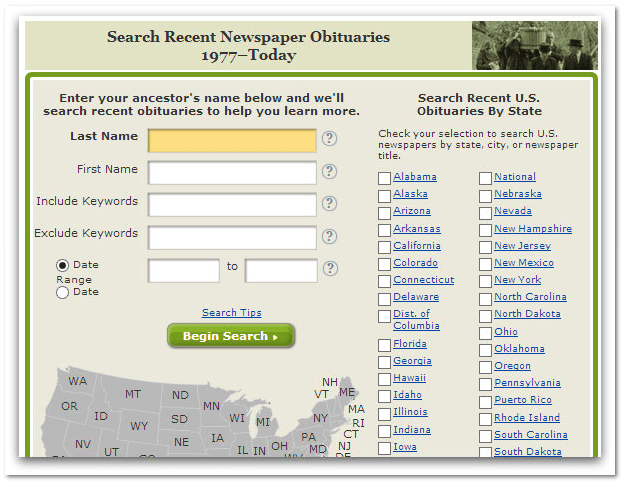 These newspapers are from 13 states: California, Colorado, Idaho, Illinois, Massachusetts, Nevada, New York, North Carolina, Oregon, Pennsylvania, Vermont, Washington, and Wisconsin.
You can view our entire Recent Obituaries archives here: https://www.genealogybank.com/gbnk/obituaries/
These newspapers will be added in the next few weeks.
Bay Citizen (San Francisco, CA)
Obituaries:  06/01/2010 – Current
Arvada Press (Golden, CO)
Obituaries:  08/30/2012 – Current
Golden Transcript (Golden, CO)
Obituaries:  06/07/2012 – Current
Lakewood Sentinel (Lakewood, CO)
Obituaries:  05/18/2012 – Current
Northglenn-Thornton Sentinel (Thornton, CO)
Obituaries:  05/18/2012 – Current
Westminster Window (Westminster, CO)
Obituaries:  05/18/2012 – Current
Wheat Ridge Transcript (Golden, CO)
Obituaries:  05/12/2012 – Current
Post Register (Idaho Falls, ID)
Obituaries:  01/24/2013 – Current
Belleville News-Democrat: Blogs (Belleville, IL)
Obituaries:  05/22/2009 – Current
Chicago Sun-Times: Blogs (Chicago, IL)
Obituaries:  02/20/2008 – Current
Elburn Herald (Elburn, IL)
Obituaries:  10/09/2008 – Current
Boston Herald: Blogs (Boston, MA)
Obituaries:  10/28/2006 – Current
Boulder City Review (Boulder City, NV)
Obituaries:  11/26/2009 – Current
Newsday: Westchester County Edition (NY)
Obituaries:  05/02/2012 – Current
Charlotte Observer: Blogs (Charlotte, NC)
Obituaries:  11/09/2006 – Current
Eden Daily News (Reidsville, NC)
Obituaries:  02/13/2013 – Current
Hood River News (Hood River, OR)
Obituaries:  08/09/2001 – Current
Philadelphia City Paper (Philadelphia, PA)
Obituaries:  06/29/2006 – Current
Addison County Independent (Middlebury, VT)
Obituaries:  12/27/2006 – Current
Bellingham Herald: Blogs (Bellingham, WA)
Obituaries:  01/15/2008 – Current
Chippewa Herald: Blogs (Chippewa Falls, WI)
Obituaries:  06/21/2012 – Current