GenealogyBank has the most comprehensive; the most complete version of the SSDI online and now it is free online for genealogists to search.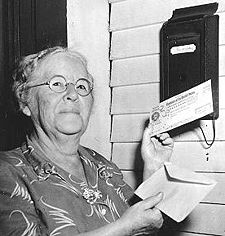 We are celebrating Ida May Fuller's birthday – she would have been 134 years old this year – and we're getting a jump on celebrating our own birthday – GenealogyBank will be two years old – next month – on October 18th.
Ida May Fuller was the nation's first Social Security benefit recipient and was a native of Vermont and lived all of her life there. In fact she lived for many years in nearby Ludlow, VT – a neighboring town to Chester, VT where GenealogyBank has its offices.
To celebrate both events we are giving back to the genealogical community and putting the most complete and up-to-date version of the SSDI free online.
So – here's to a happy birthday to Ida May Fuller (1874-1975) – who was born September 6, 1874 and to GenealogyBank – born Oct 18th, 2006!!
GenealogyBank has not only the most complete SSDI online – it has expanded & enhanced the data – adding the day of the week when the person's birth or death occurred and the GPS coordinates that many genealogists like to have for their records.
No other site updates the SSDI weekly.
Give it a try – search it right now – click here!
SSDI – By the Numbers
Social Security Death Index has:
82,637,474 – Death records
17,125,521 – Persons born in the 19th Century
1,040,516 – Persons that died between 1937 – 1962
5,983,919 – Persons who died in New York
191,268 – Persons named "Ida" in the SSDI
1 – Person who died in Palau
It's a great day for genealogy!