GenealogyBank's huge newspaper archives of over 5,700 titles has plenty of newspapers for the Springfield, Massachusetts, area, with coverage spanning the years 1782 to Today. This valuable genealogical resource has thousands of news stories, obituaries, and birth and marriage notices to help you with your family history research.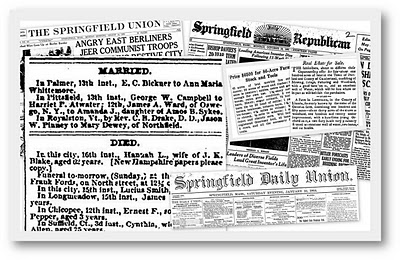 Our collection has 13 newspapers for Springfield, MA; 12 of them are historical newspapers that have been completely digitized, meaning you have access to every news story and obituary as well as all the comics, letters to the editor, advertisements, etc. The 13th newspaper, the Republican, has digitized copies of all that newspaper's obituaries from 1988 to Today.
You can search both the historical Springfield, Mass., obituaries and newspapers (date range: 1782 to 1989) and the Republican's obituaries (date range: 1988 to Today) easily online at our genealogy website.
Here is a complete title list for GenealogyBank's Springfield, Mass., newspaper archives, with the starting and ending date for each newspaper's coverage. Each title is an active link that will take you directly to that newspaper's search form.
Let's look closely at the extent of the news coverage that we get with the Springfield Daily Union. Here are the marriages and deaths reported in the 16 March 1864 issue, on page 3.