Introduction: In this blog article, Mary Harrell-Sesniak has some fun suggesting epitaphs that genealogists might consider for their own tombstone. Mary is a genealogist, author and editor with a strong technology background.
Epitaphs are odd curiosities, but they are also among the most memorable treasures.
Perhaps you need ideas for your family historian's grave – or if you're a genealogist, think about leaving special messages for your descendants. Here are some novel ideas.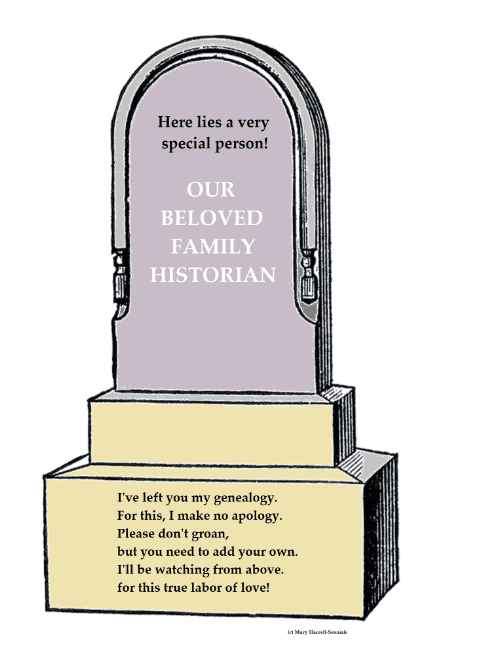 At rest with those I loved and remembered always!
At the setting of the sun and in the morning remember me. Lest anyone forget, read the book – the family history book!
Did you know that genealogy is a very grave matter?
For surname Coffin: Here's a Coffin in a coffin!
For surname King or Queen: Progenitor of little Kings & Queens!
For surname Smith: To figure out my surname, fill in the blank: Black_____, Brown_____, Copper_____, Lock_____, Silver_____, and Tins_____!
For the resourceful genealogist: Etch the family tree and your photo onto the tombstone.
For the resourceful genealogist: Name the family progenitors on your monument.
For the resourceful genealogist: Sketch the family crest onto the tombstone.
Here lies your family historian. "Tag" – you're now it!
Here lieth one of the most generous people on earth – the person who compiled our family history for free!
I think that I will never read a poem as lovely as genealogy!
I told you genealogy was all relatives!
I wanted to live forever, but since I now lie here, please make my memories eternal.
If I hadn't spent it as the family historian, I might have left you a Delorean!
If I've taught you anything, it's spelled G-E-N-E-A-L-O-G-Y!
If you want to know more about me, read the family history.
If you've forgotten the family dirt, head to the library to find my genealogy.
My legacy is my genealogy – it's your job to pay it forward!
My life was not just the dash between these dates!
My mission on earth is fulfilled. Now it's up to you to carry on the family history.
Remember: genealogy is a game of hide and seek. To find us, you may need to dig deep.
The grandest parent is always the grandparent!
This proves that genealogy is a very "deep" subject.
Those who throw away my family tree are sure to have a haunting memory.
To know him/her was to hear about the family history!
You will always be with us – in our hearts – in our memories – in our genealogy!
If you've thought of some fun epitaphs for genealogists, please leave me a comment.
For more humor and genealogy, here are links to past GenealogyBank blogs.
Related Articles: