A friend of mine asked – "What do you have on Long Island?"
We started looking in GenealogyBank to see what we had – turns out we have quite a bit.
We found millions of articles, obituaries and records from the 1700s to today.
There are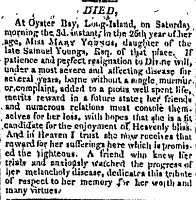 over 330 New York newspapers in GenealogyBank – we spotted this early obituary of Mary Youngs (ca. 1784-1810) printed in the Long Island (NY) Star (22 Feb 1810).
I didn't know that Long Island had it's own newspaper that early in the century.
GenealogyBank
also includes the obituaries from Newsday right up to today's paper.
We also found this sermon – that was preached in Hempstead, Long Island in 1813. It certainly gives the tenor of the sermons from 200 years ago.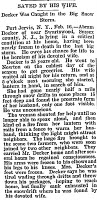 We found many articles about the Blizzard of 1898 – including this one about Abram Decker who was saved from freezing to death in the snowstorm by the persistence of his "devoted wife". This story was picked up and printed by the Idaho Daily Statesman, 18 Aug 1898.
Wow, what a story. His wife searching for him through 15′ snow drifts – finally spotting his foot above the snow and her efforts to rescue him by taking the railings from a fence to build a bonfire – lit by the flame in her lantern, to keep him warm. The fire got the attention of two farmers who came to their rescue. Now that's an incredible family story.
Tip: Don't limit your search to just one state – Remember that the articles you're looking for may have appeared in a newspaper in another state – in this example the story was picked up and printed in a paper clear across the country in Idaho.
We found millions of articles about Long Islanders from the 18th Century to today.
What will you find in GenealogyBank?
To celebrate GenealogyBank's success over the past two years, GenealogyBank is now offering a 30-day trial for only $9.95. Give it a try right now.
(Visited 7 times, 1 visits today)