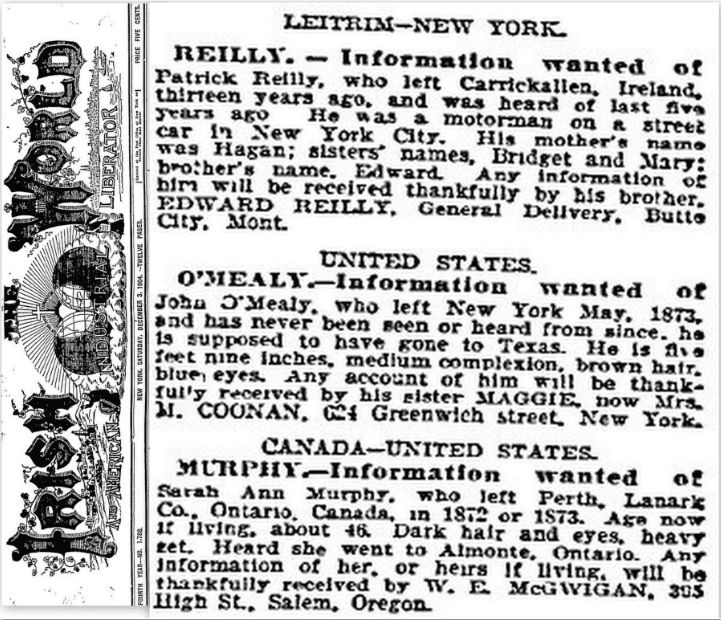 GenealogyBank has created a special search page for the Irish American newspapers in our extensive online historical newspaper archives. With this new search page, you can focus your family history research on these eight Irish American newspapers:
Each one of these Irish American newspapers was published in New York City, but their circulation extended around the country and up into Canada.
Family researchers will especially want to focus on the "Information Wanted" columns, in which readers took out short classified ads in search of their relatives. America was a big country for arriving Irish immigrants. They used the columns of these Irish American newspapers as a quick way to reach their relatives in Irish American communities around the country.
Another key resource unique to these newspapers is Irish marriage and death records. Irish families in the United States wanted news from Ireland and these newspapers supplied them.
One of the titles in our Irish American newspapers collection is an especially good source for these hard-to-find vital records from the Old Country: the Irish American Weekly, which published thousands of marriage and death records from Ireland between 1849 and 1914.
Discover your family heritage in Irish genealogy records that cannot be found anywhere else online. Learn more about how you can explore these exclusive Irish vital records in our previous blog article entitled GenealogyBank Adds Irish Vital Records to Historical Newspaper Archive.
Gather the family this St. Patrick's Day and dig in to see what you can find out about your Irish ancestry!
(Visited 100 times, 1 visits today)