Genealogists want to know about their Revolutionary War ancestors – what they did in the war – where they lived and where they died.
GenealogyBank
has the answer
.

One of the important contributions that the DAR (Daughters of the American Revolution) has made over the past 119 years is their effort to locate and document the grave of every soldier that served in the American Revolution.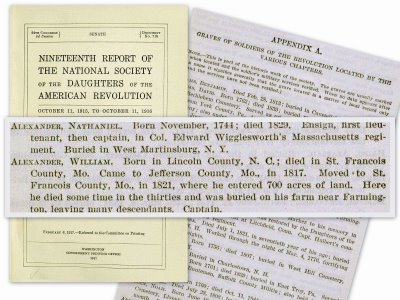 These reports are included in GenealogyBank's Historical Documents section.
Each year the DAR published the details of the soldier's lives, contributions to the Revolutionary War and burial information that they had located the previous year.
It's a terrific resource for genealogists.
Discover your heritage, preserve it and pass it on!
Find and document your ancestors in
GenealogyBank
– the best source for old newspapers & documents on the planet.
Period!
(Visited 35 times, 1 visits today)