The first burial on the grounds of what would become Arlington National Cemetery was on May 13, 1864.
Private William Christman was buried in the rose garden in front of General Robert E. Lee's home in Arlington, Virginia. He was serving with Company G, 67th Pennsylvania Volunteer Infantry. Click here to see his headstone.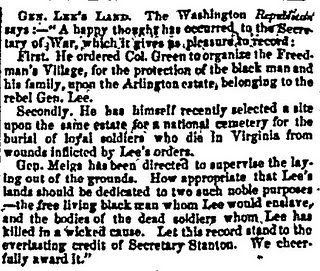 In May 1863 Secretary of War Edwin M. Stanton ordered the creation of the "Freedman's Village for the protection of the Black man and his family, upon the Arlington estate, belonging to the Rebel General Lee." The Liberator, 15 July 1864

.
June 15, 1864 Secretary Stanton ordered that the grounds
around the Lee home be used as a military cemetery – which would soon be known around the world as Arlington National Cemetery.
The newspapers of the day loved it that the Lee home and grounds were used to house and give the freedmen a new start and a military cemetery to honor the nation's war dead.
"How appropriate that Lee's lands should be dedicated to two such noble purposes – the free living Black man whom Lee would enslave and the bodies of the dead soldiers who Lee has killed in a wicked cause. Let this record stand to the everlasting credit of Secretary Stanton."
The Liberator, 15 July 1864
.
In GenealogyBank you may read many more articles about the creation of Arlington National Cemetery and the Freedman's Village. Look for them in the Historical Newspapers and in the Historical Documents which includes the US Serial Set – where there are also numerous government reports detailing the progress of both operations.
(Visited 115 times, 1 visits today)