Genealogists researching Philadelphia just got even more help in finding their ancestors.

FamilySearchLabs has just added digital copies of Philadelphia (PA) death certificates from 1803-1915.
The Philadelphia Inquirer 1860-1922 along with over 280 Philadelphia and Pennsylvania newspapers from the colonial period right up to today are already online at GenealogyBank

So – what will you find in these records?
One gives the basic facts and the other tells us the rest of the story.

The coroner's return has the grim story: Edward Hendrickson, age 11, killed on 20 April 1905 at the B&O Railroad tracks "while trespassing." A sterile almost harsh report.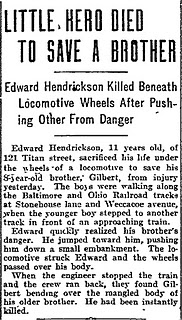 But there is more to the story. The Philadelphia Inquirer (21 April 1905) called him a "little hero" – who had "sacrificed" himself to save his younger brother Gilbert, age 8.

Edward and Gilbert were walking along the B&O Railroad tracks when he saw that Gilbert had stepped onto the tracks in front of an oncoming train. The paper reported that Edward "jumped toward him, pushing him down a small embankment" saving Gilbert's life, but the train took his.
Yes – the coroner's report gave us the core facts but aren't we glad to have the newspaper account to give us the full story.
Having Philadelphia's newspapers and death records online makes it easy for genealogists to get the complete stories in our family tree.
This new FHL resource includes Philadelphia Death Certificates, hospital returns, undertaker certificates and similar death records from 1803 to 1915. It may be searched for free.
Typical entries include the person's name, date of death/burial; place of death/burial; names of the parents; attending physician; undertaker; age of the deceased; occupation of the deceased; race; former residence; and cause of death.
The FamilySearchLabs site is easy to use.

Go to FamilySearchLabs.org
Under: Current Projects – Click on Record Search
Sign-in
Under: Search an Indexed Collection – click on:
Pennyslvania Philadelphia City Death Certificates 1803-1915
A simple search box appears.
You may search by first or last name; names of the parents; name of the spouse or location.
The FHL index let's you search on any one or these entire search options.
To search the nearly 280+ Philadelphia and other Pennsylvania newspapers go to GenealogyBank and begin searching.